A gluten free turkey feast can become a reality. Whether you look forward to a fabulous turkey dinner with all the trimmings or dread the idea of questions and comments about the inferior quality of gluten free food one thing is for sure, Thanksgiving and Christmas for many people involves a big turkey feast.
This post contains affiliate links. When you purchase using these links your cost is the same, but I receive a few cents for every dollar spent. I appreciate your support for this website.
The Menu – A Turkey Feast
Every elaborate feast involves many steps and organization is the key to success. This blog post is about preparing for the standard feast with links to the recipes that are the main components in my Southwestern inspired menu.
Cranberry Orange and Cilantro Salsa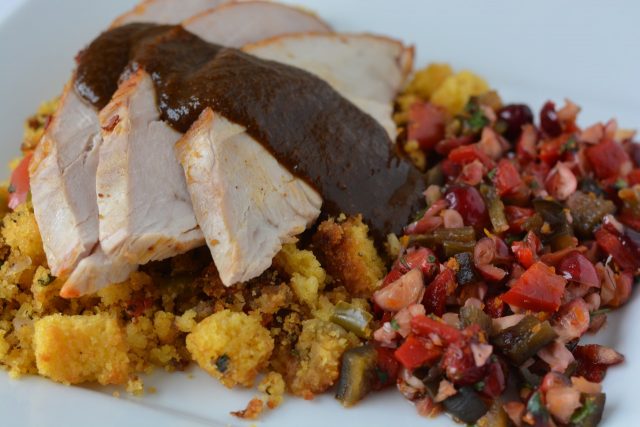 These recipes have become our family favourites and although everyone has fond memories of the sage-infused bread stuffing my mother and grandmother both made we all love this menu (or perhaps they just love the idea that I host it). The fact that I make it gluten free is incidental.
Organize For Success – Tips for a Turkey Feast
Each recipe is straightforward; it does not require deboning the turkey or studying a new culinary art form for weeks. It does however require a few specialty ingredients and plenty of advance planning. The best tip is to make a plan and stick with it.
Here are my top five entertaining tips:
Plan your table – Decide what the table will look like and commit to it. Buy what you need and resist the urge to change your table because you saw a cool picture on Pinterest. Borrow any dishes you need and get them well in advance.
Respect tradition – Ask people what part of the meal is most important to them and include it on your menu. Tell them you did it just for them. If one person really wants bread stuffing then ask someone to make it and bring it in a casserole dish. Ask year after year and you may find that when people think about it they realize it's not about the jellied salad…or maybe it is.
Ask for help – Choose a few recipes someone else can make and ask people you trust to make them. Do not ask the people who will add more stress to your planning. If you want to do all the work then include do-ahead dishes like a frozen dessert and be mindful that you made the choice.
Make lists – Not everyone is a list maker but lists can sure help. Make a separate list of ingredients you can purchase well in advance and then do it. Avoid a last minute grocery run for something that will keep in your cupboard for a year. Make a list of what prep you can do a week in advance and then one, two and three days in advance.
Enjoy the process – Cooking and entertaining involves planning, time in the kitchen and cleaning up. As with everything in life the glass is both half empty and half full, you decide what you want to focus on. Crank up the music while you chop and stir, enjoy the peace and quiet at midnight while you wash dishes, or share a glass of wine and laugh with someone while you work together. This small effort can make up for the usual family foibles that go along with these traditional gatherings.
Is a Turkey Feast Worth the Effort?
The goal is perhaps a fabulous celebration of the many things we all have to be thankful for. If you are celebrating family, friends and good health then steps to minimize stress should be included. In five minutes you could list the three (or ten) most stressful aspects of entertaining. Do it, make the list now. Then beside each one write down something you can do to minimize that stress.
Clarifying your perspective of the whole event will increase the chance that your turkey feast is enjoyable. If after thinking about your list of what causes you stress you decide it is not worth it then rethink your turkey feast. Maybe your gluten free turkey feast is not for family. Did you know you can actually cook turkey days other than Thanksgiving and Christmas? Here are a few ideas to think outside the box for at least one feast. Be careful, if it turns out to be a lot of fun you may have just started a new annual event.
Cook your Turkey Feast for people who appreciate it on a date that works for that crowd.
Remember Opposite Day? If you are in the United States why not host an annual Canadian Thanksgiving in October. For Canadians do the opposite, an American Thanksgiving in November.
Organize a fancy Christmas or New Year's party around a Turkey Feast.
For a turkey lover (like my mom) plan a Turkey Feast for a winter birthday celebration. We have lots of December birthdays in my family.
Plan an elaborate Pot Luck Turkey Feast for a more fun and casual Christmas in July.
Hosting the Big Turkey Feast
Are you still up for hosting a turkey feast for your family (that's the family you didn't choose)? At some point families realize mom has cooked enough turkey dinners and the torch should be passed on. Or maybe you gather with friends on Thanksgiving and have been reluctant to take on the challenge of hosting the turkey dinner. Whether you are trying to embrace tradition or create your own annual event I hope you will consider this menu for your turkey feast. You never know, you might just have fun doing it.