Here is a Round Up of Homemade Soups to get you through the winter. To me February feels like the dead of winter and nothing warms me up like sunshine or homemade soup. Where I live we are guaranteed sunshine so I just need to make the soup.
Is Soup Stock Gluten Free?
Not every soup recipe uses soup stock but many do and from the selection I see in stores they often contain gluten. There is also a significant difference in the salt content. So my two important notes for making homemade soup with store bought stock:
Always check the label for hidden gluten.
Taste your soup near the end and adjust for salt and seasoning.
This post contains affiliate links. When you purchase using these links your cost is the same, but I receive a few cents for every dollar spent. I appreciate your support for this website.
Hearty Homemade Soups
First up is a hearty Leek and Split Pea Soup with Pistou that has the flavours of Italy exploding in your mouth. Made with Italian Sausage it meets the definition of hearty and is perfect for a cold winter night.
Next is my Lentil and Red Pepper Soup topped with Tandoori Chicken and fresh cilantro. I created it for a contest celebrating Nutrition Month a few years ago. This is a tasty recipe that uses lentils and that is the only way I want to eat lentils.
This Butternut Squash Soup with Poblano Chiles is delicious served in a bowl but one Thanksgiving I wanted a hot appetizer to take to a friends house so I served it in these shot glasses and received rave reviews.
Nothing fancy here, this is my version of instant noodles. Originating from some Chinese soup recipe with a peanuty broth I refined it a bit and simply call it Noodle Soup with Peanut Sauce.
Homemade chicken noodle soup is good for anything that ales you and this Vietnamese Lemongrass Chicken Noodle Soup is my pick. Easy to make and bursting with the fresh flavours of Vietnamese cuisine it can bring you out of a winter cold.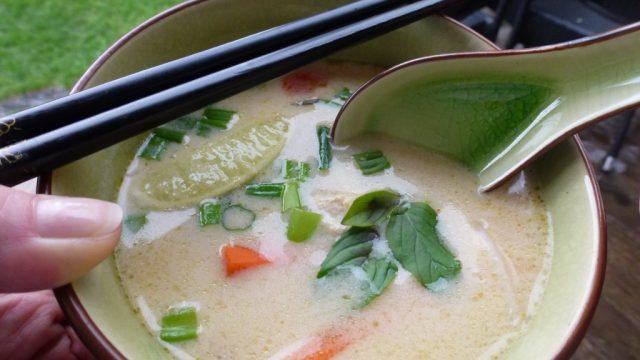 Depending where you live you might want to wait for the freshest garden tomatoes to make this Roasted Tomato Soup. That's what I do.
Homemade Soups Featuring Seafood
If you love shellfish or just feel adventurous this Italian Fish and Shellfish Soup is a fun soup to make with friends. Preferably on a Friday night with wine. We serve it as a meal with homemade gluten free crostini and a big salad.
Whenever I think of this Thai Spicy Shrimp Soup I am reminded of a cooking class student (shout out to Jenna) who realized soup is just flavoured water. Yes, the base of this soup is made from cooking the shrimp shells in water but don't be fooled, all the flavours of Thailand are there and it packs a mean punch. The kind I love.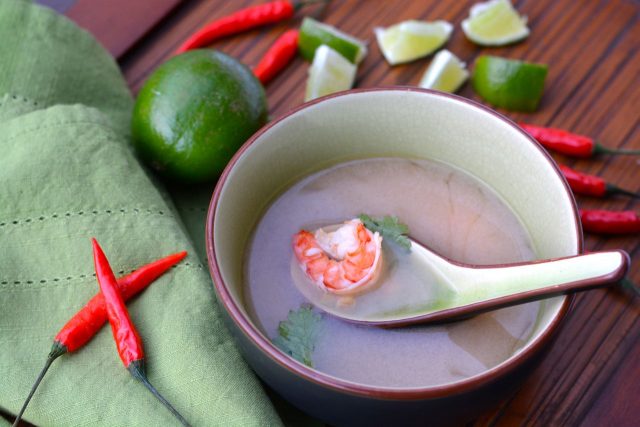 Homemade Soups That Celebrate Summer
This is a soup Round Up so I'll include these two favourite summer soups that I think are worth remembering. I suppose you could make this Green Bean Soup with cilantro in the winter but I save it for the green bean harvest from my garden. On a cool evening in late summer it is perfect.
Another favourite summer soup is Gazpacho. I made this version for a my Gourmet Dinner Club Farm-To-Table dinner so named it Farm to Table Gazpacho. It involves a lot of chopping but it is so worth it.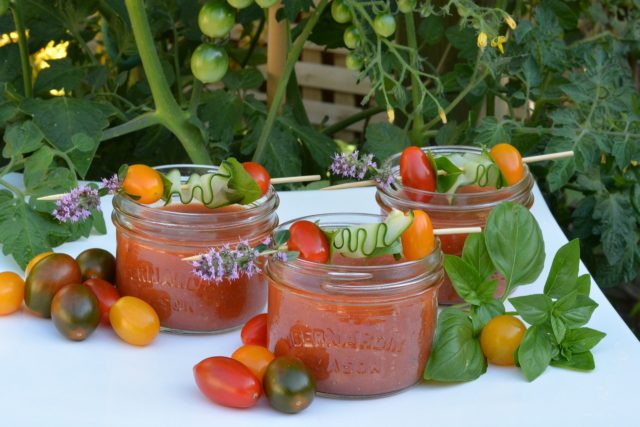 Let me know in the comments below what kind of soup you like to make.