March Muffin Madness from Gluten Free Easily
This year I am thrilled to be invited to participate in March Muffin Madness. This fun event is organized by Shirley over at Gluten Free Easily. She is posting a gluten free muffin recipe every day for twenty days featuring gluten free food bloggers from around the web. There are dozens of prizes too so be sure to visit Gluten Free Easily every day for a chance to win.
Many years ago I made a recipe called Muffins That Taste Like Donuts. These soft cake-like muffins reminded me of the cake donuts my grandmother made when I was young.
For my March Muffin Madness recipe I remade that old gluten filled recipe for Muffins That Taste Like Donuts. I used my gluten free flour mix and created a muffin with the cake-like texture I remember and that addictive cinnamon-sugar topping. To see that recipe click here.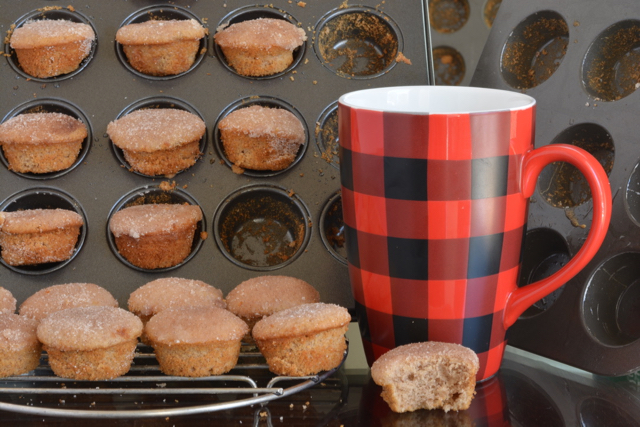 This post contains affiliate links. When you purchase using these links your cost is the same, but I receive a few cents for every dollar spent. I appreciate your support for this website.
Nana's Fried Cake Donuts vs Muffins That Taste Like Donuts
I remember visiting my grandmother when I was young and watching her make donuts. She used a special donut cutter that made a donut hole for every big donut she cut. We would watch her fry the donuts in a cast iron pan on the stove and carefully turn each one over in the hot oil. When the big donuts were cooked she fried all the little holes. Our job was to shake the donut holes in a brown paper bag to evenly coat them in cinnamon-sugar. We got to eat them while they were warm and it was a special treat.
That memory may not be entirely accurate but that's how I remember it. These days I don't need to eat more donuts and I don't have a bunch of grandchildren to cook them for. This recipe is the perfect substitute. A cake-like muffin baked in the oven. Portioned into a mini muffin tin using a one tablespoon sized scoop they are the same size I imagine my grandmothers' donut holes were. These muffins are delicate so I just dip the top in melted butter then in cinnamon-sugar. One rule of gluten free baking is to let your baking cool before eating it. But really, I think you should try some of these when they are still warm. Just because you can.
For more March Muffin Madness and to see my recipe of Muffins That Taste Like Donuts, hop over to Gluten Free Easily.