Description
A Banana Cream Pie was always my dad's favourite so I had fun working on this recipe. I never made a lot of pie since my mom was the pie expert in our family. But I want to show you that you can make whatever you want, so when a reader asked me for a gluten free Banana Cream Pie I said sure. I took up the challenge and these are the tips I think will be helpful to you.
Custard Filling
If you've been offered Crème Brûlée as the only gluten free dessert option, for twenty years say, custard desserts may not be appealing. Yet many people love creamy, smooth desserts like a velvety chocolate pudding or a tart lemon curd. I enjoy variety in every category so in small doses I think custard desserts are heavenly.
Custard desserts are often thickened with cornstarch so are naturally gluten free. This custard filling uses both cornstarch and egg yolks to thicken it and ensure that when cut, the pie will hold it's shape on a plate.
Custard is usually made in a pot on the stove and then as it cools a thin film forms on the top. To prevent this from happening simply place a piece of waxed paper over the surface of the warm custard. Plastic wrap or parchment also work but I prefer the weight and flexibility of waxed paper for this job.
PIN for later…
Bananas
For this recipe you need firm yellow bananas. For anyone who doesn't know, bananas freeze well. As they become ripe, and then over ripe (when they turn black), they are ideal for smoothies and baking. They are also much sweeter so don't use them in a Banana Cream Pie.
KITCHEN TIP – Peel over ripe bananas and freeze in a container in the amount you will use. I freeze three bananas in a container to make banana muffins or just one to make a smoothie. Freeze accordingly.
Freezing bananas in their peel sort of defeats the purpose of having them ready and easy to use. When frozen in their peel, bananas need to sit on the counter and thaw slightly before using. It gets messy but it works. So do something with those ugly black bananas, they look very unappealing in a fruit bowl yet never need to go to waste. How many fruits can boast like that!
This post contains affiliate links. When you purchase using these links your cost is the same, but I receive a few cents for every dollar spent. I appreciate your support for this website.
Gluten Free Pie Pastry – The Mystery Continues
I've been very happy with this recipe for gluten free pastry. Over the last year in my cooking classes we make this pastry recipe for Cherry Hand Pies and I get to taste one at every class. I'm confident it's light, flaky and delicious.
I also used this pastry recipe to make quiche and pumpkin pie this year. The frozen individual quiches amazed me at how flaky the pastry was after being reheated in the microwave (on half power). And I'd swear no one could tell the pumpkin pie was gluten free. Yet my prebaked pastry shell in this recipe remains a mystery.
I took my gluten free pastry advice from America's Test Kitchen. They test recipes more than any home cook could every possibly test.
All butter pastry with the addition of sour cream makes a rich pastry.
Rice vinegar is best for flakiness.
Yet I find this same pastry recipe to be tough as a prebaked pie shell. I know my readers are baking with all sorts of different gluten free flour combinations based on their specific dietary needs, what's available and of course your individual taste. This makes it impossible to compare recipes made with different flours so I'll keep testing and tasting.
This is the flour chart I share at my cooking classes to explain that gluten free bakers around the world are using all kinds of combinations to suit their taste. So in the end once you can make what you like in your kitchen that's all that matters.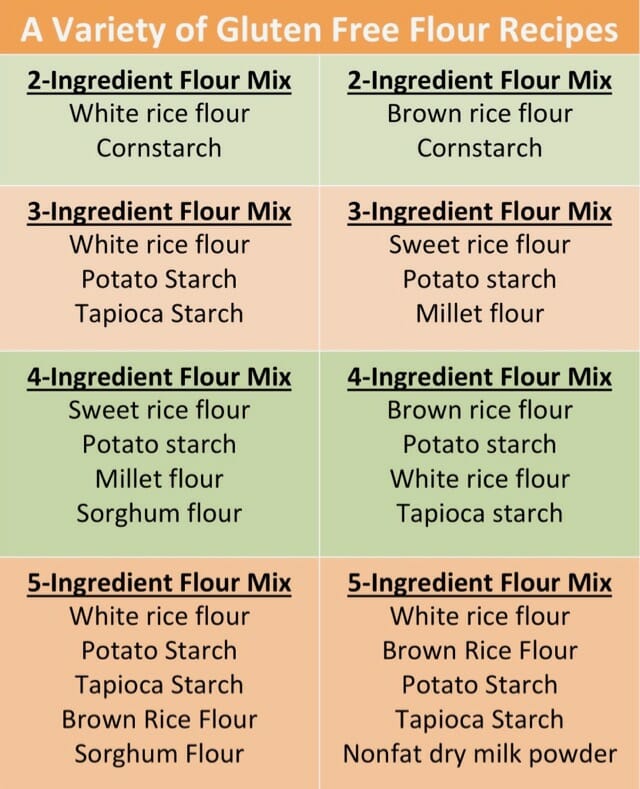 Get The Tools
You don't need much more than a pie plate and a rolling pin to make pie. And I'm sure savvy shoppers can find frozen pastry shells that are gluten free. But if you are a baker here are a few tools to collect.
Let me know in the comments below how your Banana Cream Pie turned out and about your pastry experience.
Good luck and carry on with your quarantine baking!
---
More Pastry Recipes
Ingredients
1-9 inch prebaked gluten free pie shell
2-3 firm bananas (not over ripe)
CUSTARD FILLING
1¼ cups milk (I used 2%)
1 cup whipping cream
½ cup sugar
⅛ tsp salt
4 egg yolks
¼ cup cornstarch
2 Tbsp butter, room temperature
1½ tsp vanilla
TOPPING
1 cup whipping cream
2 Tbsp icing sugar
½ tsp vanilla
Directions
1

CUSTARD FILLING

2

Combine milk, cream, sugar and salt in medium saucepan over medium-low heat. Whisk until sugar is dissolved.

3

In a 2-cup or 4-cup pyrex measuring cup, whisk together egg yolks and cornstarch.

4

Continue whisking egg while slowly pouring in 1 cup of hot milk mixture. This warms the eggs without cooking them.

5

Slowly pour the egg mixture back into the milk while whisking continuously. Increase heat if needed, whisk until mixture thickens and big bubbles begin to pop on the surface, 1-2 minutes.

6

Remove from heat. Add butter and vanilla.

7

Pour custard filling into a bowl. Cover with waxed paper and cool for 15 minutes.

8

ASSEMBLE PIE

9

Slice bananas into fairly thick slices and arrange on bottom of piecrust, overlapping or in 2 layers. Reserve some for garnish.

10

Pour filling over the bananas and smooth the top. Cover with the same waxed paper to prevent a skin from forming. Refrigerate for at least 4 hours or overnight.

11

Just before serving beat cream. Add icing sugar and vanilla. Beat to soft peaks to eat right away, firm peaks if you want to pipe cream on top or serve later.

12

Pile whipped cream on center of pie, garnish with banana slices.

13

Alternately, fill piping bag with whipped cream and pipe onto pie as desired. Decorate with banana slices.