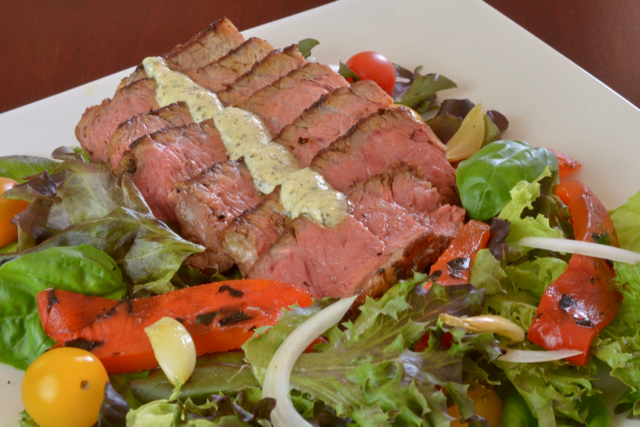 Description
For me this Blackened Steak Salad is the perfect way to eat steak. I get to enjoy a big salad and the juicy slices of meat make it feel like a special treat. Of course it's just a salad so you can adjust the amounts of every ingredient to your liking but some combinations are worth repeating. For me this is one of them.
This post contains affiliate links. When you purchase using these links your cost is the same, but I receive a few cents for every dollar spent. I appreciate your support for this website.
Food Rules – Pay More, Eat Less
American journalist and food advocate Michael Pollan, published a collection of 64 food rules in his book, Food Rules. He has promoted them for many years and rule #1 is Eat Food. The Food Rules are to increase awareness of the food we eat, specifically what is real food and what are food-like substances. I like the idea, I read labels and I try to avoid foods with long ingredient lists made in factories. I'll be working on this one forever.
When I decided to post this recipe my husband wanted to cook the best steak, a rib eye. I immediately thought of food rule #44 – Pay More, Eat Less. Many people believe that in Alberta we have some of the best beef in the world and we think that too. For this salad we cooked a two-inch thick rib eye steak and it was worth every penny but cooking a perfect steak is a skill to be mastered. You need to take the time, pay attention to the details and probably use a thermometer. To eat less simply slice up the meat, people always eat a smaller portion when it's served like that. Plus, you can cook a single steak and serve several people.
Spices on a Gluten Free Diet
Much has been written about the safety of spices on a gluten free diet and in your kitchen you must decide what is best for you. I think these are two important points to consider:
Spice combinations are recipes so have an ingredient list. Some examples are steak spice, pizza spice or pumpkin pie spice. Wheat or wheat containing ingredients are sometimes used in commercial preparations. I highly recommend keeping a good supply of pure spices in your kitchen and combining these spices when you need them. Using your spices regularly helps keep them fresh and then you know they are safe.
The amount of spice consumed in a recipe by percentage is extremely small, often less than one teaspoon for the entire meal. Here are two informative articles on this topic:
Kitchen Tip – Keep extra spice bottles in your kitchen to store any spice combinations you make. Be sure to label them in the moment.
Get The Tools
The correct tools make cooking more enjoyable and over time you can't help but collect them. These are the tools you could use to make this Blackened Steak Salad:
Now get out there and grill up a gorgeous steak, with this blackening spice mix or your own favourite spice combination. Let me know in the comments below how your salad turned out.
---
More Salad Recipes
Check out my BLOG post that is a Round Up of Summer Salads.
Ingredients
BLACKENED SPICE MIX
3 Tbsp smoked paprika (or substitute regular paprika)
2 tsp onion powder
1½ tsp salt
1 tsp garlic powder
1 tsp black pepper
1 tsp dried thyme
1 tsp dried oregano
½ tsp cayenne
SALAD DRESSING
4 oz Gorgonzola cheese
6 Tbsp olive oil
2½ Tbsp red wine vinegar
1 Tbsp coarse-grained mustard or Dijon
2 large garlic cloves, chopped
2 tsp dried basil
SALAD
8 cups mixed lettuce
½ cup basil leaves
1 red pepper, roasted and sliced
¼ small white onion, sliced thin
1 cup cherry tomatoes
12 garlic cloves, roasted
MEAT
16 oz rib eye steak, 1½-2 inches thick
Directions
1

BLACKENED SPICE MIX - Mix spices in dry bowl. Transfer to spice bottle and label it.

2

SALAD DRESSING

3

Combine all ingredients in a wide mouth 2-cup Mason jar. Using a hand blender mix all ingredients until smooth.

4

ROASTED RED PEPPER

5

Char whole peppers over a gas flame or under an oven broiler turning until blackened all over. Put in a plastic bag for 10 minutes, remove and peel off the skin that comes away easily. Cut as desired.

6

ROASTED GARLIC

7

Toss whole garlic cloves with a bit of olive oil and bake, covered with foil, in 350°F oven for 15 minutes. Slip skins off and serve whole or chop as desired. Keeps in the fridge for weeks.

8

SALAD - Arrange lettuce, basil, red pepper, onion, cherry tomatoes and garlic on 4 plates. Set aside.

9

MEAT - Generously sprinkle both sides of meat with blackened spice mix. Bring to room temperature before cooking. Preheat barbecue.

10

Cook steak to desired doneness, cooking times will vary depending on the cut of meat and thickness of the steak.

11

For those nice grill marks on a thick steak cook 2-3 minutes, do a quarter turn and continue cooking on the same side another 2-3 minutes.

12

Turn the steaks and cook the same way on the second side. That's 4-6 minutes to get the outside nicely charred.

13

Move the meat to the upper rack to finish cooking, 5-10 minutes to desired doneness. Check internal temperature with an instant read thermometer by sticking it in the side of the steak. 140°F for rare, 150°F for medium rare. The temperature will increase about 5 degrees as the meat rests. You can always put it back on if it's under done. If it's cooked too long you're eating over done steak.

14

IMPORTANT STEP - Let meat rest, covered with foil, for 3-5 minutes before slicing.

15

SERVING - Top salad with slices of steak and serve warm with Blue Cheese Dressing on the side.