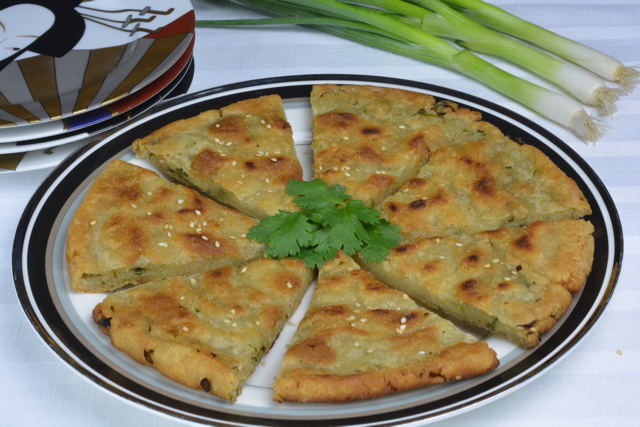 Description
We've been making Chinese Onion Bread in our kitchen for years. It's a flatbread sold from street vendors in northern China that I read about in one of my very first Asian cookbooks, Pacific Flavours. I love the unique combinations and interesting interpretations of Asian cuisine. That cookbook forever changed what we eat in our kitchen.
Chinese Onion Bread is sometimes called scallion bread, scallion pancakes or onion pancakes. This onion bread is not made from a batter so I think pancake is technically incorrect. Regardless of the name, this is a flatbread made without yeast. A simple mixture of flour and water (but gluten free cooks know nothing about gluten free flour could be called simple).
Pin for later…
This post contains affiliate links. When you purchase using these links your cost is the same, but I receive a few cents for every dollar spent. I appreciate your support for this website.
How To Substitute Using a Gluten Free Flour Blend
I was recently inspired to recreate a gluten free version of my old Chinese Onion Bread recipe. I came across a recipe using chickpea flour and tapioca starch so I tried it. My first attempt was good but I wanted it to be a little lighter. I tried using my EGFG flour blend but experimented by adding some other flours.
The final recipe I'm posting uses my EGFG flour blend plus the addition of chickpea flour. I do most of my experimenting like this. I start with "my favourite blend" but replace some of the total flour amount with a different flour. This is an excellent way to learn how different flours affect your baking.
In my research for onion bread I found recipes using oat flour, millet flour, corn flour or masa harina. I didn't need to try all of them to recreate my recipe gluten free but I do find it interesting to see what others are trying.
After writing my yearlong blog series on How To Use different gluten free flours I feel more confident with substitutions. Life gets easier for gluten free cooks once they know more about the flours options they have.
Let me know in the comments below if you tried this Chinese Onion bread and how it turned out.
---
If you're new here join our community and get your FREE resource for baking and cooking, 29 Tips I wish I knew when I started.
Yes, I need 29 Tips For Cooking with Gluten Free Flour.
New to gluten free? Check out our virtual and in-person Cooking Classes or visit NEW TO GLUTEN FREE.
---
More Recipes with Sesame Oil
If you're new to gluten free Asian cooking check out my blog post, a Gluten Free Asian Pantry.
Sesame oil is used as a flavouring rather than a cooking oil in Asian recipes. It has an assertive taste that works well in soups, breads, stir fries and salad dressings. If you purchased sesame oil for the first time here are more ways to use it.
Chinese Onion Bread
Chinese Onion Bread is a flatbread sold from street vendors in northern China.
Ingredients
1½

cups

EGFG gluten free flour blend*

½

cup

chickpea flour**

½

tsp

xanthan gum

¾

cup

boiling water
TOPPING
1

Tbsp

sesame oil

1½

tsp

salt

2

Tbsp

minced green onion, white and green part

2

Tbsp

chopped cilantro

½

Tbsp

sesame seeds

tapioca starch or sweet rice flour for dusting

generous amount of oil for frying
Notes
*EGFG flour blend: sweet rice flour (300g), potato starch (300g), sorghum flour (200g), millet flour (200g)