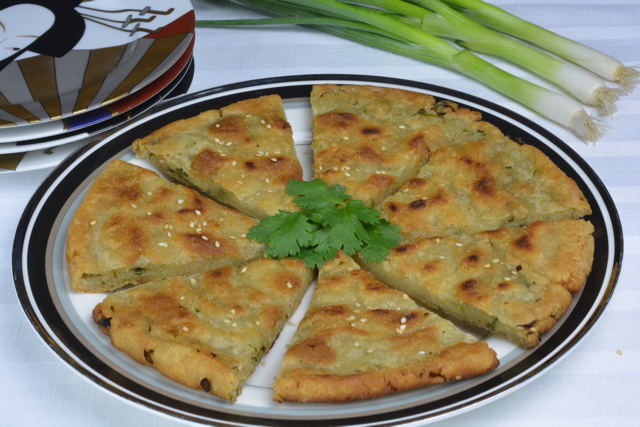 Description
We've been making Chinese Onion Bread in our kitchen for years. It's a flatbread sold from street vendors in northern China that I read about in one of my very first Asian cookbooks, Pacific Flavours. I love Hugh Carpenter's amazing flavour combinations and interesting interpretations of Asian cuisine. That cookbook forever changed what we eat in our kitchen.
This post contains affiliate links. When you purchase using these links your cost is the same, but I receive a few cents for every dollar spent. I appreciate your support for this website.
Chinese Onion Bread is sometimes called scallion bread, scallion pancakes or onion pancakes. Since this onion bread is not made from a batter pancake would be technically incorrect. Regardless of the name, this Chinese Onion Bread is a flatbread made without yeast. A simple mixture of flour and water, although nothing about gluten free flour could be called simple.
Pin for later…
Substituting a Gluten Free Flour Mix
I was recently inspired to recreate a gluten free version of my old Chinese Onion Bread recipe. I came across a recipe using chickpea flour and tapioca starch so I tried it. My first attempt was good but I wanted it to be a little lighter. I tried using my EGFG flour blend but experimented by adding some other flours.
The final recipe I'm posting uses my EGFG flour blend plus the addition of chickpea flour. I do most of my experimenting like this. I start with "my blend" but replace some of the total flour amount with a different flour. This is an excellent way to learn about different flours. In my research I found recipes using oat flour, millet flour, corn flour or masa harina. I can't try all of those but I find it interesting to see what others are trying.
After writing my yearlong blog series on How To Use different gluten free flours I feel more confident with substitutions. Life gets easier for gluten free bakers once they know more about the flours they have. It's a great skill to be able to substitute and notice how different combinations affect the final product.
Let me know in the comments below if you tried this Chinese bread and how it turned out.
---
More Recipes to Use Sesame Oil
If you're new to gluten free Asian cooking check out my blog post titled a Gluten Free Asian Pantry.
Sesame oil is used as a flavouring rather than a cooking oil in Asian recipes. It has an assertive taste that works well in soups, breads, stir fries and salad dressings. If you purchased sesame oil for the first time here are more ways to use it.
Ingredients
1½ cups gluten free flour (I used my EGFG flour blend*)
½ cup chickpea flour**
½ tsp xanthan gum
¾ cup boiling water
TOPPING
1 Tbsp sesame oil
1½-2 tsp salt
2 Tbsp minced green onion, white and green part
2 Tbsp chopped cilantro
½ Tbsp sesame seeds
tapioca starch or sweet rice flour for dusting
generous amount of oil for frying
*EGFG flour blend is sweet rice flour (300g), potato starch (300g), sorghum flour (200g), millet flour (200g)
**See recipe description for suggestions of different flour substitutes.
Directions
1

Measure flour and xanthan gum into a food processor.

2

Pulse a few times to mix the flour. With the processor running add hot water until the mixture comes together as dough. Remove from processor and flatten into a disk. Cover with plastic and let rest for 30 minutes.

3

Use a small amount of tapioca starch or sweet rice flour to dust the dough as you roll it out to a 10-inch circle.

4

Spread sesame oil over top of dough.

5

Sprinkle with salt, green onions, cilantro and sesame seeds.

6

Using your hands roll the dough into a long rope.

7

Pinch the ends then starting at one end coil the dough into a circle. Flatten it with your hands then roll the coil into a 10-inch or 11-inch circle. Flip it over a few times dusting it with small amounts of flour to prevent it from sticking to the counter.

8

Sprinkle additional sesame seeds on top pressing into the dough, if desired.

9

Heat oil in large frying pan over medium-high heat.

10

When very hot gently place the round of dough into the frying pan.

11

Cook turning every 2 minutes until golden brown and cooked through, 8-10 minutes.

12

Cut in wedges and serve warm. Best eaten the day it is made.