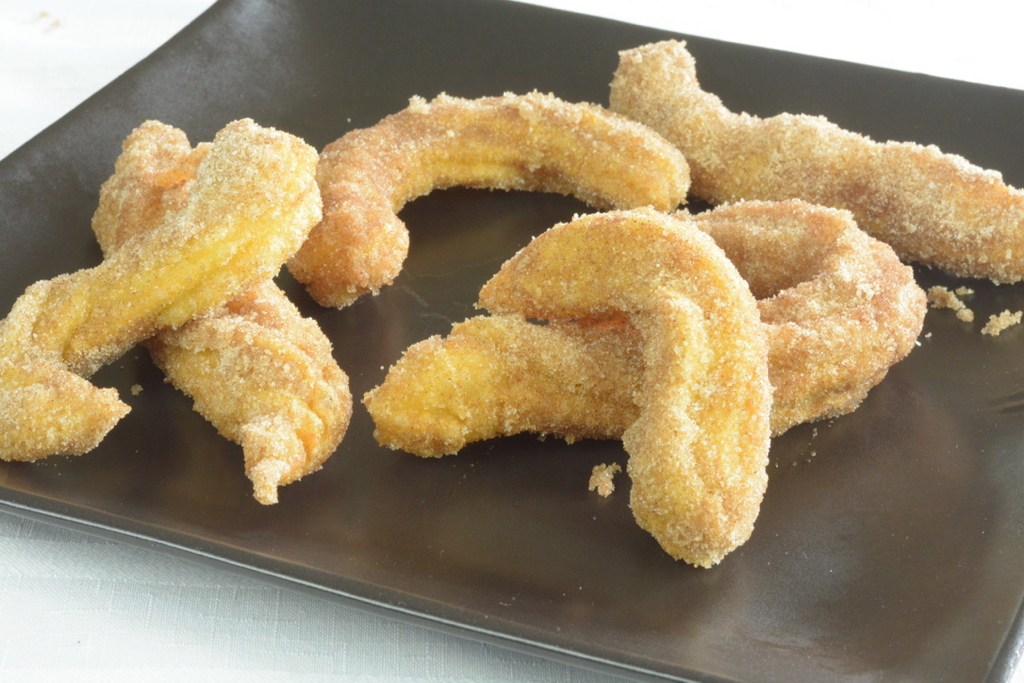 Description
There's nothing like eating sugar-dusted Cinnamon Churros still warm from the deep fryer and if you're looking for gluten free ones, look no further than your own kitchen. The only challenge with this recipe is having a set up that works for you to deep-fry. Do it occasionally, enjoy what you make and consider it a treat. Whether you're making sweet Cinnamon Churros or something savoury like arancini, it always seems like a treat.
I've written about my deep-frying set up using a wok in many recipe descriptions. I use my wok every week so it's right there in my kitchen, above the fridge. The bonus of deep-frying in a wok is the large surface area for cooking, yet a smaller base requiring less oil than a saucepan.
Like most jobs in the kitchen it's all about knowing what tools you need and having them handy. You can certainly shallow fry in a saucepan (that's the one with the straight sides) or a deep fryer. Many people tell me they bought a deep fryer early on their gluten free journey. Fried foods become less available when you need them cooked in a dedicated gluten free fryer. Use any method you like, just get a system that works and don't pass over deep fried recipes because you don't have a set up.
PIN for later…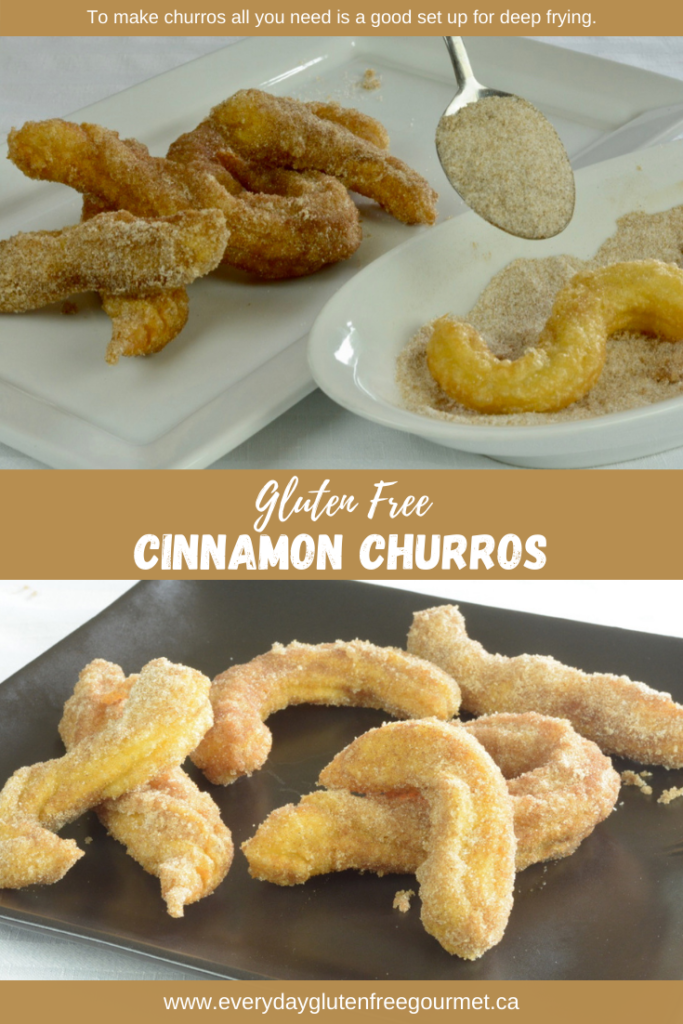 Get The Tools
To make churros with the familiar ridges you need a pastry bag with a star tip. There are various shapes and sizes but they only cost a few dollars so it's not a big investment. For those of you who don't want to buy anything I guarantee you can make and enjoy churros squeezed out of plastic bag. Here are some tools to consider for churros.
Organize For Success
Whether you use a deep fryer or a wok you need to store it somewhere. My wok lives in the cupboard above my fridge and it's been in that spot everywhere I've lived. Of course that won't work for a deep fryer filled with oil but the message is, create a system. Deep-frying is only a big deal if you make it a big deal.
I also have a spot in the back of a cupboard where I store the large jug of oil specifically for deep-frying. It's the jug I bought it in with a big X across the label and DEEP FRY written on it so there's no mistaking it for cooking oil.
Tips for Deep-Frying
Toss a slice of raw potato into the hot oil after you finish cooking to keep the oil clean and absorb the flavours of what you just cooked. I might deep fry twice in one week and then not for two months. As a general rule you can reuse the oil three or four times.
Much like bacon oil smells like oil once you've deep fried food in the kitchen and candles, incense or baking will give you a more pleasing aroma. Make that part of your system with a 'no-whining about the smell' rule the next day.
I'd love to hear if you made Cinnamon Churros for the first time, how it went or what tips you have for deep-frying at home.
I use it every week so that All those years ago when I took that class I was smart enough to know I needed that recipe
---
More Recipes – Deep Fried Delights
Click on the text on the image to go to that recipe/blog post.
Ingredients
1 cup water
½ cup butter
1 Tbsp sugar
¼ tsp salt
1 cup GF flour (I used my EGFG flour blend*)
3 eggs, room temperature
CINNAMON-SUGAR TOPPING
½ cup sugar
1 tsp cinnamon
oil for deep frying
Directions
1

Combine water and butter in medium saucepan over medium-high heat. Bring to a boil and whisk to combine.

2

Add sugar and salt. Allow it to return to a boil.

3

Add flour whisking constantly, 1-2 minutes, until mixture becomes a sticky dough. Do not allow it to burn.

4

Remove from heat and transfer to bowl of an electric mixer. Turn to medium-high speed and add eggs one at a time, mixing well before adding the next.

5

Beat on high speed for 2-3 minutes until dough is shiny and smooth.

6

Transfer dough to pastry bag with star tip. Don't overfill the bag.

7

CINNAMON-SUGAR TOPPING - Combine in shallow dish that will hold the churros.

8

DEEP-FRYING - Heat oil to 350°F.

9

Working carefully not to splash the oil pipe a 4-6 inch long churro onto the oil by squeezing the bag while pulling it away from you. Twist it up at the end so the dough breaks off or use scissors to cut the strip of dough.

10

Work with 2-4 churros at a time being careful not to overcrowd them in the oil.

11

Fry each side for 2 minutes until golden brown and cooked. Turn them over and cook another 2 minutes.

12

Transfer to a paper towel lined plate to drain. When cool enough to handle place them on top of the sugar-cinnamon mixture and spoon it all over each churro. Remove to serving platter, serve warm.

13

*My EGFG flour blend is 300g sweet rice flour, 300g potato starch, 200g sorghum flour, 200g millet flour
Ingredients

Directions

1 cup water
½ cup butter
1 Tbsp sugar
¼ tsp salt
1 cup GF flour (I used my EGFG flour blend*)
3 eggs, room temperature
CINNAMON-SUGAR TOPPING
½ cup sugar
1 tsp cinnamon
oil for deep frying

Combine water and butter in medium saucepan over medium-high heat. Bring to a boil and whisk to combine.
Add sugar and salt. Allow it to return to a boil.
Add flour whisking constantly, 1-2 minutes, until mixture becomes a sticky dough. Do not allow it to burn.
Remove from heat and transfer to bowl of an electric mixer. Turn to medium-high speed and add eggs one at a time, mixing well before adding the next.
Beat on high speed for 2-3 minutes until dough is shiny and smooth.
Transfer dough to pastry bag with star tip. Don't overfill the bag.
CINNAMON-SUGAR TOPPING - Combine in shallow dish that will hold the churros.
DEEP-FRYING - Heat oil to 350°F.
Working carefully not to splash the oil pipe a 4-6 inch long churro onto the oil by squeezing the bag while pulling it away from you. Twist it up at the end so the dough breaks off or use scissors to cut the strip of dough.
Work with 2-4 churros at a time being careful not to overcrowd them in the oil.
Fry each side for 2 minutes until golden brown and cooked. Turn them over and cook another 2 minutes.
Transfer to a paper towel lined plate to drain. When cool enough to handle place them on top of the sugar-cinnamon mixture and spoon it all over each churro. Remove to serving platter, serve warm.
*My EGFG flour blend is 300g sweet rice flour, 300g potato starch, 200g sorghum flour, 200g millet flour