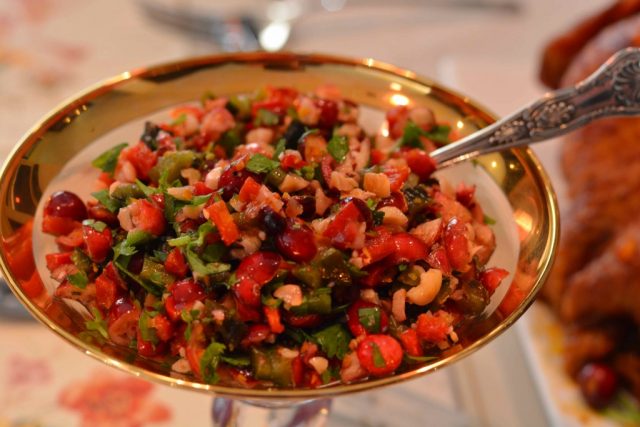 Description
Cranberry Orange and Cilantro Salsa is the perfect complement to my Southwestern turkey dinner. It's not your typical cranberry sauce but I love the flavours of the southwest and this combination is amazing.
In my family growing up my mom served canned cranberry sauce with turkey dinner. The kids liked jellied cranberry and my mom liked whole cranberry sauce so she always served both. As I young cook I was fascinated by the flavours of different cultures and made many versions of cranberry sauce, chutney, relish and salsa.
Salsa literally means sauce but not just the tomato-based sauce commonly eaten with nachos. Salsa can be fresh or cooked, chunky or smooth, hot or mild. This Cranberry, Orange and Cilantro Salsa has a bright, fresh taste from orange juice and zest. The roasted hazelnuts are unusual but this unique combination works. Over the years it has become an essential part of my turkey feast but to honour tradition I also serve canned cranberry sauce right beside it.
Chile Know How
Chiles play a role in each dish on my turkey menu. There are three types; fresh Anaheim in the Cornbread Chorizo Stuffing, plus fresh poblano and dried ancho in the Ancho Chile Gravy. The Cranberry, Orange and Cilantro Salsa also has a fresh poblano chile.
The variety of chiles available at the grocery store is ever increasing so I'm happy to find beautiful, dark green poblano chiles without too much trouble. It took me a long time to remember what each chile looked like so if you need a tip in the chile department here is what I learned.
The signs at the grocery store are not always correct so I recommend you do a quick Google image search to refresh your memory of exactly what each chile looks like. In my experience dried chiles are generally labelled correctly, the fresh ones not so much.
PIN Cranberry Orange and Cilantro Salsa for later…
This post contains affiliate links. When you purchase using these links your cost is the same, but I receive a few cents for every dollar spent. I appreciate your support for this website.
Get The Tools – Cranberry Orange and Cilantro Salsa
For a gourmet presentation on a buffet I like to serve this cranberry salsa in a regular martini glass. If I have a big crowd I use an oversized martini glass for a stand out look. Look around and use any unique dishes you have in the back of your cupboard. For special occasions I always say 'go big or go home'!
Do you have a special cranberry sauce you serve with your turkey dinner? Let me know about it in the comments below.
---
More Cranberry Recipes and My Gluten Free Turkey Feast
Click on the (hard to read) text on the image to go to the recipe/blog post.
Ingredients
1 red pepper
1 fresh poblano chile
1/2 cup sugar
1/4 cup orange juice
2 cups cranberries, coarsely chopped
1/4 cup roasted hazelnuts, chopped
2 Tbsp grated orange zest
1/3 cup chopped cilantro
Directions
1

Char red pepper and poblano chile over a gas flame or under the broiler until black on all sides. Place in a plastic bag and steam for 10 minutes. Peel blackened skin off, seed and chop.

2

Put cranberries in a medium bowl.

3

Combine sugar and orange juice in small saucepan over medium heat, stirring until sugar dissolves. Remove from heat. Pour over cranberries.

4

Add red pepper, poblano chile, hazelnuts and orange zest. Stir to combine. Can be made 1 day in advance. Cover and refrigerate.

5

Stir in cilantro and serve.