Description
These Cranberry Orange Scones are bursting with citrus flavour and pair well with cranberries, fresh or dried. Take advantage of the winter citrus season to make anything with the magical combination of orange and cranberry.
Like many baked goods, scones are best eaten the day they're made.
The second best scone is the homemade one you baked and wrapped to eat later. I leave them in a container at room temperature for a few days but I do wonder why I don't just freeze them as soon as they've cooled.
I'll let you know if I come up with the answer to that.
Clotted Cream vs Whipped Cream
Scones are British and are typically served with clotted cream and jam. Whipped cream is the easiest replacement for me and since I'm having jam too I prefer it to be unsweetened.
If you're a scone aficionado clotted cream is the most decadent choice. It has more fat than whipping cream and tastes like smooth, delicious, unsalted butter. You can probably buy it somewhere and of course you could make it from scratch.
Jam and freshly whipped cream is decadent enough for me.
PIN Cranberry Orange Scones for Later…
This post contains affiliate links. When you purchase using these links your cost is the same, but I receive a few cents for every dollar spent. I appreciate your support for this website.
Tips For Gluten Free Scones
Gluten free bakers always have two parts to learn when baking something new. In this case I needed a refresher to know exactly what defines a scone. That tells me I'm looking for a light, tender scone with a buttery flavour and subtle sweetness.
Second, what adjustments will help to make up for the difference between wheat flour and gluten free flour. I go to my America's Test Kitchen cookbooks for that kind of information. I refer to those books over and over so I know lots of the tricks but I know the learning never ends.
Here are some tips for gluten free bakers searching for the perfect scone.
Xanthan gum and an egg help with structure.
Egg gives these scones moisture and elasticity.
The resting time prevents a gritty texture.
Replacing the usual milk or cream with sour cream prevents them from spreading.
Preheating the oven beyond the cooking temperature, then reducing it, ensures complete browning.
Doubling up the baking pan prevents over browning on the bottom and let's the scones cook fully.
It's All About The Flour
I've said it over and over but I'll say it again, there's no single flour that can replace all the properties of wheat flour in every recipe. Now I'm adding to that statement, you can get excellent results with different combinations of flours and starches. So keep good notes and keep baking!
If you're interested in virtual cooking classes join me for this class, The New Basics for Gluten Free Bakers; Understanding How To Use Gluten Free Flour. Scheduled classes can be found here, CLASS CALENDAR.
Starbucks Mini Scones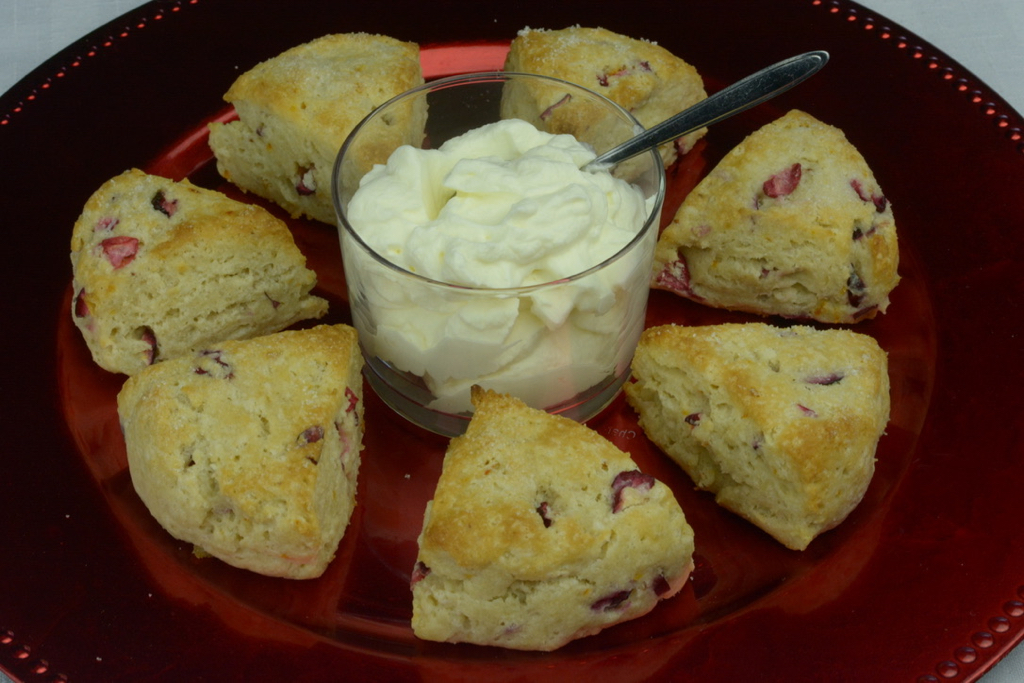 I wanted to make mini scones like I see in the Starbucks display case and it was simple!
For the full recipe I shape the dough into a six-inch circle and cut it into six triangle pieces. For mini scones I divided the dough in half to make two smaller circles. I cut the dough the same way and got twelve mini scones that were exactly the size I wanted.
Get The Tools For Gluten Free Scones
You can use a stand mixer or food processer or just your hands, whatever is easiest for you. Then it's just a baking pan (always buy them in pairs) and parchment paper for easy clean up.
I buy citrus fruit all year long but when I'm baking at this time of year, Cranberry Orange Scones and Blueberry Lemon Scones are the combinations to make. Once you've got a recipe that works for you then you can try anything from Bacon-Chive to Raspberry-White Chocolate.
If you tried these I'd love to hear what flour you used and if there was a tip that you think made all the difference. Happy Baking!
---
More Cranberry-Orange Recipes plus Help For Gluten Free Bakers
Click on the (hard to read) text on the image to go to the recipe/blog post.
Ingredients
1⅔ cups (220 g) gluten free flour (I used a 4-ingredient Cake Flour Blend*)
3 Tbsp sugar
1 Tbsp baking powder
¼ tsp salt
¼ tsp xanthan gum
6 Tbsp cold butter, cut into ½-inch pieces
⅓ cup fresh cranberries, chopped
1 Tbsp finely chopped orange zest
⅔ cup sour cream
1 egg
*Cake Flour Blend: 150g brown rice flour, 150g white rice flour, 100g potato starch, 100g tapioca starch
Directions
1

Set oven rack to the centre of the oven. Preheat to 500°F. Use two baking sheets to prevent over browning. Tear parchment paper to fit baking sheet but put it directly onto the counter. Spray or brush with oil.

2

In a large bowl measure cake flour blend, sugar, baking powder, salt and xanthan gum. Whisk until combined.

3

Using a stand mixer, food processor or your hands, add cold butter and mix until the mixture resembles fine crumbs with no butter pieces visible.

4

Stir in cranberries and orange zest.

5

In a measuring cup stir sour cream and egg until combined. Stir into dry ingredients and mix until combined. Cover bowl and let rest for 30 minutes.

6

Transfer dough to greased parchment paper. Using wet hands shape the dough into a 6-inch round about 1-inch thick. For mini scones shape dough into 2 rounds, about 4 inches in diameter.

7

Grease a large knife and cut rounds into 6 wedges. Transfer parchment to baking sheet and arrange scones 2-inches apart. Lightly sprinkle tops of scones with a little extra sugar.

8

Transfer to oven and immediately reduce temperature to 425°F. Bake until golden brown, 15-18 minutes.