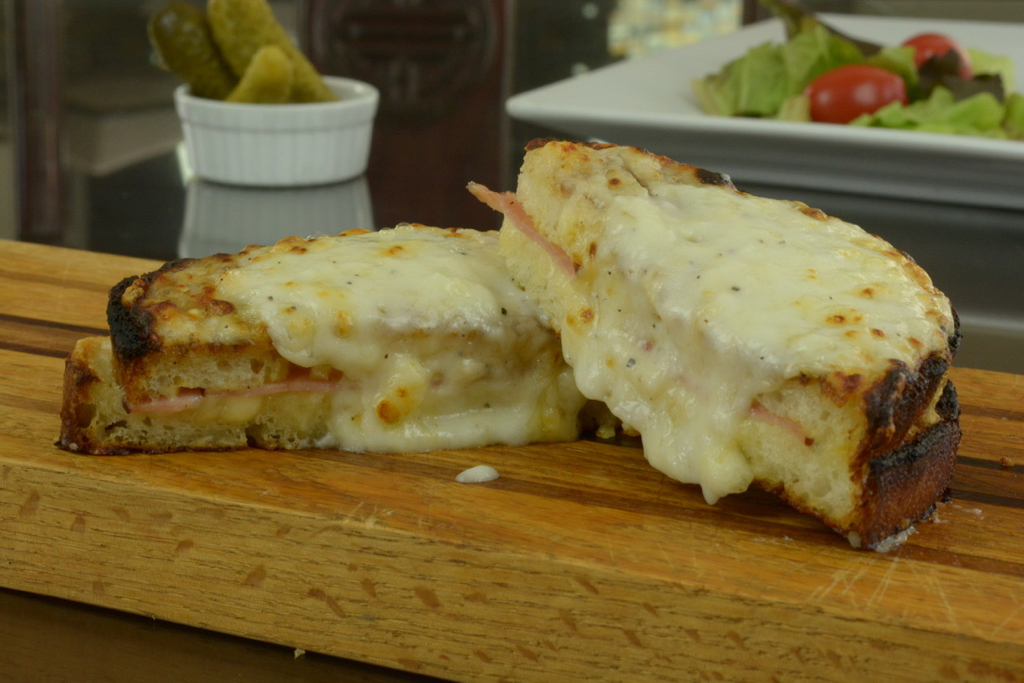 Description
Whether you've heard of it or not Croque Monsieur is a famous French sandwich, literally translated to a gentleman's sandwich. A hundred years later a grilled ham and cheese needs no explanation (or recipe) but it was the leftover Swiss cheese I had in my fridge that reminded me of this classic.
As with any well known recipe there are many variations so feel free to switch it up to suit your taste. However, I often recommend you try some classic dishes as they were created first. Then you can decide if there is some tweak you want to make next time.
I wasn't sure of the exact elements of a Croque Monsieur so of course I did some research to refresh my memory.
The Croque Monsieur is a grilled ham and Swiss cheese sandwich topped with béchamel sauce, the French term for white sauce. Before I describe the finer points of the classic Croque Monsieur there are two popular variations of this sandwich that you may have heard of.
Croque Madame – Croque Monsieur with a fried egg on top
Monte Cristo – Croque Monsieur dipped in egg and pan-fried
PIN for later…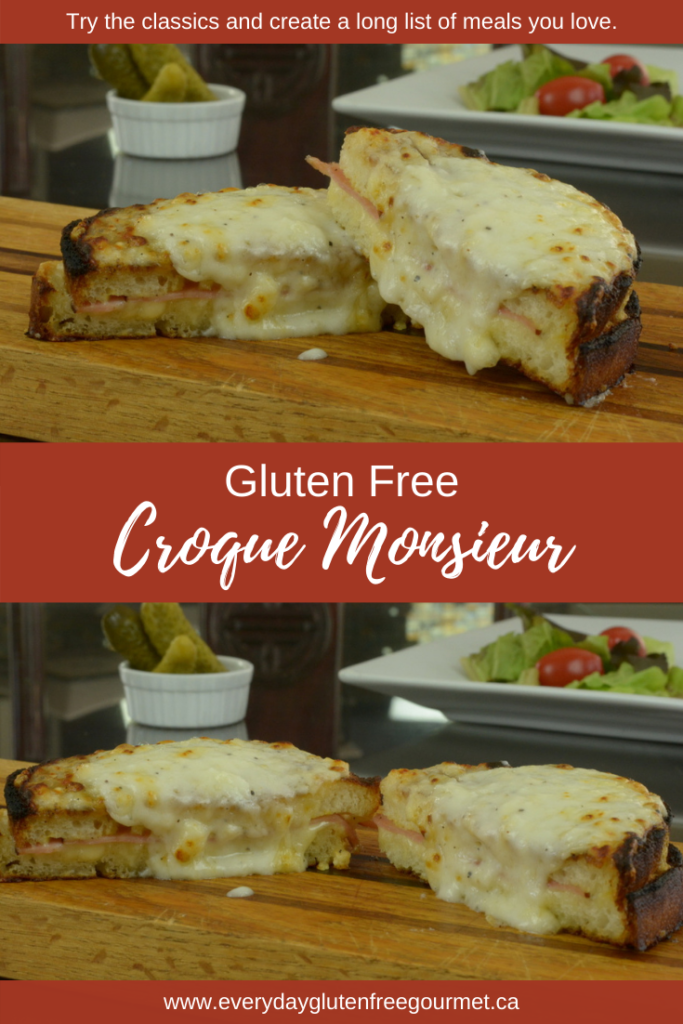 The Bread
The original French Croque Monsieur was made with brioche bread that is slightly sweeter than regular bread. Many sources say the bread must be white so I bought gluten free sliced white bread for my sandwich. Be sure to spread one side of the bread with Dijon mustard.
The Cheese
I recently bought imported Emmanthal and Gruyere to make French Onion Soup so that was the impetus for this sandwich. Domestic Swiss cheese will be fine unless you're a super taster. Either way it's a good opportunity to support a smaller, local cheese shop and buy something you haven't had for awhile.
White Sauce, AKA Béchamel Sauce
Béchamel sauce is a classic French sauce. In North America we call it white sauce, when you add cheese we call it cheese sauce. I love both white sauce and cheese sauce. If you don't, you probably won't want to try this sandwich.
White sauce is a versatile recipe that was first made with wheat flour. Yet many cooks, long before we heard of gluten free, were making their white sauce with cornstarch. Thirty years ago I wrote the recipe for this sauce on a container and filled it with cornstarch. When I began cooking gluten free nothing changed, I still make the same sauce.
Get The Tools
Every kitchen needs tools and when you have the right tool for the job it is always easier. A gluten free lifestyle might require you to take some of your tools with you when you travel so here are some options to consider.
I'd love to hear if you tried this sandwich or a variation and what you thought of it. Let me know in the comments below.
---
More Recipes with White Sauce
Click on the (hard to read) text on the image to go to the recipe/blog post.
Ingredients
8 slices gluten free white bread
butter
4 slices ham
Dijon mustard
sliced Swiss cheese (Gruyere or Emmenthal)
WHITE SAUCE – makes 1 cup
2 Tbsp butter
1 Tbsp cornstarch
¼ tsp salt
⅛ tsp pepper
1 cup milk (2% or higher but it still works with skim milk)
FINISHING – ½-1 cup grated Swiss cheese
Directions
1

PREPARE SANDWICH

2

Set bread on a board to make 4 sandwiches. Butter outside of all bread slices.

3

Spread 1 side of the inside of each sandwich with Dijon mustard and cover with ham.

4

Cover ham with single layer of sliced cheese. Close sandwiches.

5

Preheat griddle or non-stick frying pan. Grill sandwiches on both sides until golden and cheese is melted. Cut in half if desired.

6

MAKE WHITE SAUCE - In small saucepan melt butter over medium low heat. Add cornstarch, salt and pepper and whisk until smooth.

7

Pour in ⅓– ½ of the milk. Whisk and let thicken. Add remaining milk whisking often until thick and smooth.

8

Add grated cheese if desired and stir until evenly melted.

9

FINAL ASSEMBLY – Preheat broiler.

10

Place sandwiches on lined baking sheet.

11

Spread warm white sauce on top of each sandwich and sprinkle with grated cheese.

12

Broil until top is brown and bubbly. Serve immediately.