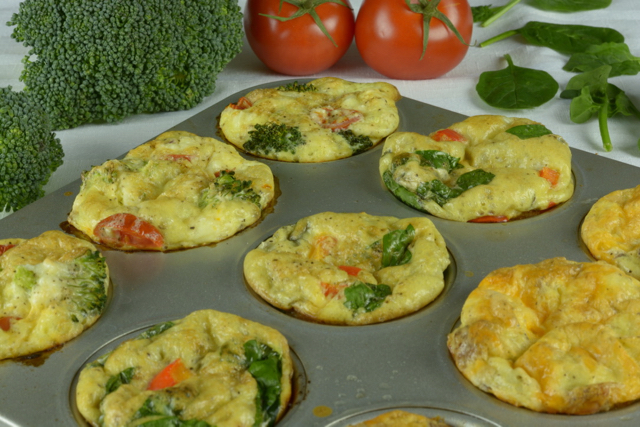 Description
Eggs are one of natures' fast foods and these fluffy Egg Muffins are a versatile way to make a quick breakfast or snacks for the whole week. Some people say you can freeze them but I haven't tried that.
When I first heard of these I thought it would just be easier to make an omelette and cut it up, I already do that. But the beauty of these little Egg Muffins is that you can put different topping in each one adding variety to your breakfast or snacks. It is also a good way to use up tiny bits of almost anything you see in the fridge. Best of all, you get to put all the toppings in raw since they cook as they bake. Now I'm not sure which is easier, egg muffins or an omelette. It depends more on what you're making them for.
PIN Egg Muffins for later…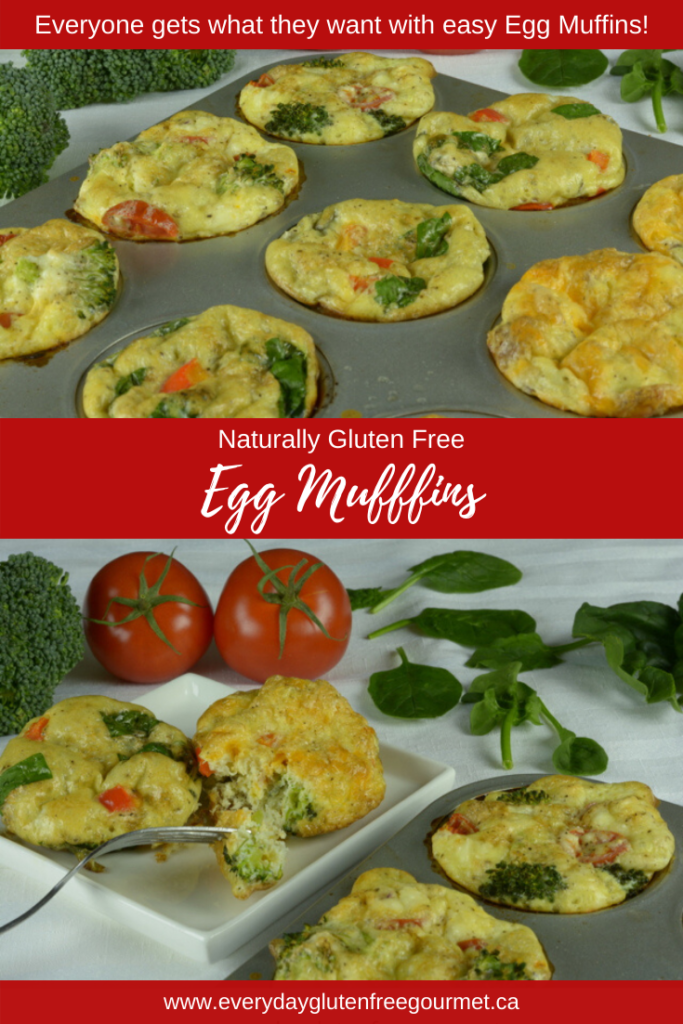 From Everyday to Gourmet for Egg Muffins
Silicone Muffin Liners
For everyday breakfast and snack using the silicone muffin liners is easiest. However, these muffins didn't rise as well so were slightly denser that the ones cooking directly in the muffin tin. These didn't brown around the edges but I didn't mind that. For everyday snacks and breakfast all week long I'd recommend using the silicone liners.
Well-Oiled Muffin Cups, No Liners
Without liners these egg muffins had the highest rise and were therefore light and fluffy. They browned around the edges and easily came out of the muffin tin with a stiff plastic spatula. If you're serving breakfast to a big group the ideal presentation would be to take them directly to the table right in the muffin pan. After the wow, they will deflate and you should have your best tool to easily remove the egg muffins in front of the crowd.
I encourage you to do the comparison in your kitchen. Bake half your egg muffins with silicone liners and half without then you decide what works for you. Do not use paper muffin liners. Too much egg sticks to the paper and they're simply not the right choice for this recipe.
Get The Tools
Every kitchen needs a few tools and a standard muffin tin is one of them. I have both the 6-cup and 12-cup standard muffin tins and use them all the time. I have a few mini-muffin tins too.
Silicone muffin liners are a good environmental choice but they do affect the way things bake. Generally foods don't brown as well when baked in silicone. It takes patience to work with them the baking time or increasing the temperature for different recipes. Gluten free bakers know that taking notes and cooking to a timer is the best way to have reliable recipes you can repeat over and over. I don't own a silicone muffin pan but the clean up is always easy when using silicone.
Let me know in the comments below if you learned anything or have some questions from working on this recipe in your kitchen.
---
More Egg Recipes
Ingredients
8 eggs
2 Tbsp finely chopped onion
2 Tbsp whole milk or heavy cream (optional)
½ tsp salt
¼ tsp pepper
additional seasoning as desired
THREE FILLING COMBINATIONS
Diced, cooked bacon and shredded cheddar cheese
Fresh spinach and diced red pepper
Raw broccoli pieces, halved cherry tomatoes and diced feta cheese
Directions
1

Preheat oven to 350°F. Generously grease muffin tin or use silicone liners. Do not use paper liners.

2

Mix eggs, onion, milk, salt and pepper in a 4-cup liquid measuring cup. Pour into muffin tin to fill each muffin ⅔ full.

3

Add a small amount of desired toppings to each muffin. Silicone liners – fill right to the top; No liner – fill ¾ full and watch them rise.

4

Bake 20 minutes in preheated oven.

5

Transfer from oven to table and serve immediately.

6

Can be reheated in microwave for 10-15 seconds.

7

Makes 12 egg muffins.