Description
Of course you can make French onion soup gluten free and so you should. It's easy to pass over recipes that have a significant component of wheat, like the crouton served on top of a classic bowl of French Onion Soup. I think it's important for a gluten free lifestyle to learn to make exactly what you want to eat. Winter is soup season, cheese is delicious and you probably haven't had a good bowl of French onion soup for a while.
If you're a soup lover, challenge yourself to make a new soup every season of the year. Slowly you'll find favourites that you want to repeat year after year and that you look forward to making. I don't make French Onion Soup every year but it's on my list and it reminds me of my restaurant days long ago. We served a lot of French Onion Soup!
Caramelized Onions
Caramelizing onions is a slow process with a sweet reward. If you cheat by cooking them faster on high heat you'll have sautéed onions with a sharp onion taste. So be patient, allow the natural sugar in the onions to be released and slowly caramelize. This creates a sweetness and depth of flavour that tastes amazing.
If you've got flavour combinations running through your head by all means steal half a cup of these caramelized onions for your next pizza or a grilled cheese sandwich.
PIN for later…
This post contains affiliate links. When you purchase using these links your cost is the same, but I receive a few cents for every dollar spent. I appreciate your support for this website.
Best Cheese for Onion Soup
French Onion Soup originated in the Alpine region of France along the Swiss border. This region is famous for many cheeses but Emmental (also called Emmentaler or Emmenthal) and Gruyère are typically used on top of the crouton in a bowl of onion soup. What we call Swiss cheese in North America, the cheese with the holes, is Emmental.
If you're a cheese lover, a super taster or are looking for a real treat buy the imported cheese. Expect to pay good money but you just might make the best French onion soup you've ever tasted.
What Gluten Free Bread Is Good For French Onion Soup?
Typically onion soup is topped with a baguette slice. You can certainly make a gluten free baguette at home and one day I'll do that. For this soup I simply bought a loaf of gluten free white sandwich bread and cut a 4-inch circle to fit the top of these bowls.
KITCHEN TIP – I keep the leftover edges of any gluten free bread or buns in a container in the freezer. I keep adding to it and when I need breadcrumbs for a recipe like Turkey Tetrazzini or Lemon Hazelnut Halibut I've got something to use.
Get The Tools
Every kitchen needs tools and it's a good thing when you have the right tool for the job. A big stockpot is great for families who do cooking projects like canning salsa, jam or pickles. For most people the largest pot in a typical set of pots is perfect for soup.
I'd love to hear how your soup turned out and what you did to make it extra delicious. Let me know in the comments below.
---
More Recipes – A Round Up of Homemade Soups & A Cheese Fondue
Click on the picture to go to the recipe or blog post.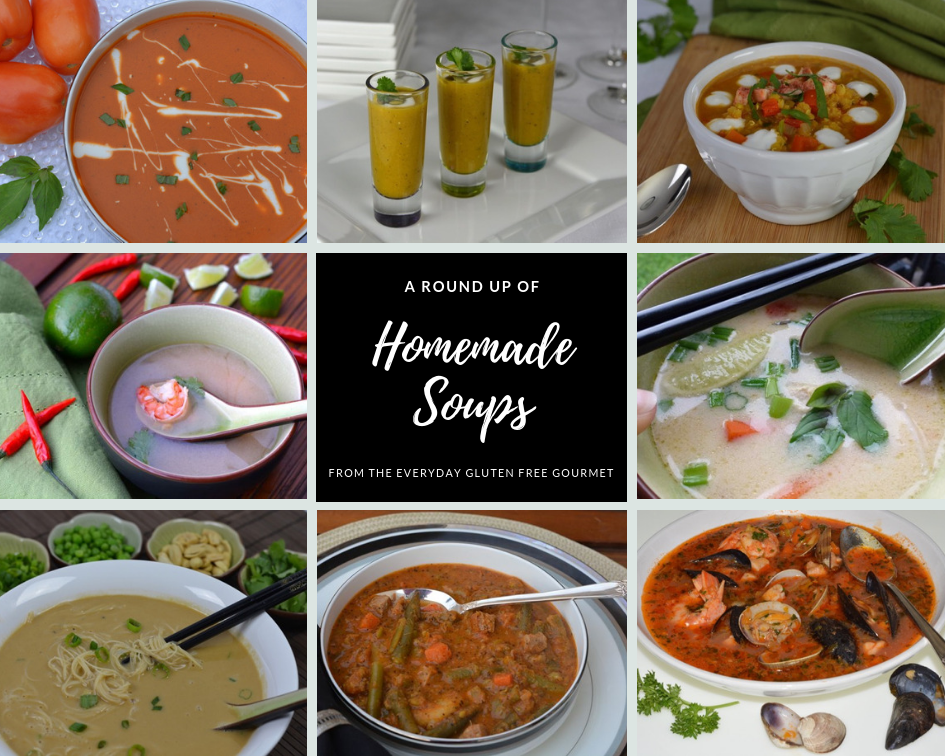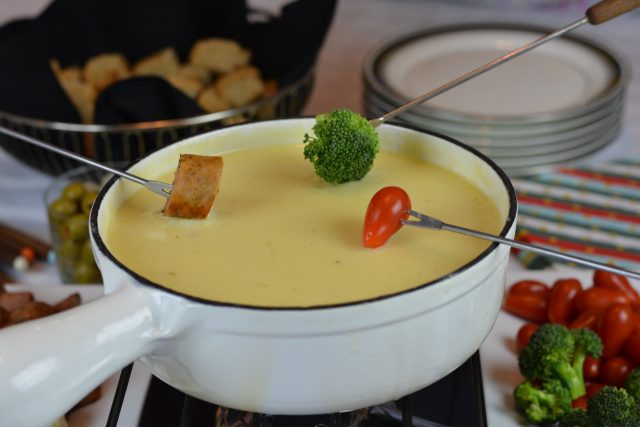 Ingredients
¼ cup butter
2½ - 3 lb onions, thinly sliced
2 cloves garlic, minced
⅓ cup dry white wine
8 cups GF beef stock
½ tsp thyme
2 bay leaves
salt and pepper to taste
CROUTONS
6 slices GF sandwich bread or baguette
1 cup shredded Emmental cheese
1 cup shredded Gruyère cheese
Directions
1

Melt butter in large pot over medium heat.

2

Add onions and cook, stirring often, until onions sweat down to about half the amount you started with, about 10 minutes. (They will eventually reduce to about ⅓ of what you started with.)

3

Turn heat down slightly and continue cooking, stirring often, until they brown slightly and caramelize, about 45 minutes.

4

Add garlic and cook for 1 minute.

5

Add wine and stir, scraping up the brown bits from the bottom of the pot.

6

Stir in beef stock, thyme and bay leaves. Bring to a boil, reduce heat and simmer until reduced slightly, about 15 minutes.

7

Remove bay leaves. Taste and season with salt and pepper.

8

PREPARE CROUTONS

9

Cut bread into desired size and toast both sides in a toaster.

10

Combine cheese, set aside until ready to serve.

11

Preheat broiler. Fill soup bowls and place on baking tray. Top with toasted bread.

12

Sprinkle with cheese and put under broiler until melted and bubbly. Serve.