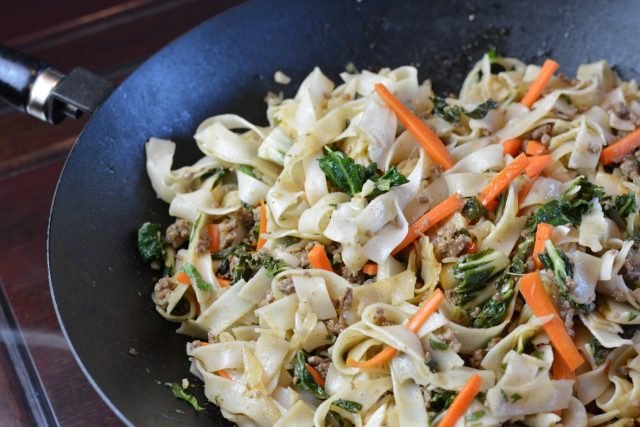 Description
Beef and Bok Choy is one of those everyday recipes my family enjoys. I know my pantry includes the necessary ingredients; gluten free hoisin sauce, fish sauce, Chinese five spice powder and rice noodles. Knowing this I can simply add bok choy to my grocery list and make this quick weeknight stir-fry anytime.
PIN for later…
This post contains affiliate links. When you purchase using these links your cost is the same, but I receive a few cents for every dollar spent. I appreciate your support for this website.
Get The Tools – Wok Cooking
In January I welcome the idea of eating healthier foods. To make more home cooked meals I highly recommend getting into wok cooking. A sturdy, flat-bottom wok has many uses and I couldn't live without it. The large surface area of a wok is ideal for the quick stir-fry method. It holds loads of vegetables that can easily be stirred without falling out of the pan. That's exactly what I'm looking for when I think of quick, healthy everyday meals.
Bok Choy and Other Cruciferous Vegetables
Bok choy is a cruciferous vegetable. These vegetables are packed with vitamins, fiber and disease-fighting phytochemicals. They're part of the mustard family and include bok choy, broccoli, Brussels sprouts, kale, arugula, cabbage, collard greens and many more leafy greens. It also includes some vegetables that are not green such as cauliflower, turnip and radish. Cruciferous vegetables are good for you so in the spirit of healthy eating I am planning to cook and eat more of them this year and every year.
Teach your kids to say cruciferous vegetables and they'll be on their way toward living a healthy lifestyle.
Organize For Success – Beef and Bok Choy
When I buy ground beef I chose a large package and freeze it into amounts I need for certain dishes. This recipe calls for three-quarters of a pound (or half a pound is fine) so I freeze that amount and write For Beef & Bok Choy on the label. This label serves as a reminder for me to make this dish with the added benefit that it is already the amount I need.
A Little Pantry Tip
No matter what ingredients I have in my pantry, fridge or freezer I always want to know what else I can make with them. You can read my post on a basic gluten free Asian pantry for more ideas but here are a few recipes that use some of the same ingredients as this recipe.
Do you have a tip or a method that works for keeping the food in your kitchen moving? I'd love to hear about it in the comments below.
---
More Recipes – Wok Dishes
Ingredients
SAUCE
¼ cup Thai chile sauce
2 Tbsp GF Hoisin sauce
1½ Tbsp GF soy sauce
½ Tbsp fish sauce
VEGETABLES
2 carrots, peeled and cut in 2" strips
4-5 baby bok choy or half a head of regular bok choy, washed and cut in thick slices
NOODLES - 8 oz wide rice noodles
MEAT
2 tsp vegetable or peanut oil
12 oz ground beef
½ onion, sliced
1 garlic clove, minced
⅛ tsp Chinese five spice powder
GARNISH – ¼ cup chopped cilantro
Directions
1

Mix sauce ingredients and set aside.

2

Prep vegetables and set aside.

3

Place rice noodles in large bowl, cover with boiling water for 5 minutes or hot tap water for 15 minutes. Drain and set aside.

4

Heat oil in wok over high heat.

5

Add ground beef, onion, garlic and five spice powder. Stir-fry until meat looses its pink colour.

6

Add carrots, bok choy and sauce. Stir-fry until bok choy wilts, about 3 minutes.

7

Add noodles, stir to combine and allow noodles to warm up.

8

Sprinkle with cilantro and serve.