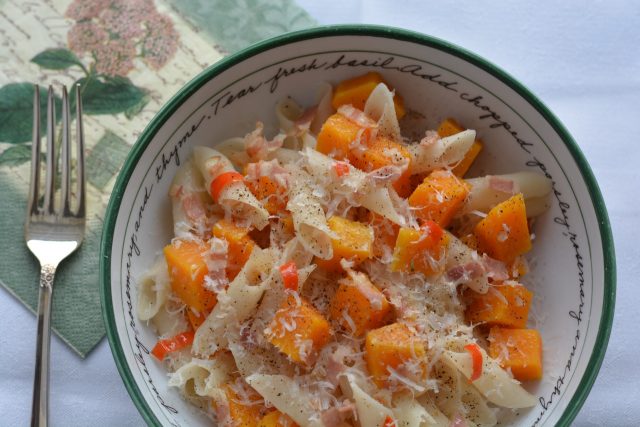 Description
This Butternut Squash and Pancetta Penne is simple and delicious. Pasta is always a quick meal and to me a gluten free lifestyle must include pasta. There are more and more gluten free pastas to choose from and they are becoming easier to find. Be sure to include Italian food shops on your list of grocery stores you frequent. Italy knows a lot about celiac disease and gluten free pasta.
If you have not yet mastered the art of cooking gluten free pasta I wrote about that is another post you can read here.
This post may contain affiliate links. When you purchase using these links your cost is the same, but I receive a few cents for every dollar spent. I appreciate your support for this website.
Pantry Tip – Butternut Squash
I like to keep a butternut squash in my pantry in the fall and winter. It will keep for weeks and when I need it, a single butternut squash provides plenty of veg for an easy weeknight dinner. It is so versatile, the best of the squash family in my opinion. Delicious on its' own steamed, microwaved or roasted but also excellent in soup, risotto or even on a salad. It can be skinned and cut in cubes or made into a velvety puree. Unpeeled it can be cut in big hunks or more dainty slices and roasted.
The tough outer skin of a butternut squash can be difficult to cut and even dangerous when you get a big knife stuck half way through it.  To soften the skin simply microwave the whole squash on high for a minute or two. It will then be easy, and safe, to cut in half. Using a spoon remove the seeds then place it cut side down on a cutting board. Remove all the skin with a vegetable peeler or a knife.
Pancetta vs Bacon for Butternut Squash and Pancetta Penne
While you are checking out the selection of dried pasta at the Italian market pick up some pancetta. Similar to bacon, pancetta is cured pork belly and is considered raw. In Italy they do eat it raw so no worries if you read this after you just ate a slice. You can buy pancetta prepackaged or have it sliced at the deli counter. Of course you can simply omit it or substitute bacon. The taste will be completely different but this is just an easy weeknight dinner.
This recipe is adapted from Gennaro Contaldo, an Italian restaurateur and partner on Jamie Oliver's Food Tube. If you haven't seen him you might enjoy the BBC documentary titled Two Greedy Italians…now that is passion. Enjoy!
Ingredients
2 Tbsp olive oil
4 oz pancetta slices cut into strips
½ onion, chopped fine
½ a small red chile, sliced
1 lb butternut squash cubes
1 tsp dried rosemary
4 cups GF chicken stock
8 oz GF penne or pasta of your choice
salt to taste
freshly ground pepper to taste
grated parmesan cheese to taste
Directions
1

Heat olive oil in sauté pan over medium-high heat. Add pancetta, onion and chile. Cook stirring for about 3 minutes.

2

Add squash, chicken stock and rosemary, bring to a boil. Reduce heat and simmer for 20 minutes until squash is tender and liquid has reduced slightly. Add more chicken stock if needed.

3

Put a large pot of water on to bowl for the pasta. Cook penne according to package directions. The pasta will continue to cook while you toss it with the sauce and serve it.

4

Cover with a generous amount of parmesan cheese and freshly ground black pepper.