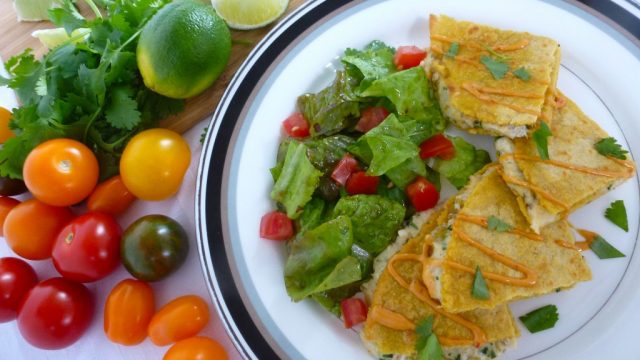 Description
Everyone loves a gooey, cheesy quesadilla, in this case crab quesadillas. A cheesy filling sandwiched between corn or flour tortillas and fried…what's not to like. Topped with your favourite guacamole, maybe a nice fresh salsa and a dollop of sour cream the variations are endless and a welcome change from tacos. Kids love them too. I remember the first time my son, only 3 or 4 years old, asked for quesadillas. I was impressed he could say the word but it did make me wonder if perhaps we were eating quesadillas too often.
For these crab quesadillas I used canned crab, canned green chiles, Monterey Jack cheese and a rich goat cheese. I haven't used a recipe to make quesadillas for such a long time that I forgot what a nice combination this is. I like to serve these with a creamy Cilantro Salsa but today I had chipotle mayo in the fridge so I used it in the filling and on top. It is delicious but I've included the recipe for my tried and true Cilantro Salsa. It is a mayo/sour cream sort of thing so a generous blob perks up tuna or salmon salad…remember that when you are cleaning out your fridge.
This post contains affiliate links. When you purchase using these links your cost is the same, but I receive a few cents for every dollar spent. I appreciate your support for this website.
Homemade Corn Tortillas; Organize for Success
Quesadillas are a popular restaurant menu item but are often made with wheat flour tortillas. Traditional Mexican quesadillas were made with masa harina making them naturally gluten free.
When I wasn't happy with the store bought gluten free tortillas I learned to make them with masa harina. The recipe is right on the bag but I wrote this blog post, homemade corn tortillas with step-by-step photos.
Once I learned to make them I organized the process to be efficient. I designated a bucket to hold all the necessary items and made a space for the container in my kitchen. Here's what you might want to put in your bucket:
Two zip-lock style freezer bags (sturdier than sandwich bags) to press each dough ball
Several squares of wax paper to separate the tortillas as I make them (and now parchment paper because I think it works better)
A bag of masa harina
The recipe is on the bag of masa harina but I want to see it from a distance and I want to know the single, double and quadruple recipe. I put all that on a page, printed it in LARGE PRINT and taped it to two sides of my container.
Fillings for Crab Quesadillas
You can fill quesadillas with anything. I usually don't use a recipe to make quesadillas but this is an old favourite that I actually had not made for a few years. The value of keeping recipes is to be able to repeat some amazing food combinations. But experimenting is part of the fun too and that's how you create some delicious combos.
Some of my favourite quesadilla fillings include:
I'd love to hear what you like in your quesadilla. Let me know in the comments below.
---
If you're new here join our community and get your FREE resource for baking and cooking, 29 Tips I wish I knew when I started.
Yes, I need 29 Tips For Cooking with Gluten Free Flour.
New to gluten free? Check out our virtual and in-person Cooking Classes or visit NEW TO GLUTEN FREE.
---
Crab Quesadillas
Everyone loves a gooey, cheesy quesadilla, in this case crab quesadillas. A cheesy filling sandwiched between two corn tortillas.
Ingredients
8

homemade corn tortillas
QUESADILLA FILLING
7

oz

canned crabmeat

1

cup

shredded Monterey Jack cheese

2

oz

goat cheese, crumbled

¼

cup

canned green chilies, chopped

2

Tbsp

chipotle mayo or plain mayonnaise

2

Tbsp

fresh cilantro, chopped

oil for frying tortillas
CILANTRO SALSA
½

cup

chopped cilantro

½

cup

sour cream

½

cup

mayonnaise

1

Tbsp

lime juice

¼

tsp

hot pepper sauce
Instructions
Fry corn tortillas on one side only. Turn upside down onto a cutting board and generously spread filling on top.

Fry a second tortilla on one side and place the cooked side on top of the filling. Now fry the quesadilla on both sides. Repeat with remaining tortillas.

Cut and serve with Cilantro Salsa and/or Chipotle Mayo.
CILANTRO SALSA
Combine all ingredients together and serve with crab quesadillas.