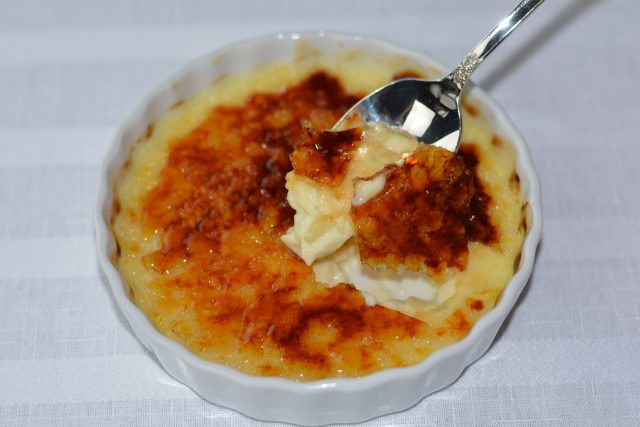 Description
Creme Brulee, or more correctly spelled Crème Brûlée, is a classic French dessert with a velvety smooth texture, a rich creamy taste and a crunchy caramel topping.
Creme Brulee is popular throughout Europe with slight variations to the name. In Spain and Mexico it is called Crema Catalana or simply flan. The Italians call it Cream Caramella and in Britain it is referred to as Trinity Cream. Crème Brûlée is most often made with cream while some of the other variations use milk or sweetened condensed milk. If you like this kind of dessert it is perfect ending to a meal with friends.
This post contains affiliate links. When you purchase using these links your cost is the same, but I receive a few cents for every dollar spent. I appreciate your support for this website.
A Water Bath – AKA Bain-Marie
The best custard is cooked on the stove first and then in a water bath in the oven. The French term for a water bath is bain-marie. It is easy to make a water bath using any large pan, like a lasagna pan. Place the custard-filled, individual ramekins into the pan then pour boiling water around them. That is a water bath.
While they 'set' the water bath adds moisture to the oven and maintains an even temperature during cooking. This prevents the dessert from cracking or becoming rubbery. This entire process can be done in advance, even the night before.
Get The Tools – A Kitchen Blowtorch
Using a blowtorch makes an impressive demonstration and is the kind of tool that can inspire teenagers to get in the kitchen. Even younger kids can safely use the blowtorch for fun things like melting marshmallows…on top of anything.
A kitchen blowtorch is not mandatory but it is the best way to make the smooth caramel top layer of a Crème Brûlée. Using your oven broiler will work but it's difficult to melt the sugar evenly and it is not nearly as much fun.
The technique is not hard and only takes a few minutes to master. The trick is to move the torch fairly quickly making small circles over the sugar as it melts. Crème Brûlée literally means burnt cream, but the goal is to NOT burn the sugar. You might have to burn the sugar to figure it out so just make that all part of the fun.
Get The Tools – Ramekins
I love ramekins, those little glazed ceramic dishes used for cooking and serving. I use them in the kitchen but I even use the tiny 1-oz dishes for odd things like a broken earring or a random nail. Every kitchen should have ramekins.
The most common way to serve Creme Brulee is in a low-sided ramekin. They come in all shapes and sizes including round, square, oval and even heart-shaped. The 4-oz round ramekins with higher sides seem to have more uses. The high sides are needed to make a soufflé but these dishes work for this dessert too. The cooking time may need to be adjusted depending on your dishes so plan to make your brulee a few times to figure that out. (And practice playing with the blowtorch at the same time.) Ramekins are often white but are also available in pastel colours and well as bright, vibrant colours to match anything you have.
The Sugar Topping
Do you have berry sugar in your kitchen? It is finely ground white sugar, sometimes labeled as super fine sugar, and is available in the baking aisle. Crème Brûlée recipes often call for it but for my everyday style of cooking regular white sugar works just fine. I tried brown sugar but found it to be too clumpy and I couldn't create the smooth caramel top layer I wanted.
Let me know how your Crème Brûlée turned out in the comments below. Also, did you buy a blowtorch and how did that go?
---
More Recipes For The Blowtorch
Add marshmallows at the end and make this into a Toasted Marshmallow Chocolate Chip Cookie Pizza
Top your favourite brownie recipe with tiny marshmallows and toast them with the blowtorch. If you like anything in a bowl break up brownie pieces and combine them with ice cream to create some kind of Rocky Road Sundae toasting the topping at the table.
Ingredients
2⅓ cups whipping cream
⅔ cup whole milk
¼ cup sugar
3 eggs
3 egg yolks
1 tsp vanilla
CARAMEL TOPPING
¾ cup white sugar
Directions
1

Preheat oven to 300°F.

2

Heat cream, milk and sugar in a saucepan until almost boiling.

3

In a separate bowl beat whole eggs and extra egg yolks together well.

4

Gradually whisk the heated mixture into the eggs then return mixture to the saucepan. Cook over moderate heat, stirring constantly with a wooden spoon, until the custard coats the back of a spoon, 3-4 minutes. Remove from heat.

5

Stir in vanilla.

6

Pour custard into 6-8 individual custard dishes or into 1 shallow 9-inch baking dish.

7

Set dishes in a large baking pan and put in the oven. Pour boiling water into the outer pan to come almost all the way up the sides of the ramekins.

8

Bake for 35 minutes for shallow dishes, 40 minutes for deeper ramekins, until the center of the custard is set. When done, remove custard from water bath and cool. Cover and chill.

9

CARAMEL TOPPING

10

Sprinkle about 2 Tbsp sugar evenly over top of each ramekin.

11

BROILER METHOD

12

Preheat broiler. Set custard under broiler as close to heat as possible. Broil until sugar is browned but not burnt, about 1½ minutes. Serve immediately.

13

BLOWTORCH METHOD

14

Using a small kitchen blow torch making circular movements melt sugar until a solid layer forms on top. Serve immediately.