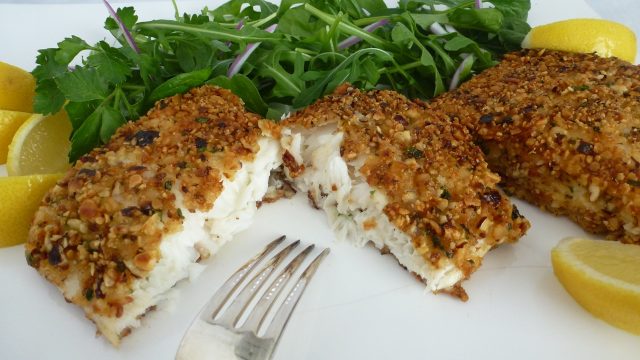 Description
Halibut is a delicate, white fish with a succulent texture and it's in season in March. I treat myself to my favourite halibut recipes at this time of year and this Hazelnut Lemon Halibut is on that list. I say treat because in my area halibut costs at least twice as much as snapper or cod, other fish that go well with this breading recipe. Regardless of the fish you choose this combination of hazelnuts and lemon zest is a delicious complement to any white fish.
The first gluten free cookbook I purchased was The Gluten-Free Chef Cooks What You Crave by Calgary based chef and author Brent Stoesz. He suggested many alternatives to coating foods and using the typical three part method he always starts with sweet rice flour. I often use sweet rice flour to coat beef cubes for stew, chicken strips in my Chicken Porto and several fish dishes. I keep a small jar of sweet rice flour in my cupboard along with the baking powder and baking soda and use it for this purpose. Experiment with gluten free breadcrumbs, cereal, coconut or anything crunchy. I used gluten free panko breadcrumbs but even a hot dog or hamburger bun from the freezer will do. The flavour of the hazelnuts and lemon will still shine through.
How To Prepare and Store Citrus Zest
Prep Once, Eat Twice for Hazelnut Lemon Halibut
You can half the hazelnut-breading recipe if you're only cooking for two or three or, you can make the full amount then simply divide it in half. Use half for the halibut and put the other half of the breading, untouched, in the freezer. (Label it, you'll be glad you did).
Meal Planning Tip – Include the name of the recipe right on the label, in this case, the breading. I'd write 'hazelnut breading for halibut' and when I see that container in the freezer I don't need to remember what recipe I used it for. It's a dinner suggestion from yourself. I love it!
Make this breading recipe throughout the year with any fish. When halibut's in season I'm making this recipe just like it's written. In the comments below, let me know if you tried this recipe and what other breading options you like.
---
More Breading Recipes
Click on the text on the image to go to the recipe/blog post.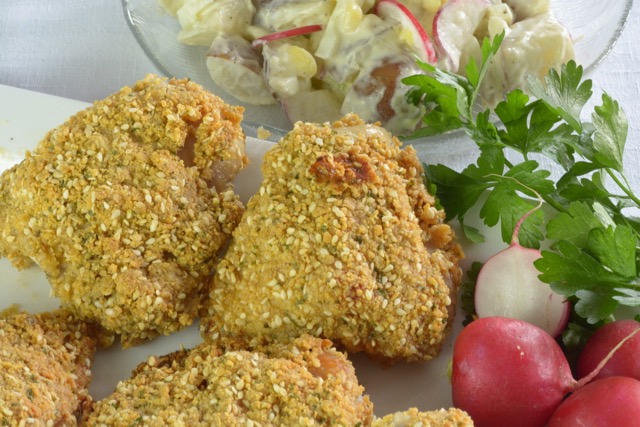 Hazelnut Lemon Halibut
Hazelnut Lemon Halibut has a succulent texture and a burst of fresh citrus flavour.
Ingredients
6

4 oz

halibut fillets

½

lemon
BOWL #1 - DRY
½

cup

sweet rice flour

salt and pepper
BOWL #2 - WET
1

egg

2

Tbsp

cream

(10% or higher)
BOWL #3 – HAZELNUT BREADING
1

cup

gluten free Panko breadcrumbs

(or other gluten free breadcrumbs)

½

cup

hazelnuts, finely chopped

zest of 2 lemons, finely chopped

2

Tbsp

fresh parsley

(or 2 tsp dried)

salt and pepper
FRYING
2

Tbso

butter

2

Tbsp

olive oil
Instructions
Assemble three bowls of ingredients for breading the fish.

In bowl #1 mix sweet rice flour, salt and pepper.

In bowl #2 beat the egg and cream together.

In bowl #3 combine breadcrumbs, nuts, lemon zest, parsley, salt and pepper.

Squeeze lemon juice over the fish.

Dredge fish in bowl #1 (seasoned flour)

Dip in bowl #2 (egg mixture)

Dredge in bowl #3 (hazelnut breading) pressing crumbs into the fish.

Heat butter and oil in a sauté pan over medium-high heat. Add fish and cook for 3-4 minutes until browned, turn and cook for 3 minutes until browned.

Place fish on a baking tray and bake in oven for 5-10 minutes or until done, depending on the thickness of the fish. Serve with lemon.
Notes
Halibut is in season in March so treat yourself.