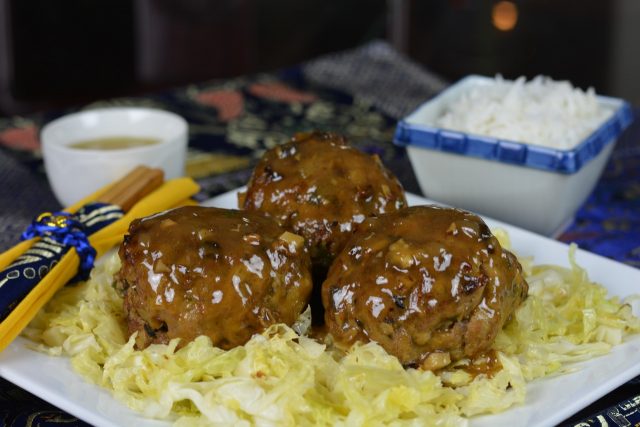 Description
Lion's Head Meatballs is a dish from Huaiyang cuisine. The giant meatballs are said to represent a lion's head and the shredded cabbage represents its' mane. This dish is perfect to celebrate Chinese New Year.
The oversized meatballs are traditionally served on a platter and diners scoop off a portion of the meatball along with some sauce and cabbage. To celebrate Chinese New Year this is a fun way to serve this recipe but for everyday, I divide the meat mixture into six meatballs making it a bit easier to cook and serve.
This post contains affiliate links. When you purchase using these links your cost is the same, but I receive a few cents for every dollar spent. I appreciate your support for this website.
The Joy of Cookbooks
Some people still love cookbooks and I'm one of them. Sure, I Google recipes all the time but I have several shelves of cookbooks and the one that inspired my love of Asian and Asian Fusion cooking is Hugh Carpenter's Pacific Flavors. Years ago I attended one of his cooking classes and when he signed my book he recommended the Lion's Head Meatballs. Of course I went home and made them since no long list of ingredients deters me. This is my gluten free adaptation from his book and I am grateful for his suggestion. I think that you'll agree it is worth the effort once you taste it.
Organize For Success – Lion's Head Meatballs
To cook and enjoy a variety of interesting meals you need a well-stocked pantry. Then you need at least a few favourite recipes to use the different ingredients. If you're just setting up your pantry check out this post, gluten free Asian pantry. If you need more convincing to add to your pantry here are a few ways I use these ingredients.
Canned foods in the pantry can be a life saver too. They sometimes remind me to make a dish or stretch it a bit when I'm short on fresh veggies. I like to keep a can of water chestnuts in the back of my cupboard for this recipe. They add a nice crunch and unique taste to the meatballs but then you're got to use them up. I most often throw them into any stir fry but you can freeze them too.
Chinese New Year only comes once a year but you can make this dish anytime. Let me know in the comments below if you tried this recipe and did it with the giant lion's head meatballs.
---
More Related Recipes
Ingredients
1 lb ground pork
6 dried black Chinese mushrooms (shiitake)
3 green onions, finely chopped
6 water chestnuts, finely chopped
3 cloves garlic, finely chopped
1 Tbsp finely minced ginger
1 Tbsp cornstarch (plus more for dusting meatballs)
2 Tbsp dry sherry
1 Tbsp GF soy sauce
1 Tbsp GF oyster sauce
½ tsp sugar
¼ tsp pepper
CABBAGE & COOKING
4 Tbsp vegetable oil
6 cups shredded green cabbage
SAUCE
1½ cups GF chicken stock
¼ cup dry sherry
2 Tbsp GF oyster sauce
1 Tbsp GF soy sauce
1 tsp sesame oil
½ tsp sugar
¼ tsp pepper
FINISHING - 2 Tbsp cornstarch & 2 Tbsp water
Directions
1

MEATBALLS

2

Pour boiling water over dried mushrooms to cover, let soak 20 minutes to soften. Squeeze liquid out of mushrooms, cut out stems and discard. Finely chop mushroom caps.

3

In a large bowl combine mushrooms, green onions, water chestnuts, garlic, ginger, cornstarch, dry sherry, soy sauce, oyster sauce, sugar and pepper.

4

Add ground pork and gently mix until combined. Form mixture into 3 giant meatballs or smaller ones if you prefer. Refrigerate until ready to use.

5

SAUCE

6

Combine all sauce ingredients in a 2-cup pyrex measuring cup.

7

In a small dish whisk 2 Tbsp cornstarch with 2 Tbsp water. Set aside.

8

COOKING

9

Sprinkle a few spoonfuls of cornstarch over the meatballs. Gently toss the meatballs between your hands until they are lightly coated with cornstarch.

10

Heat a large pan over high heat. When hot add 2 Tbsp oil. When the oil is hot add the meatballs. Cook until nicely browned gently turning them as they brown, about 8 minutes.

11

Transfer meatballs to a saucepan and place over medium-high heat. Pour sauce on top and bring to a boil. Reduce heat, cover and simmer 20 minutes.

12

Add cornstarch mixture to the hot sauce stirring until thickened, 1-2 minutes.

13

CABBAGE & SERVING

14

Just before the meatballs are done cook the cabbage.

15

Heat 2 Tbsp oil in saute pan over medium-high heat. Add cabbage and stir-fry 3-5 minutes until slightly wilted.

16

Spread cabbage on a serving platter. Place meatballs on top of cabbage.

17

Pour some sauce over meatballs and serve remainder on the side.