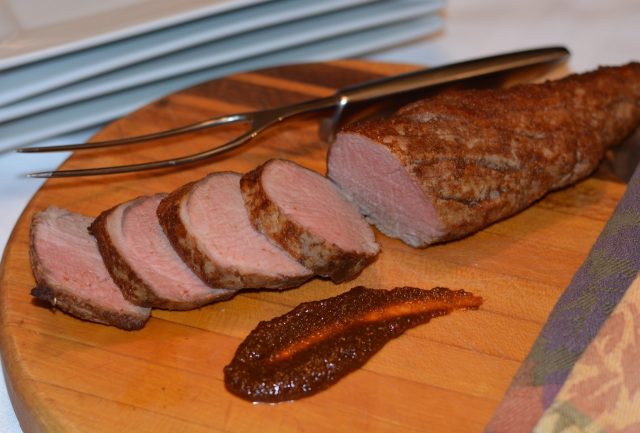 Description
This recipe for Pork Tenderloin with Asian Flavours is a favourite but it's the method for cooking pork tenderloin that works best for me.
The Asian inspired sauce has just a few ingredients yet the combination is unique and delicious. You just have to try it!
Pork tenderloin is a step up from pork chops but it also cooks quickly so works for an everyday dinner. A small tenderloin is perfect for a small family. If you have more people cook two tenderloins and double the sauce.
Two of the ingredients in this recipe are considered specialty ingredients; sherry vinegar and five spice powder. I guarantee the taste is amazing so if you're inspired to search them out you will be rewarded.
Sherry Vinegar
This specialty vinegar comes from Spain and its complex flavour makes it worth a trip to the specialty store…the kind of store that sells imported olive oils and vinegars. It is made from sherry grapes and the authentic Spanish vinegar is called vinagre de Jerez.
I admit that I likely have more bottles of vinegar than most people. Vinegar is a specialty ingredient and a well-stocked pantry needs a small selection of vinegars. The more you cook the more it grows.
Chinese Five Spice Powder
If you're just getting into Asian cooking with gluten free ingredients then check out this post, setting up a gluten free Asian pantry. Five spice powder isn't a basic ingredient but if you buy it you'll be able to make Beef and Bok Choy as well as this Pork Tenderloin with Asian Flavours.
Chinese five spice powder is a unique combination of five spices ground into a powder. They are cinnamon, cloves, fennel, anise and Sichuan peppercorns.
I can safely say that my bottle of five spice powder has been in my kitchen for several years. It's always used in small amounts so when my sister wants to make her five spice cookies she just borrows it from me.
Let me know in the comments below if you tried it.
---
If you're new here join our community and get your FREE resource for baking and cooking, 29 Tips I wish I knew when I started.
Yes, I need 29 Tips For Cooking with Gluten Free Flour.
New to gluten free? Check out our virtual and in-person Cooking Classes or visit NEW TO GLUTEN FREE.
---
Pork Tenderloin with Asian Flavours
Pork Tenderloin with Asian Flavours is made with sherry vinegar and five spice powder, unique ingredients that create an amazing taste.
Ingredients
½

Tbsp

vegetable oil

½

Tbsp

butter

1

pork tenderloin
SAUCE
1

Tbsp

coarsely chopped ginger

1

Tbsp

coarsely chopped garlic

3

Tbsp

ketchup

2

tbsp

Sherry vinegar

1½

Tbsp

gluten free soy sauce

½

tsp

five spice powder

¼

cup

water
Instructions
In an oven-proof pan heat oil and butter over moderately high heat. Sear pork in pan turning to brown all sides, about 6 minutes total. Pour off fat. Set aside.

Combine all sauce ingredients in a large measuring cup and puree with a hand blender. Pour sauce over pork in the pan. Bring to a boil over medium high heat on the stove.

Cover pan with foil and transfer to oven. Cook 25-30 minutes until internal temperature measured with an instant-read thermometer is 145°F.

Remove from oven and let meat rest, covered, for 10 minutes.

Cut tenderloin into thick slices and serve with sauce.