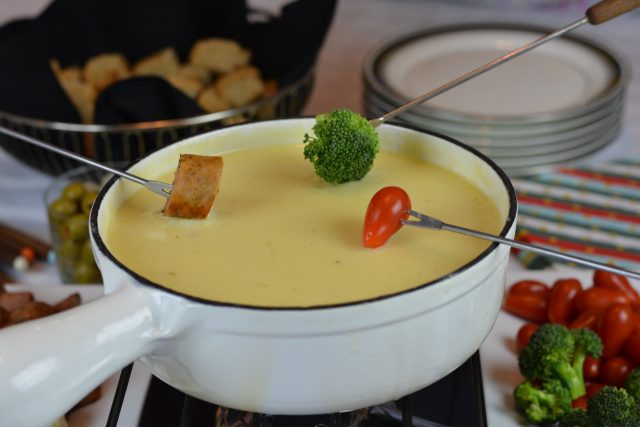 Description
Swiss Cheese Fondue was a popular New Year's Eve choice among my friends for year. But don't limit yourself to one night a year, this communal way of dining is ideal for a small groups, a romantic dinner for two and even as an appetizer for a larger crowd. 
If the mere mention of cheese fondue conjures up images of people skewering cubes of gluten-filled bread on long forks think again. The Swiss did invent the cheese fondue to use up stale bread and old cheese but it can be served with no bread at all. Really. With unlimited options you can create beautiful platter of any size. Include meat, seafood, raw or blanched vegetables plus fresh, canned or dried fruit. If you do it right no one will miss the bread.
This post contains affiliate links. When you purchase using these links your cost is the same, but I receive a few cents for every dollar spent. I appreciate your support for this website.
No Bread or Gluten Free Bread
Living gluten free is a lifestyle and sometimes you just want bread. With all good intentions to display the variety of foods you could serve with fondue at the last minute I decided to make bread. I made a loaf of my gluten free Crusty Bread because, I guess, in my mind a Swiss Cheese Fondue should be served with bread. You do it how ever you like.
Fondue Etiquette
The small flame at the table, the dipping and stirring all creates a relaxed, social atmosphere. The idea is that each diner uses their fork to stir the cheese in a figure-eight pattern as they dip. This ritual prevents the cheese from burning on the bottom of the fondue pot.
Technically you should not eat the food off your fondue fork, that is double-dipping. One should push the cheese-covered food off the fondue fork onto your plate and eat it with your dinner fork.
Feel free to share your knowledge of fondue etiquette while dipping but in your kitchen you can make your own rules.
The Elements of Swiss Cheese Fondue
The Pot – A cheese fondue pot is not essential but it is the best choice. Ceramic cheese fondue pots are easy to find online, in kitchen stores and even hiding in many kitchens. You could buy one or just use a saucepan but before you resort to that consider borrowing. Ask family and friends if they have one hiding in a cupboard. Infrequently used items like fondue pots are perfect for sharing.
The Flame – Years ago fondue fuel was used to refill the burner with adjustable vents to control the flame. Gel is now the preferred way to keep your fondue warm and is available in kitchen stores. Simply light it and discard when it is empty.
The Cheese – This is not the meal for inexpensive or stringy cheese. A Swiss cheese fondue should include a combination of imported Swiss cheese, any combination will do.
The Forks – As mentioned about you should not eat the food off your fondue fork. The good news is fondue pots come with lots of forks and anyone who lends you a pot will lend you some forks with it.
So consider hosting a fondue night soon. Let me know in the comments below if you have a favourite food for dipping or perhaps an old fondue story to share.
Ingredients
1 clove garlic
900 g or 30 oz cubed Swiss cheese (any combination of Emmenthal, Gruyere, Apenzeller or Raclette) (allow 150g or 5 oz of cheese per person)
2¾ cups dry white wine
3 Tbsp cornstarch
3 Tbsp Kirsch or pear liqueur* (optional)
finely ground black pepper and nutmeg to taste
DIPPING FOODS
Cubed, day old GF bread
Any meat - cooked Italian sausage, cold cuts or cooked bacon (why not!)
Any raw or partially cooked vegetables – broccoli, cauliflower, zucchini, peppers, mushrooms or cherry tomatoes
Any fresh or canned fruit – apple, pear, Asian pear or grapes
*If not using Kirsch toss all the cubed cheese with the cornstarch before adding it to the pot.
Directions
1

CHEESE FONDUE

2

Crush garlic or cut it in half. Rub the inside of a pot with the garlic and leave it in the pot.

3

Add wine to pot and heat on medium heat until it begins to bubble.

4

Add cheese in small handfuls stirring until partially melted. Continue adding and stirring until all the cheese is in the pot. Stir until very smooth.

5

Whisk cornstarch and liqueur until smooth. Stir into cheese mixture stirring until thickened, about 5 minutes.

6

Season to taste with pepper and nutmeg.

7

Pour melted cheese into fondue pot and place over fondue flame. Serve with dipping foods of your choice.

8

DIPPING FOODS

9

Arrange dipping foods of you choice onto plates that will be easy to pass around.