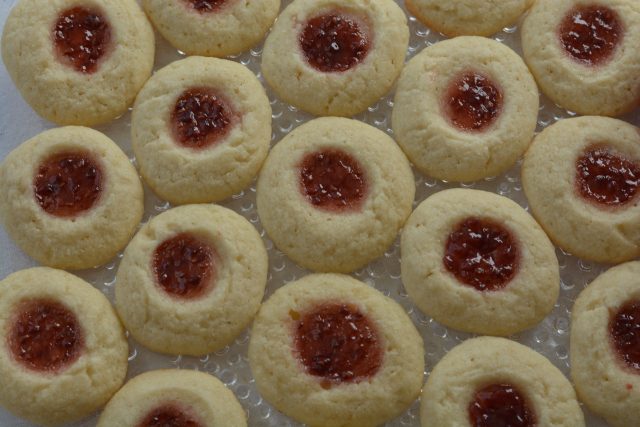 Description
Thumbprint Cookies, sometimes called Jam Thumbprints or Jam Thumbprint Cookies, are a sparkling addition to any cookie tray during the holiday season. Of course these cookies can be made and enjoyed any time of year but during the Christmas season they look especially nice when filled with different colours of jam.
I love making cookies and during the holidays I have a reliable list of tried-and-true favourites. I also like to try one or two new recipes and I've got plenty of cookie recipes to remake gluten free.
Can I Use an All Purpose Gluten Free Flour Blend
That's the $64,000 question and you don't really know until you try. I wasn't happy with the results using my EGFG flour blend so I kept searching.
For a few years I struggled to make cookies that kept their shape and weren't greasy. Some recipes worked better than others but I knew I could make better cookies more consistently.
Gluten free cookies can be frustrating, disappointing and expensive, especially if you can't even eat them. But I love cookies so one holiday season I set out to learn more. I learned about the properties of different gluten free flours and what made cookies so challenging.
The high fat content of cookies and the short cooking time presents unique challenges for gluten free bakers. Add to that the fact that gluten free flours don't absorb fat as well as wheat flour so trying different all purpose blends didn't make sense to me.
I turned to America's Test Kitchen How Can It Be Gluten Free Cookbook Volume 1 and Volume 2 to learn more. If you've got cookie recipes you're trying to recreate just keep trying with one recipe at a time. I'm happy to eat cookies and keep learning.
A Gluten Free Cookie Flour Blend
During this project to master gluten free cookies I learned that brown rice flour make the best crisp cookies while almond flour gave them a rich flavour. Previously I skipped over recipes with almond flour since my son's school was nut free and I liked to send cookies to school for kids, teachers and staff.
But now I was focused on making excellent cookies so I was trying any flour that promised to give the best results. This blend was the answer.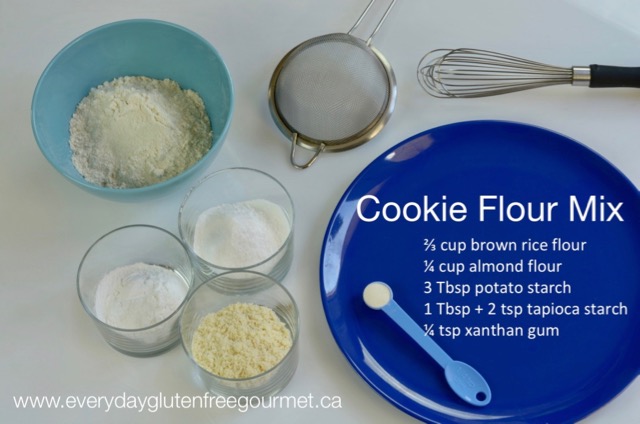 This cookie flour blend is made with high protein almond flour, as well as brown rice flour, potato starch and tapioca starch. A combination of starches always gives the best texture so I recipe-tested with this blend and had great success. I use it to make these Thumbprint Cookies and three other favourites:
To learn more about this Cookie Flour Blend or to get the printable page with the recipe for 3 different quantities, check out this post, Cookie Flour Blend. I have that page printed and taped to a specific container that I keep in the freezer when I'm not baking cookies.
Watch A Cookie Flour Blend on YouTube
Variations for Thumbprint Cookies
Blueberry, raspberry, apricot and pineapple jam are all pretty and simply using two or three different colours of jam will create a stunning presentation. On the day I made these I only had raspberry jam (poor planning) so that's what I used and they still sparkle.
To go the extra mile for a special occasion here are a few ways to vary the presentation:
Use a tiny spoon to make a heart shaped indent and fill with red jam.
Roll the dough balls in chopped nuts or finely shredded coconut before making the indent.
Dust jam filled cookies with icing sugar just before serving. The icing sugar on the jam will melt quickly but the rest creates a pretty look.
Drizzle jam filled cookies with thinned icing for extra sweetness.
Top with an unwrapped Hershey Kiss for chocolate fans.
PIN for later…
This post contains affiliate links. When you purchase using these links your cost is the same, but I receive a few cents for every dollar spent. I appreciate your support for this website.
Cookies Kids Love to Decorate
Kids of all ages love making and decorating cookies and gluten free kids do too. Teach them to make cookies and experience the satisfaction of creating and the joy of eating them fresh from the oven. Soon enough you will be rewarded with cookies
For these cookies young kids like to make the little indent with their thumb, that's why they're called Thumbprint Cookies. For the ones who don't like to get messy use the end of a wooden spoon or the bottom of a tiny shot glass.
If you care about the finished look filling the indent with jam is a good job for those who are particular. I have espresso spoons and long-handled spoons for iced tea that are perfect for this job.
If you're up for a party you'll find more tips in this post, a Cookie Decorating Party.
Best Tools for Making Cookies
Many of my baking pans are ten and twenty years old. It takes time to collect good quality pans but it's worth the effort in the long run. Pay attention to the pans and sizes that you like and work well for you. Here's what I think you need for a cookie baking spree.
two cookie sheets , notice they have no edges
two jellyroll pans, also know as baking sheets, with ¼-inch sides all around (used more for cooking but helpful for a cookie baking spree)
A set of metal portion scoops in various sizes that can also be used for muffins, meatballs and more.
Let me know in the comments below if you have a story about gluten free cookies, good or bad.
Thanks to Luane Kohnke for cookie inspiration from her cookbook Gluten Free Cookies.
Originally published in 2016, updated November 2022.
---
More Cookies and Baking Recipes
Jam Thumbprint Cookies
Jam Thumbprint Cookies are perfect for the holiday season. Filled with sparkling red raspberry jam they add a festive look to any cookie tray.
Ingredients
DRY INGREDIENTS
290

grams

gluten free Cookie Flour Blend*

(2¼ cups)

½

tsp

baking powder

½

tsp

salt
WET INGREDIENTS
¾

cup

butter, room temperature

⅔

cup

sugar

1

egg

1

tsp

vanilla
FILLING
¼

cup

raspberry, apricot, cherry, pineapple or blueberry jam
Instructions
In a medium bowl combine cookie flour blend, baking powder and salt.

In the large bowl of a stand mixer beat butter to soften, 1-2 minutes.

Add sugar and increase speed to high. Beat until fluffy, 3-4 minutes.

Add egg and vanilla, beat until evenly combined.

Decrease speed to low and slowly add flour mixture beating until combined.

Cover and refrigerate 1 hour to chill the dough. This can be made 1-2 days in advance.

Preheat oven to 350°F. Line baking sheets with parchment paper.

Using a small scoop drop 1-inch balls of dough onto cookie sheet. Roll each ball in your hand to make the sides smooth. Make a dent in the middle of each cookie using your thumb. Fill each dent with 1 tsp jam.

Bake for 12-14 minutes until the edges begin to brown. Cool completely on wire racks.
Notes
*Cookie flour blend, makes 2½ cups: 1⅓ cups brown rice flour, ½ cup ground almonds, 6 Tbsp potato starch, 3 Tbsp + 1 tsp tapioca starch, ½ tsp xanthan gum.