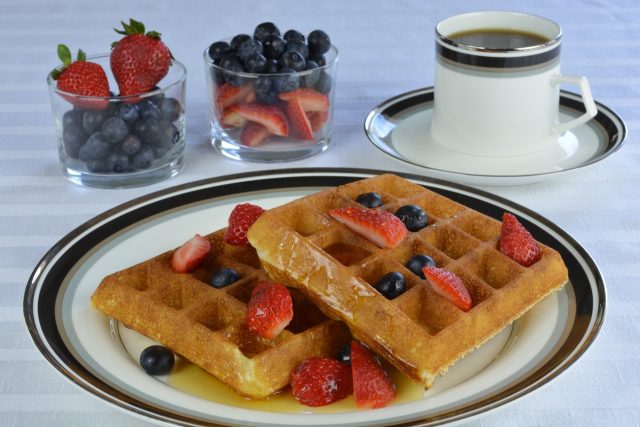 Description
Making gluten free waffles takes a little more time than making pancakes but that's what weekend breakfasts are all about. Enjoying a slower pace in the kitchen, spending time together at the table and for some it's about filling all those little indents with syrup. Whether you want waffles as an occasional treat or an everyday breakfast reheated in the toaster they're easy to make.
PIN for later…
Get The Tools
Your waffle iron may last you a life time so be sure to buy the one you like. A Belgian style waffle iron has deep indents to hold all those delicious toppings but the romantics out there might choose the heart-shaped waffle iron. Imagine, waffle hearts served in bed. For large families and serious breakfast entertainers you can even purchase a double waffle iron like the kind you see in hotel breakfast rooms. Once you buy one you will find lots of different recipes and many ways to enjoy it. 
Waffles vs Pancakes
I too see mixes at the store labeled 'pancake and waffle mix'. If that works for you fine. If you are, or want to be, a breakfast snob well…there is a difference between pancakes and waffles. Pancakes are soft and spongy while waffles are crispy on the outside, light and airy on the inside. Waffle batter generally has more fat, sugar and egg plus the batter is made lighter by folding in beaten egg whites.
Once you get your recipe repeatable you can perfect it. That is where some knowledge about gluten free flour comes in handy. Try using this homemade gluten free flour mix but substitute ⅓ or ½  cup of the mix with oat flour, teff flour, buckwheat flour or any new flour you are learning about. If you make waffles often enough you can compare week after week and perfect your recipe or enjoy the subtle difference with each flour.
The New Gluten Free Basics
Don't beat the egg whites. What?
The challenge with gluten free baking is that many of the traditional rules you may know don't apply. I would have said that for waffles that beating the egg whites in what makes waffles light and then cook with a crisp exterior. This recipe is adapted from America's Test Kitchen where they test recipes until they perfect them. Then they share that information with the world so we can repeat the recipe in our own kitchens. They tested, tasted and adjusted, then said don't beat the egg whites. Okay, I'm not arguing with them. Don't beat the egg whites.
For me the biggest challenge with gluten free baking is learning what baking tricks do not apply when you are using different gluten free flour combinations. Note to self – the learning never ends.
If you're inspired to learn more about different flours follow my year-long blog post series on How to Use gluten free flour for baking.
Buttermilk Substitutes
Buttermilk gives a subtle tang to baked goods and enhances the action of baking soda to lighten a batter. This remains true with gluten free baking but what if you don't have buttermilk in your fridge?
No problem, there's a substitute.
Buttermilk Substitute – Add 1 tablespoon of vinegar or lemon juice into a measuring cup and add milk to measure 1 cup. Stir and let sit for a few minutes. Use in any recipe calling for buttermilk.
Store bought buttermilk is ideal. It's thick and smooth and gives the best results but when I don't have any, the substitute works. I've used it many many times and it works with dairy free milk substitutes too.
Let me know in the comments below if you did a little experimenting with your waffles.
---
More Breakfast Recipes
Ingredients
2⅔ cups gluten free flour mix (I used my GF flour mix)
2 Tbsp sugar
½ tsp salt
½ tsp baking soda
1¾ cups buttermilk
3 eggs
¼ cup melted butter
Directions
1

In a large bowl whisk together gluten free flour mix, sugar, salt and baking soda.

2

In another bowl whisk together buttermilk, eggs and melted butter.

3

Pour the wet ingredients into the dry ingredients and whisk together until all lumps disappear and batter is slightly thickened, about 1 minute.

4

Pour batter on waffle iron, close and bake according to waffle iron directions, about 3 minutes.

5

Set cooked waffles on a wire rack inside a baking sheet to avoid steaming.

6

Preheat oven to 200F then turn it off. Keep waffles in warm oven while cooking.

7

Serve with butter, syrup, fresh fruit or any toppings you like.