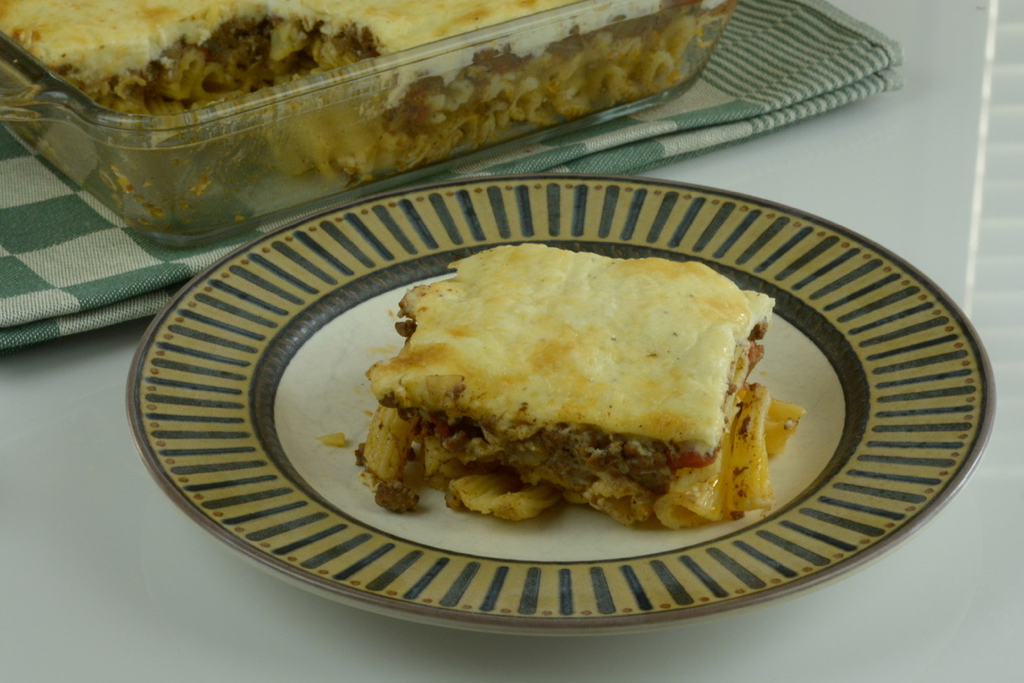 Description
Greek Pastitsio, sometimes called Greek lasagne, is a classic dish with cinnamon and allspice in the meat sauce that seems magical to me. I think of it as moussaka with noodles instead of vegetables. It's a little easier to make than moussaka or lasagne because it only has three layers. The meat sauce is similar but the fact that it has a layer of noodles is precisely why my husband loves it. He's always about pasta!
An International Strategy
I often write about cooking with a seasonal strategy since it's the best way I know to enjoy produce at its' peak while adding variety to my meals. It's also a great reminder to repeat favourite dishes without tiring of them. Yet it's not my only strategy for coming up with dinner ideas.
My international strategy simply means I think of a country and suddenly many classic favourites come to mind. This is what happens:
I think of Greece and can picture eating crispy fried calamari, freshly made tadziki, my first moussaka and all the Greek salads we enjoyed during our beach days on the island of Mykonos. I learned about pastitsio after that vacation.
Austria brings to mind giant plate-sized schnitzel since I enjoyed those when I attended a work meeting in Vienna.
My friend of German heritage introduced me to that cuisine so I now connect it with Beef Rouladen, sautéed purple cabbage, warm potato salad, giant pretzels and Pfeffernüesse cookies.
And then there's Spain. Oh, the tapas we enjoyed while travelling many years ago, not to mention many versions of paella. Plus I'll never forget the best tasting bowl of gazpacho I've ever had at a random outdoor restaurant on a sunny afternoon in Seville.
There are 193 countries but you get the idea. Yet when my son was looking for dinner ideas and I told him about this strategy he just looked at me and said, "my brain doesn't work like that". Fair enough, but mine does.
PIN for later…
This post contains affiliate links. When you purchase using these links your cost is the same, but I receive a few cents for every dollar spent. I appreciate your support for this website.
Get The Tools
Every kitchen needs a 9 x 13. That's the old lingo for a pyrex pan that is 9-inches by 13-inches and probably 2-inches tall. Your parents and grandparents likely made many dishes in that single pan so if you're just starting out buy one. It might last you more than thirty years.
Of course we now have more selection than our grandparents could have dreamed of. Just be aware that many of the beautiful glazed ceramic pans have slightly different dimensions and a bigger pan won't achieve the nice layers of pastitsio. There's no right or wrong but if you're going for the layered look divide the pasta in the dishes you want and work from there.
If you make this Greek Pastitsio let me know in the comments below how it turned out.
---
More Greek Recipes
Click on the text on the image(s) to go to the recipe/blog post.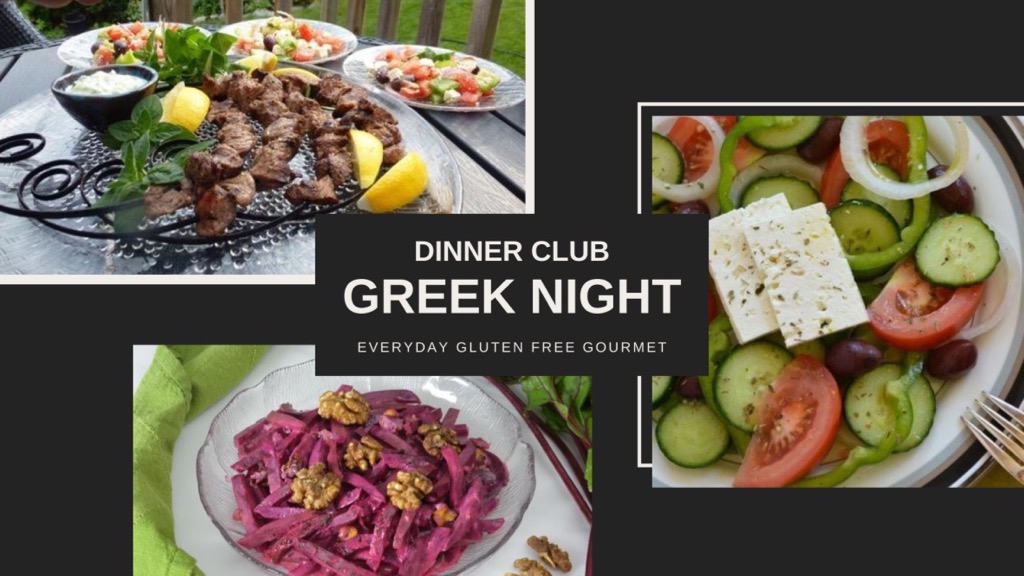 Ingredients
PASTA
10-12 oz gluten free penne or macaroni
MEAT SAUCE
2 tsp olive oil
1 medium onion, chopped
2 garlic cloves, minced
1 lb ground beef
1 can (19oz/ 540ml) diced tomatoes
2 Tbsp tomato paste
1 tsp dried oregano
1 tsp cinnamon
1 tsp salt
½ tsp ground pepper
¼ tsp ground allspice
WHITE SAUCE
¼ cup butter
2 Tbsp cornstarch
½ tsp salt
¼ tsp pepper
2 cups milk or half & half
1 egg, beaten
FINISHING - ½ cup grated Parmesan cheese
Directions
1

MEAT SAUCE

2

Heat oil in large pot over medium heat. Sauté onion and garlic until slightly softened, about 5 minutes.

3

Add ground beef and cook, stirring to break up any lumps, until no longer pink, 6-8 minutes.

4

Add tomatoes, tomato paste and spices. Bring to a boil, reduce heat, cover and simmer for 30 minutes. Can be made in advance.

5

COOK PASTA for 1 minute less than the package directions. Drain and rinse to stop cooking process.

6

WHITE SAUCE

7

Melt butter in medium saucepan. Add cornstarch, salt and pepper and whisk until no lumps remain and butter.

8

Pour in ⅓ of the milk/cream and stir over medium heat until thickened slightly. Add the next ⅓ and stir again until thickened. Add the final ⅓ stirring until thick.

9

Remove from heat and add egg, stirring until smooth. Set aside.

10

ASSEMBLY

11

Preheat oven to 350°F. Lightly brush 9 x 13-inch baking pan with oil.

12

Spread pasta in bottom of prepared pan.

13

Top with meat sauce.

14

Pour white sauce evenly over meat layer then sprinkle with Parmesan cheese.

15

Bake in preheated oven until nicely browned, 35-45 minutes. Rest for 20 minutes before serving.