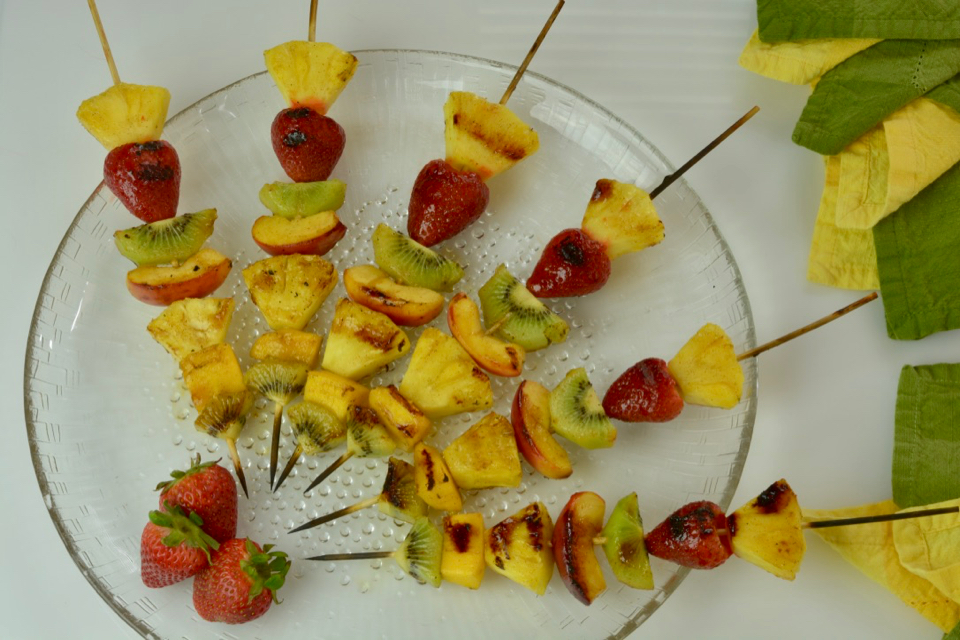 Description
These Grilled Fruit Skewers with Honey Cinnamon Glaze are a summertime treat. If you've never grilled fruit make this the summer you try it.
Grilling is a good way to make the most of the nice weather outside and we grill everything from salad to dessert. Fruit skewers can be made in advance and although they are delicious on their own, cooking fruit on the grill adds an extra dimension to the taste. A little bit of char, the juiciness of the fruit and the extra sweetness from a honey cinnamon glaze makes for a fabulous and simple dessert.
This post contains affiliate links. When you purchase using these links your cost is the same, but I receive a few cents for every dollar spent. I appreciate your support for this website.
To Glaze or Not To Glaze
Fruit is sweet on it's own so it can be served without the glaze. For me to consider it a dessert for company I feel like it should have the glaze as well as some creamy vanilla ice cream to perfectly complement the textures and taste.
Later in the summer I might skip the glaze and simply drizzle grilled fruit (especially peaches) with my homemade raspberry sauce. I make it once every summer using raspberries from my garden and year after year it seems like a decadent treat.
Reusable Grilling Sheets For The Barbecue
Do you have a reusable grilling sheet? Similar to the reusable baking sheets for the oven, they are specifically designed to use on a barbecue. They provide a clean cooking surface, can be cut to any size you want and the cooked food still has nice grill marks. These are ideal for anyone concerned about cross contamination on any kind of grill. I have the Cookina Reusable Grilling Sheet.
Get The Tools
The reusable grilling sheet is a fabulous but there are a few extra items that make it easy to throw together a fabulous presentation. Here are a few ideas:
Platters can be used to hold a lot of food but don't forget to use them for smaller gatherings too. Arrange the food more artfully and you have a beautiful, colourful presentation with minimal effort.
Let me know in the comments below what fruits you like to grill and what you served with it.
---
More Grilled Dessert Recipes
Ingredients
HONEY CINNAMON GLAZE
¼ cup honey
1 tsp lemon juice
¼ tsp ground cinnamon
FRUIT
Cut up fruit – pineapple, peaches, mango, whole strawberries, kiwi or any fruit you like
oil for grilling
ACCOMPANIMENTS - vanilla ice cream
Directions
1

Soak bamboo skewers for 30 minutes.

2

Preheat barbecue.

3

Assemble fruit on skewers in any pattern you like.

4

GLAZE – Mix honey, lemon juice and cinnamon in a small bowl. Microwave for 20 seconds if needed.

5

Brush glaze on one side of the fruit skewers.

6

Brush grill with oil. Oil the bottom of a flat plate. Gently rub unglazed side of each skewer in oil then place on grill. Cook 2-4 minutes until slightly charred.

7

Carefully turn each skewer and brush with additional glaze. Cook another 2-4 minutes until charred but not falling off the skewer.

8

Serve plain or with vanilla ice cream.