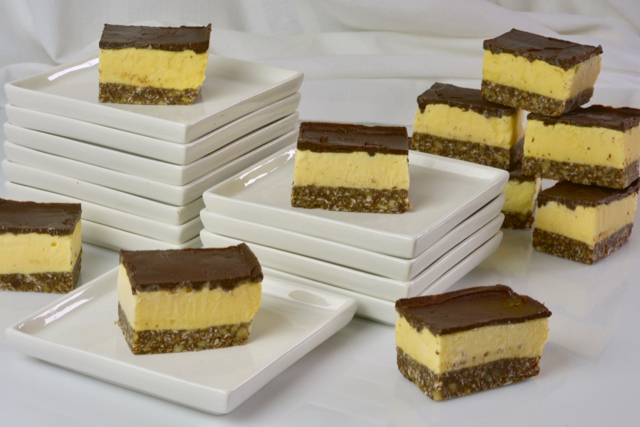 Description
Nanaimo Ice Cream Bars are the perfect version of Nanaimo Bars for summer. Serve them at any gathering and they are sure to be a hit. If you've got kids be sure to get them in the kitchen making the homemade ice cream first and then the bars. This is the kind of summer project that could result in a new family favourite.
Nanaimo Bars are a dessert with a history. Apparently this layered dessert was invented in the 1950's in Nanaimo, British Columbia and I certainly enjoyed them when I was young. Traditionally Nanaimo bars are made with Bird's custard powder and some would say this ingredient is essential for the most authentic Nanaimo Bar experience.
PIN for later…
This post contains affiliate links. When you purchase using these links your cost is the same, but I receive a few cents for every dollar spent. I appreciate your support for this website.
Bird's Custard vs Vanilla Pudding Mix
Birds Custard Powder was invented more than 100 years ago. It's a packaged food but it is an egg free substitute for custard and it's gluten free.
Modern recipes substitute packaged vanilla pudding mix for custard powder. This is also gluten free and was easier to find when I went shopping. Another bonus for the pudding mix is that you will use it all up in one recipe. Of course there is a difference in the taste so you decide what works for you. I'm confident no one, and I mean no one, will complain if you give them a Nanaimo Ice Cream Bar made with vanilla pudding.
If you are a connoisseur of Nanaimo Bars, or want to become one, try both versions and have a taste test. That's what I did and this is the recipe I used.
Vanilla Pudding Ice Cream
2 boxes instant vanilla pudding mix (I used the 102 g size)½ cup icing sugar
2 cups milk (2% or whole milk)
1½ cups whipping cream
In a large bowl whisk vanilla pudding mix, icing sugar and milk until  it starts to thicken. Add whipping cream and stir until the mixture is evenly combined. Freeze in an ice cream maker according to manufacturers' directions.
I shared both versions of these Nanaimo Ice Cream Bars with many people. The custard ice cream filling was the winner but a few people chose the bars made with vanilla pudding. I think there is a difference depending how long the ice cream bars are left to soften so keep trying and tasting. All your friends will be happy for your effort.
Kitchen Tip
To make perfect edges on ice cream desserts, brownies and cheesecake the trick is to use a warm knife. I use a small paring knife and a ruler to make marks where I will cut. Then I use my 10-inch long chef's knife for the actual cutting. Dip the knife in a tall glass or a sink filled with hot water, wipe dry and gently move the knife back and forth as the heat works its' way through the chocolate. Don't force it or you will crack the chocolate.
This process is a bit tedious but I like the nicely cut pieces. You can definitely eye ball the lines but the warm knife is the trick that will give you those clean edges.
Get The Tools
Homemade ice cream is fun and easy to make. I have a hand crank Donvier ice cream maker that is more than twenty years old. It has no moving parts since turning it is what you do. The freezer insert lives in my freezer, wrapped in a clear plastic bag ready to use when I want it. The outer part is in the original box at the back of a cupboard. I can assemble those two parts in two minutes.
Sharing Recipes
Thanks to Julie van Rosendal for sharing her idea on the radio. Julie is an adventurous cook, cookbook author and writer, food columnist for CBC radio and contributing editor for the Globe & Mail. She's a local personality and an inspiration to all to get in the kitchen and cook. Using her idea I adapted my gluten free Nanaimo bar recipe (posted as Nanaimo Balls) into this recipe for Nanaimo Ice Cream Bars. You can read more about Julie and find her recipes over at Dinner With Julie.
I've consumed more than my share of Nanaimo Ice Cream Bars for the season so there will be no more testing in my kitchen. Let me know in the comments below if you made these and about your taste test experience. If you send me a picture of your ice cream bars I'll add it to this post for all to see.
---
More Ice Cream Recipes and Nanaimo Balls
Ingredients
CRUMB BASE
½ cup butter
¼ cup sugar
2 Tbsp cocoa powder
1 egg
1 tsp vanilla
1 cup GF Graham style crumbs
1 cup shredded coconut
½ cup chopped walnuts or pecans
CUSTARD ICE CREAM LAYER
3 cups half and half (10%)
⅓ cup sugar
¼ cup Bird's custard powder
CHOCOLATE LAYER
5 oz semi-sweet chocolate or ¾ cup chocolate chips
2 Tbsp butter
Directions
1

CRUMB BASE

2

Line an 8-inch square baking pan with foil large enough to hang over on 2 sides of the pan. For slightly thinner ice cream bars use a 9-inch x 13-inch baking pan.

3

In a medium saucepan combine butter, sugar, cocoa powder, egg and vanilla. Stir to mix evenly and cook over low heat until slightly thickened, about 5 minutes.

4

Add the Graham style crumbs, coconut and pecans. Stir to combine.

5

Press mixture into prepared pan.

6

CUSTARD ICE CREAM LAYER

7

In a medium saucepan whisk half and half, sugar and Bird's custard powder until smooth. Cook on medium-high heat, stirring constantly, until the mixture bubbles and thickens, 3-5 minutes. Remove from heat and cool completely.

8

Freeze in an ice cream machine according to manufacturers directions.

9

Spread soft ice cream evenly over the crumb base. Cover and freeze.

10

CHOCOLATE LAYER

11

Melt chocolate and butter in small saucepan over low heat.

12

Working quickly, pour mixture over custard ice cream and spread to cover completely.

13

Freeze at least 2 hours or overnight.

14

Using over hanging foil remove from pan. Peel off foil and cut into bars about 1½ x 2½-inches, using a warm knife. Wipe knife between each cut. Return bars to freezer until ready to serve.