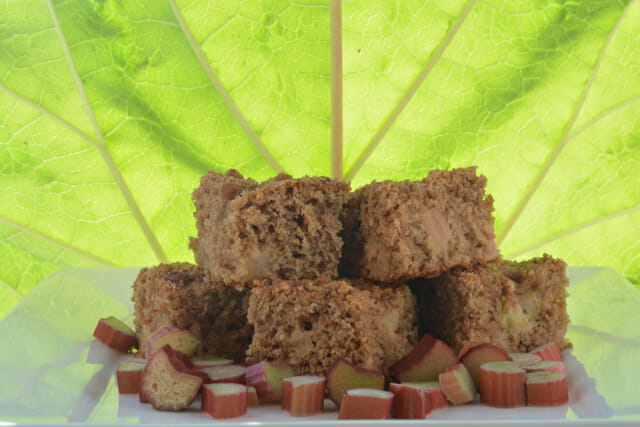 Description
Rhubarb Coffee Cake started from my recipe for Rhubarb Streusel Muffins. Of course cake and muffins are technically different but for my everyday style of cooking I like a versatile muffin recipe that can be baked as a cake when the occasion calls for it.
Nothing fancy, just a cake cut into squares.
The British version of coffee cake was originally flavoured with coffee but that is no longer a requirement. North American coffee cake is more typically a single-layer cake flavoured with cinnamon and possibly fruit, said to be served with coffee. I gobbled up tons of my mom's coffee cake when I was a kid so I assure you it does not need to be eaten with coffee either.
My mom's coffee cake always had sugary-cinnamon crumbles on top, also known as a streusel topping. So for me this sweet topping is absolutely essential on coffee cake.
PIN for later…
This post contains affiliate links. When you purchase using these links your cost is the same, but I receive a few cents for every dollar spent. I appreciate your support for this website.
Rhubarb, The Great Canadian Vegetable
I have a beautiful rhubarb patch in my garden but I never pick all of it. I love the look of its' giant green leaves that grow all summer long and the way the sun shines through them at different times of the day. Home cooks love making the usual rhubarb pie, jam, crisp and cobbler but some go beyond making everything from barbecue sauce to lemonade and sangria.
How To Make Gluten Free Cake From Muffin Recipe
Inspired by my rhubarb patch I wanted to turn my muffin recipe into a cake. If you're new to gluten free baking start with muffins, they're the easiest to be successful with. Then learn more about how to create structure without gluten, and try a cake.
All baked goods require ingredients to create structure. The purpose is to make a muffin that can stay together or a cake that holds its' shape. In gluten free baking we need to create structure without gluten.
As I baked more I learned more and started to notice these finer points such as structure. In my experience adjusting my homemade flour blend to include potato starch and millet flour improved the structure of my baked goods. I kept learning and discovered that adding an extra egg or egg yolk also improves structure. In this recipe I also increased the xanthan gum for good measure.
Rhubarb Coffee Cake Using A Gluten Free Flour Mix
As I have been writing my monthly blog post series on How To Use Gluten Free Flour I have learned a lot about baking so I know you can too. To me the goal of baking at home is to be able to successfully bake the foods you love.
Using these tips I turned my everyday Rhubarb Streusel Muffin recipe into this Rhubarb Coffee Cake and really, it was a piece of cake.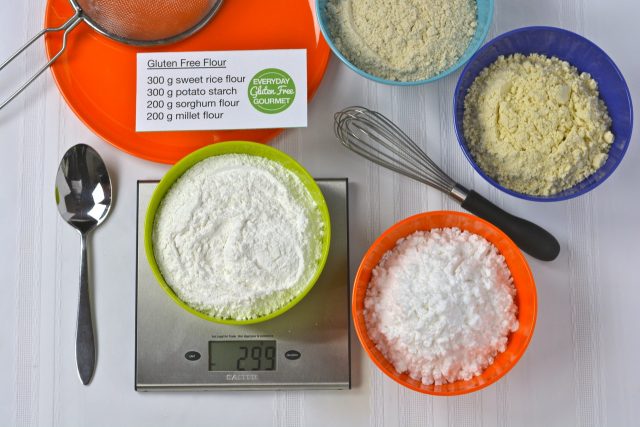 Get The Tools
Even people baking with wheat flour struggle with baking. Every oven is different and even standard baking pans vary a bit. Then there is the oven temperature and many more factors that challenge us everyday home cooks. Where you can improve is to be precise when you measure ingredients and use proper bakeware.
My advice is to buy quality pans since they will likely last you for more years than you can imagine. Here are three choices of modern baking pans that will yield great results. I always recommend buying them in pairs. This is most efficient when doubling recipes, making layer cakes (like my German Chocolate Cake) in round pans or my Raspberry Brownie Ice Cream Cake in square pans).
Let me know in the comments below if you made this Rhubarb Coffee Cake or what you like to make with rhubarb.
---
More Recipes
This Banana Muffin recipe also works well when made as a cake.
I typically make these same rhubarb recipes year after year.
Ingredients
1⅓ cups EGFG gluten free flour blend*
1 cup chopped rhubarb
⅔ cup brown sugar
½ tsp baking soda
½ tsp xanthan gum
½ tsp cinnamon
¼ tsp salt
½ cup yogurt or sour cream
¼ cup vegetable oil
1 egg
STREUSEL TOPPING
¼ cup brown sugar
¼ cup chopped walnuts
1 Tbsp brown rice flour, sweet rice flour or EGGF flour blend
1 Tbsp melted butter
½ Tbsp orange zest (optional)
½ tsp cinnamon
Directions
1

STREUSEL TOPPING

2

In a small bowl combine sugar, walnuts, flour, cinnamon, butter, zest and cinnamon. Stir with a fork until well combined. Set aside.

3

COFFEE CAKE

4

Preheat oven to 350°F. Grease an 8-inch square baking pan. Set aside.

5

In a large bowl combine flour, rhubarb, sugar, baking soda, xanthan gum, cinnamon and salt. Stir until evenly combined.

6

In a 2-cup measuring cup combine yogurt, oil and egg. Stir until combined. Pour into dry ingredients and mix until combined.

7

Spoon batter into prepared baking pan.

8

Sprinkle streusel topping evenly over the batter.

9

Bake in preheated oven for 30 minutes until nicely browned.

10

*I have also made this substituting ⅓ cup of GF flour mix with ⅓ cup of oat flour, buckwheat flour and teff flour.