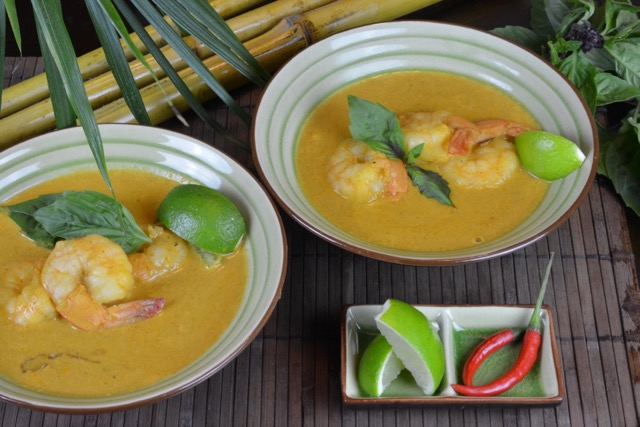 Description
Thai Red Shrimp Curry is a delicious example of the complex flavours that are the hallmark of those famous Thai curries. These pungent curry pastes are often based on cilantro, lemongrass, chiles and garlic. They are seasoned with fish sauce, tamarind, shrimp paste, lime, sugar and spices for the perfect balance between the four key flavours; salty, spicy, sour and sweet. Each unique combination creates a harmonious layering of flavour upon flavour called rot chart – the heart and soul of Thai cuisine.
This post contains affiliate links. When you purchase using these links your cost is the same, but I receive a few cents for every dollar spent. I appreciate your support for this website.
There is so much more to curry paste than it's colour yet they are often described by their colour. Homemade and store bought curry pastes are typically gluten free, and using the store bought variety definitely decrease the number of ingredient you need to have.
Both Cock brand and Thai Kitchen make curry pastes that are gluten free (at the time of writing). They can be found online or at Asian grocery stores.
If you stock fish sauce and coconut milk in your pantry you can cook amazing Thai food. If these ingredients are new to you check out this post titled, Introduction To Thai Ingredients. Don't be intimidated, just get cooking.
Start Your Own Dinner Club
Travel and food go hand in hand and can provide inspiration to try exotic dishes from cuisines around the world. My goal is to inspire you to cook anything you want at home, anything! Part of that is learning to be adventurous in the kitchen. People on a restricted diet have plenty of challenges with food so it's easy to stick with tried and true recipes. However, if you start a Dinner Club you can share the culinary adventure with others and challenge yourself to cook dishes you would never have tried. If starting a Dinner Club sounds intriguing check out any of these menus and get planning.
Get The Tools
My flat-bottom wok is one of my favourite kitchen tools. I got my first wok as a gift when I was a young cook. It lives in the cupboard above the fridge. This makes it easy to grab whether I'm making an everyday stir-fry, a Thai curry or deep frying. If you don't have one you don't know what you're missing. There is no comparison between cooking in a wok versus a large frying pan and I like to demonstrate this during my Thai cooking class.
Let me know in the comments below if you use a wok or were inspired to buy one.
---
More Recipes For Wok Cooking
---
More Thai Recipes
---
A Travel Tale – Thailand
From time to time I write a travel post for my friend Sue over at Travel Tales of Life. I wrote this one titled Thai Red Shrimp Curry about our trip to Thailand many years ago.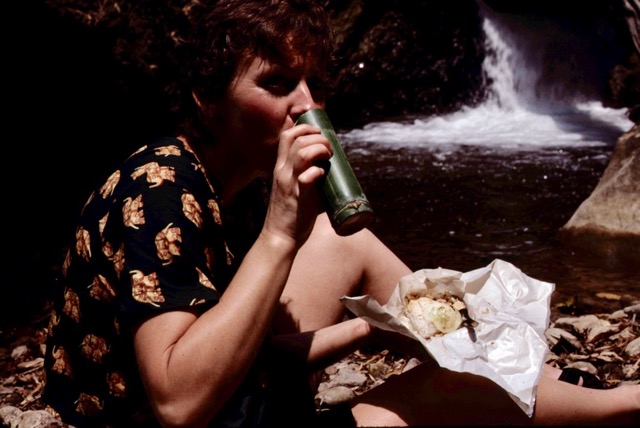 As they say in Thailand…Gan gin gan yu.
As you eat, so you are.
Ingredients
3 cups coconut milk
3 Tbsp red curry paste
2 Tbsp fish sauce
2 dried red chiles, broken and seeded
1½ lbs large shrimp, shelled with tails left on
4 fresh lime leaves torn in half (substitute dried or frozen lime leaves, fresh Thai basil or even mint)
¼ cup fresh cilantro, chopped
2 limes, cut in wedges
Directions
1

Set a wok or deep pan over high heat and add coconut milk.

2

When the milk is warm add the curry paste and gently whisk to blend in. Bring to a slow boil then reduce heat to low and simmer the sauce for 5 minutes.

3

Add the shrimp and lime leaves. Cook, stirring, until the shrimp are just cooked through, 2-3 minutes.

4

Transfer the curry to a large serving bowl. Remove the chile pieces or warn guests not to eat them. Sprinkle with cilantro and garnish with lime wedges.