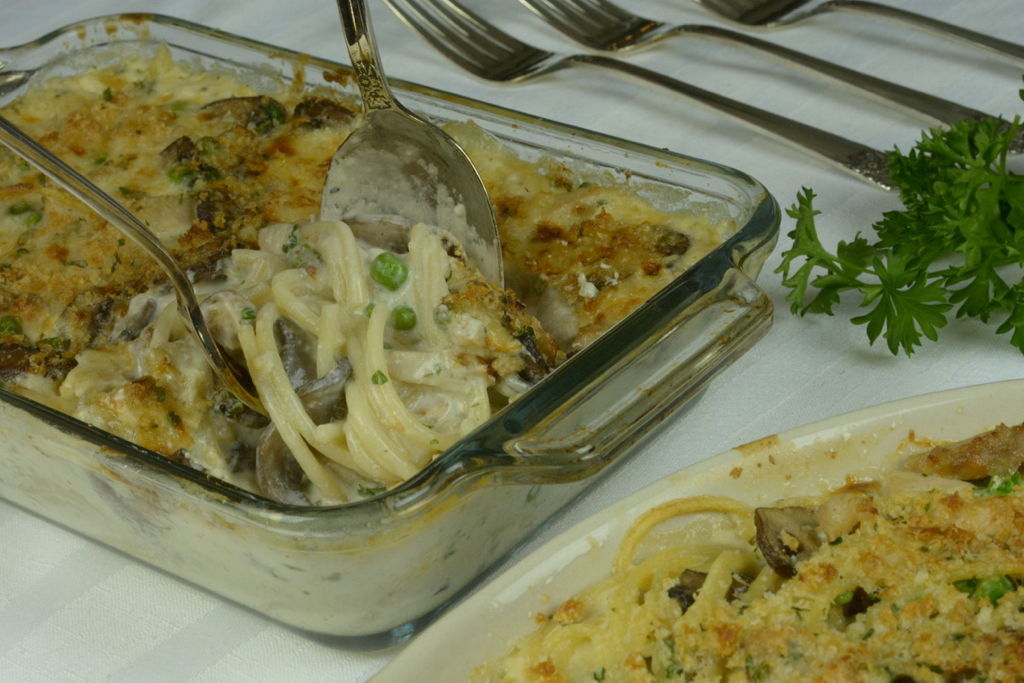 Description
Turkey Tetrazzini is my final dish for my leftover Christmas turkey. I didn't plan it but I ended up turning my larger-than-usual turkey leftovers into a turkey recipe challenge. I just kept making different things and that inspired me to make more different things. Here's what we made.
Straight up leftover turkey dinner with all the trimmings
Turkey Soup made from the carcass
Turkey bone broth that we used for something calling for chicken stock
Poutine with shredded turkey, ancho chile gravy and cheese curds (you might need to be Canadian to appreciate that one)
Fried potato cakes with shredded turkey, ancho chile gravy and cranberry salsa
After the gravy was done I still had leftover turkey so I made these dishes.
Waldorf Salad (turkey salad with apple, grapes and toasted walnuts)
Turkey Pot Pie
Turkey Tetrazzini
I'm pretty sure there's no more turkey in the freezer but if I find some I'll come up with another turkey recipe to make. This turkey is definitely the turkey that just keeps on giving!
PIN for later…
The Story Behind Tetrazzini
Tetrazzini sounds Italian but the dish was apparently invented over a hundred years ago by an American chef who named it after the Italian opera star Luisa Tetrazzini. The origin doesn't matter, it just matters if the people you're cooking for like it. If they do then you can make Chicken Tetrazzini most of the year and Turkey Tetrazzini whenever you have leftover turkey.
Cook Once, Eat Twice – Perfect Your Pasta
You might as well master the art of gluten free pasta. There are so many kinds of pasta available to gluten free eaters now that there's no excuse for not finding one you like. Maybe even one the whole family likes. Then it's up to you to make dishes everyone loves so you're not cooking one meal with gluten containing pasta and another with gluten free pasta.
Here are a few tips to perfect your pasta:
Try different brands of pasta and different kinds too. You'll never know if you don't try!
Cook according to the package directions but taste it near the end.
Rinse your pasta with warm tap water immediately to stop the cooking process.
Rinse your pasta with cold water if your dish will be heated again in the oven or if you purposely made extra for a second meal.
Gluten Free Breadcrumbs
I've been disappointed with store bought gluten free breadcrumbs more than once. Over time I've come up with a few different breading recipes that don't use bread. Sometimes I do want bread so I make crumbs from a single leftover hamburger or hot dog bun and the ends from a loaf of bread. For the crumb topping on my Turkey Tetrazzini I also had the leftover bits of bread from the nice rounds I cut to go on top of my French Onion Soup.
I keep all these bread bits in a container in the freezer and when there's enough to make breadcrumbs I do.
That's it for my January turkey recipe marathon. I haven't made Turkey Tetrazzini for ages but it popped into my head as a January recipe. Let me know in the comments below what you made with your leftover turkey or would have made if you had turkey.
---
More Recipes with Breading
Ingredients
8 oz gluten free pasta
2 Tbsp butter
1 Tbsp olive oil
10 oz white or crimini mushrooms, sliced
½ onion, finely chopped
2-3 cloves garlic, minced
1 tsp dried thyme
¼ cup white wine
2 cups leftover turkey cut in strips
½ cup frozen peas
3 Tbsp chopped fresh parsley
WHITE SAUCE (makes 3 cups)
6 Tbsp butter
3 Tbsp cornstarch
¾ tsp salt
⅜ tsp pepper
⅛ tsp ground nutmeg
2 cups creamo
1 cup whipping cream
½ cup chicken broth
CRUMB TOPPING
¾ cup grated Parmesan cheese
3 Tbsp gluten free breadcrumbs
2 Tbsp butter
Directions
1

PASTA - Cook according to package directions. Don't over cook as it will cook more in the oven.

2

Preheat oven to 400°F. Grease a baking dish with oil and set aside.

3

SAUCE

4

Melt butter and oil in saucepan over medium heat. Add mushrooms and cook until liquid evaporates, about 8 minutes.

5

Add onion, garlic and thyme and sauté for about 8 minutes.

6

Add wine and simmer until it evaporates, about 2 minutes. Transfer mushroom mixture to a bowl and add turkey, peas and parsley. Set aside.

7

PREPARE WHITE SAUCE

8

Melt butter in saucepan over medium-low heat.

9

Add cornstarch, salt, pepper and nutmeg. Whisk until smooth.

10

Add half the creamo/whipping cream, whisking until thickened.

11

Add remaining creamo/whipping cream and chicken broth. Increase heat to medium and whisk occasionally until thickened, about 5 minutes.

12

Add white sauce to turkey mixture and stir.

13

Combine cooked pasta with turkey/white sauce mixture.

14

Preheat oven to 400°F. Grease a baking dish with oil and set aside.

15

Fill baking dishes with pasta mixture.

16

CRUMB TOPPING

17

Combine Parmesan cheese and breadcrumbs. Sprinkle over pasta. Dot with butter.

18

Bake uncovered, in 400°F until golden brown and bubbly, 15-20 minutes. Serve hot.