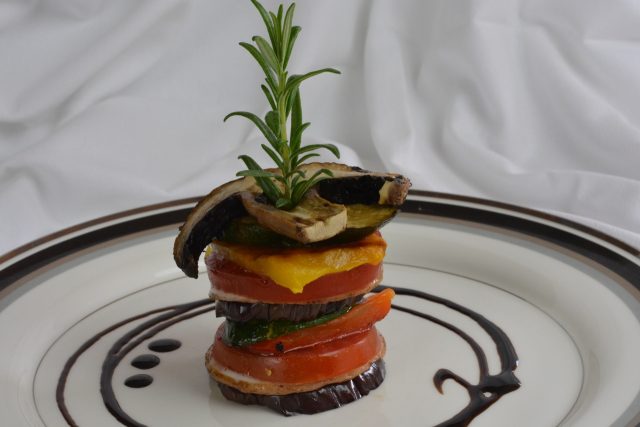 Description
Vegetable Stacks are simply a gourmet way to serve vegetables. They look impressive if you take care to cut the vegetables in similar size pieces and finish each stack with a decorative pick or a stem of fresh rosemary. For an extra special presentation I took that idea, doubled each vegetable stack for extra height and garnished the plate with a swirl of balsamic glaze. Now we're talking impressive!
These vegetable stacks are a perfect make-in-advance side dish to serve at a barbecue or a fancy dinner party any time of year. The recipe is just a guide. Choose vegetables that are in season or any combination that goes with your menu. Vary the seasoning or keep it simple with olive oil, salt and pepper. Plan to serve them slightly warmer than room temperature for all the flavours to shine through.
PIN for later…
This post contains affiliate links. When you purchase using these links your cost is the same, but I receive a few cents for every dollar spent. I appreciate your support for this website.
Vegetable Stacks – Roasted vs Grilled
I absolutely love grilled vegetables but I wrote this recipe for the vegetables to be roasted. It gave me a little more control with the cooking plus I wanted the comfort of more counter space as I sliced, brushed, seasoned and then roasted each vegetable separately.
Over the summer I made many versions of these vegetable stacks including one with grilled vegetables. I used a balsamic marinade and made swirls of chipotle mayo on each plate to go with my Southwestern menu. It was a hit!
Everyday to Gourmet
Roasted vegetables are pretty everyday in the kitchen but for this recipe it's all about the look. To make impressive vegetable stacks pay attention to the size and the stacking. Buy vegetables for their size and think about how you will cut them. I bought two eggplants knowing I would only use the top portion of each for small rounds. I chose zucchini, tomatoes and potatoes about the same size. After roasting the peppers I cut them to fit the stacks.
And then for the pièce de résistance add a swirl, the kind you would see on a restaurant plate. It is easy to make using balsamic glaze and it finishes off the plate.
Let me know in the comments below how you made your vegetable stacks.
---
More Recipes – Vegetables
Ingredients
This recipe makes 16 short stacks or 8 tall stacks. Listed in order of stacking from the top down:
1-2 portobello mushrooms
1-2 zucchini
1 red pepper
1 yellow pepper
1-2 tomatoes
2 oz goat cheese*
2 potatoes
1-2 eggplant
olive oil for brushing vegetables
salt and pepper
GARNISH - rosemary sprigs and balsamic glaze
Directions
1

Preheat oven to 425°F. Line 2 baking sheets with parchment.

2

Blacken peppers on all sides over a gas flame or under the broiler. Place in plastic bag to steam for 10 minutes. Remove from bag and peel off as much skin as possible. Seed and cut into desired size.

3

Cut and prep vegetables to desired thickness using a mandolin, food processor or steady hands.

4

Spread vegetable slices on baking sheet and brush both sides with oil, salt and pepper. Bake as follows:

5

Portobello mushroom, about 5 slices per mushroom, 3 minutes per side

6

zucchini cut into 7 mm slices, 6 minutes per side

7

eggplant cut into 7 mm slices, 6 minutes per side

8

potato cut into 3.5 mm slices, 10 minutes per side

9

Baking times will vary depending on the thickness of each vegetable.

10

As vegetables come out of the oven place on a tray in groups for quick assembly. Can be prepared several hours in advance.

11

Assemble vegetable stacks as follows:

12

Place eggplant slice on bottom.

13

Top with a potato slice.

14

Spread ½ Tbsp goat cheese on each potato slice.

15

Top with tomato, roasted pepper and zucchini.

16

Repeat for a tall stack.

17

Finish with 1 portobello mushroom slice.

18

Cut long pieces of fresh rosemary. Pull leaves off bottom half of each piece and poke through the entire vegetable stack. Alternately use a long bamboo pick.

19

SERVING

20

Make 2-3 swirls around the outside of an empty dinner plate using balsamic glaze.

21

Place 1 vegetable stack in the center of each plate. Serve slightly warmer than room temperature.

22

*Adding too much goat cheese causes the stack to slide. Omit cheese if you are making these well in advance and want to heat them for any length of time.