This year I got hooked on podcasts. Now, at the end of the year, I have been featured on A Canadian Celiac Podcast, not once but twice.
In the summer Sue Jennett of A Canadian Celiac Podcast contacted me for an interview. She wanted to know why I started my blog and what it was all about. Sue is also a volunteer for the Canadian Celiac Association so she was interested in what I was doing with the Calgary Chapter.
Sue starts the podcast saying, "During the summer I had a very interesting chat with Cinde Little of Everyday Gluten Free Gourmet. Cinde is first a foodie, and she brings that love of food and curiosity of new flavours and combinations to the gluten free experience. I made some of her recipes and thoroughly enjoyed them."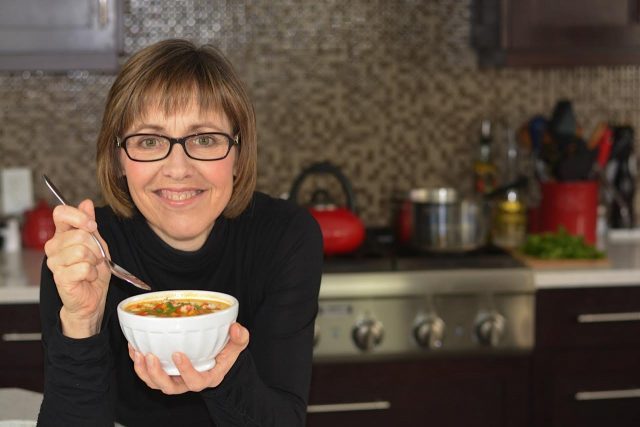 Why Listen to a Podcast?
I'm all about food, education and lifelong learning. By day I am an Education Consultant with Alberta Health Services so I am constantly thinking of ways to help people make healthy behaviour changes and I do the same thing myself. Enter podcasts.
Podcasts are the modern version of radio. You can listen on your phone or your computer and you can listen while you drive, workout or cook. I've created a habit of listening to podcasts and found that subscribing to my favourites makes it easy. Much like radio there are sometimes topics I would not have chosen and may not even seem relevant but in the gluten free space things change fast. How do I keep up? I've found that listening to podcasts helps me keep up on topics I didn't even know were topics.
A Canadian Celiac Podcast
My first interview on A Canadian Celiac Podcast was specifically about this post, Tips For Making Gluten Free Cookies. You can listen to that podcast here, Episode 43 Baking Gluten Free Cookies.
In the summer I spoke with Sue Jennett about my website and how I was trying to support the celiac community. You can listen to that podcast here, Episode 46 Cinde Little Food Blogger.
So thanks to Sue Jennett for her efforts to support the gluten free community. And a special thanks for sharing my website with her growing audience.
I invite you to join my community. Subscribe to receive a weekly notification of What's Cookin' In My Kitchen and download my free ebook, How To Cook More Everyday Meals. I look forward to answering any questions you have about gluten free cooking.