No Bake Chocolate Coconut Oat Bars are a perfect recipe to make during a heat wave. But don't limit yourself, these can be made year round and by varying the ingredients slightly you can make them look different. If you keep chocolate chips, peanut butter and honey in your kitchen all the time then you can make them without an extra trip to the grocery store.
You don't need a heat wave to think of making a no-bake treat. Even die-hard bakers need options and since recipes like this don't use flour they're ideal for anyone new to gluten free. They're also perfect for families with only one person eating gluten free since everyone will love them and everyone can learn to make them.
Tips To Vary Chocolate Coconut Oat Bars
It's easy to vary simple recipes like this and people with food restrictions get better at it over time. I find it a little hard to follow recipes listing two or three options for every ingredient. I prefer to write my recipes with one ingredient per line, or sometimes two, and talk about substitution possibilities in the recipe description.
Obviously you can substitute walnuts for pecans or dried cranberries for cherries and it won't affect the recipe. When it comes to sweeteners it takes a little practise and can affect the structure of whatever you're making. I always suggest making only one substitution at a time and keeping notes.
Here are some ideas to make these Chocolate Coconut Oat Bars a little different every time.
Peanut butter – Cashew butter or almond butter are obvious substitutes but for a nut-free version try seed butters. These are made from sunflower, sesame or pumpkin seeds as well as others.
Honey – Try maple syrup, agave syrup or other sweeteners you're interested in.
Butter – Experiment with coconut oil or vegan butter substitutes.
Chocolate chips – A staple in many kitchens but use up any chocolate pieces you have or dairy free chocolate chips.
Dried fruit and nuts – I won't list all the dried fruits and nuts you can buy but here are some of the combinations I use; cranberries and pistachios, apricots and walnuts, raisins and peanuts, cherries and almonds and any combination you can think of.
Ground flaxseed – Seeds all have fibre with chia and flax seeds being the highest so add seeds wherever you can!
Oats – Many people with celiac can't tolerate oats, even safe gluten free oats. Quinoa flakes and buckwheat flakes are both common substitutes and they all have fibre.
PIN for later...
This post contains affiliate links. When you purchase using these links your cost is the same, but I receive a few cents for every dollar spent. I appreciate your support for this website.
Fibre And The Gluten Free Diet
Fibre is important when you're on a gluten free diet and these Chocolate Coconut Oat Bars have plenty. The best plan is to try and get fibre whenever you eat. If you're looking for ways to do that increase the variety of nuts and seeds in your pantry. I keep a drawer with jars of different nuts and seeds and sprinkle them on anything.
Get The Tools
Every kitchen needs some tools and a workhorse in my kitchen is the pair of 8-inch square baking pans. Along with a sturdy cutting board, a large chef's knife and some parchment paper you're set. Buy decent quality and good tools will last decades.
Let me know in the comments below if you tried these and what you thought of them.
---
__________________________________________________________________________________________
New here? Join our community and get your FREE resource, the tips I wish I knew when I started cooking gluten free.
Yes, I need 29 Tips For Cooking with Gluten Free Flour.
Still haven't mastered gluten free cooking? Check out our online Cooking Classes.
More Recipes – No Bake Treats!
Click on the text on the image(s) to go to the recipe/blog post.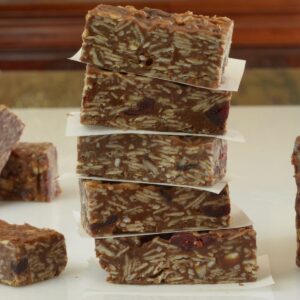 Chocolate Coconut Oat Bars
These high fibre Chocolate Coconut Oat Bars are perfect to pack into lunch bags or tuck into the freezer for a little pick-me-up whenever you need one.
Ingredients
½

cup

peanut butter

¼

cup

honey

¼

cup

butter

¾

cup

chocolate chips

½

cup

shredded coconut

½

cup

dried fruit and/or toasted nuts

½

cup

ground flaxseed

1½

cups

gluten free oats
Instructions
Line an 8-inch square pan with parchment paper.

In a medium saucepan add peanut butter, honey, butter and chocolate chips over low heat. Stir until completely melted watching closely so it doesn't burn.

Remove from heat and stir in coconut, dried fruit/nuts, flaxseed and oats.

Pour mixture into prepared pan, smooth the top and put in fridge to cool for 30 minutes.

Cut into squares or bars and enjoy! Wrap and store in airtight container. Can be frozen.