How to use almond flour and quinoa flour is fifth in my 12-part series on how to use gluten free flour. In this series I cover 21 ingredients that are often in my pantry. Once you understand the properties and best uses for the different flours you can begin to use them in new ways in your kitchen.
The number of gluten free flours available is mind-boggling so I needed to combine them somehow. In this post I grouped almond flour and quinoa flour together for a few reasons.
They both came up often in recipes when I was new to gluten free baking.
Almonds are a nut and quinoa is a seed so they're both grain free flours.
Although neither of them are in my everyday go-to flour blend (EGFG gluten free flour blend), I use them both and keep them in my pantry.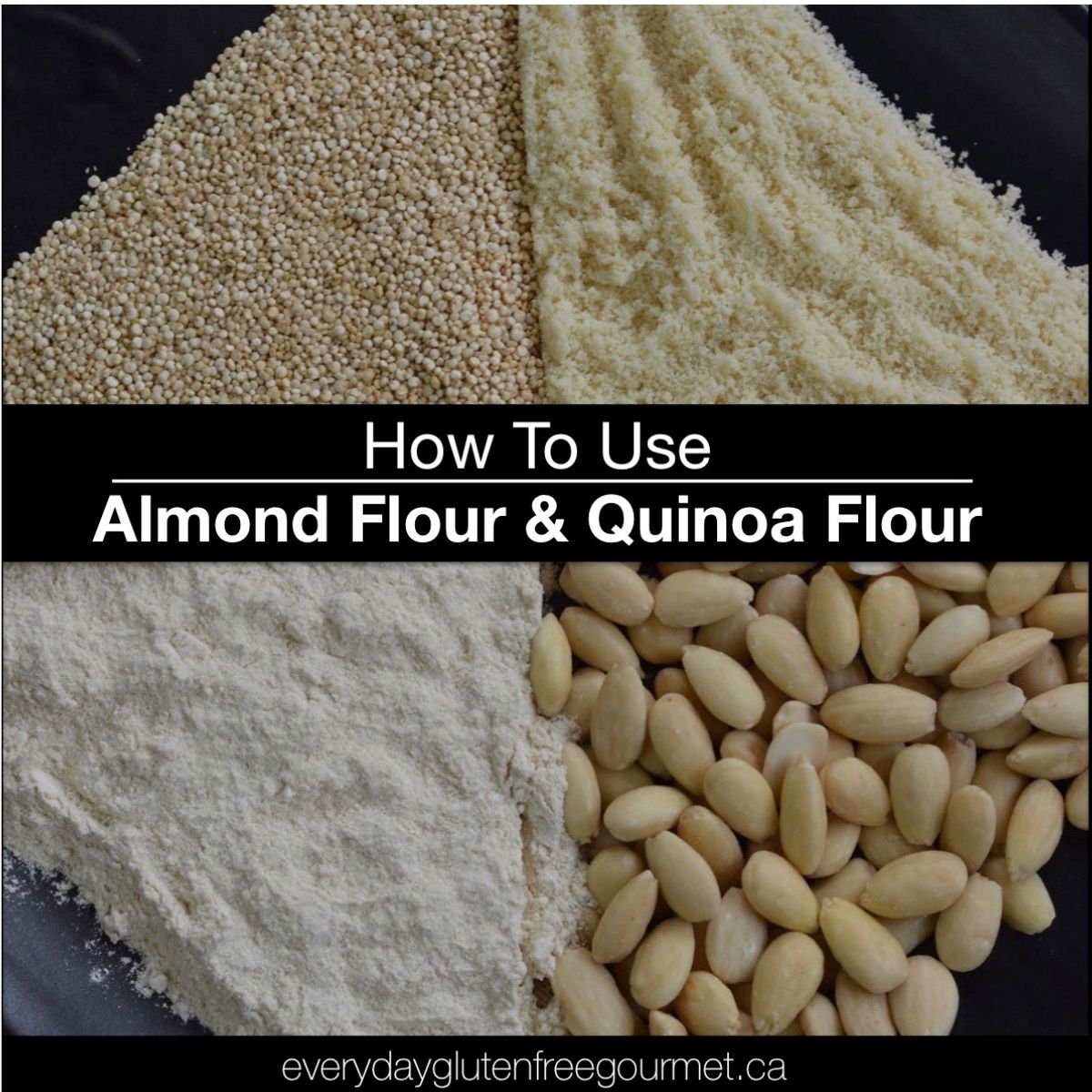 Develop a Learning Mindset
There's nothing like warm cookies from the oven or the satisfaction of baking a special gluten free cake or loaf of bread for the first time. To do this gluten free cooks need to learn.
The first few years when I was learning to bake gluten free were a struggle. That struggle is what made me start this blog and share what I learned. At some point along my journey I adopted this quote for learning about gluten free baking and the gluten free lifestyle in general.
"The more I know, the more I realize I don't know."

Aristotle
What Gluten Free Flours are Grain Free
You don't need to limit your gluten free diet to grain free flours. What you might want to know is that some people can't tolerate specific grains or even all grains. If you're not symptom free you should always be on the look out for what's in the food you eat.
That takes a learning mindset.
Flour can be made from grains, seeds and nuts (and apparently coffee, green bananas and more). Here's a short list of some flours gluten free cooks can use and a way they can be categorized.
| Grains | Pseudo-grains* | Seeds | Nuts |
| --- | --- | --- | --- |
| Oats | Quinoa | Flax | Almond |
| Rice | Buckwheat | Pumpkin | Hazelnut |
| Millet | Amaranth | Chia | Tiger Nut |
| Sorghum | | Sunflower | Peanut |
| Corn | | | Coconut |
| Teff | | | |
*Psuedo-grains are grain free.
The Paleo diet is dairy free and grain free. That means you could include paleo recipes and paleo blogs when searching for new recipes.
Now, let's get back to these two grain-free flours, almond flour and quinoa flour.
PIN for later...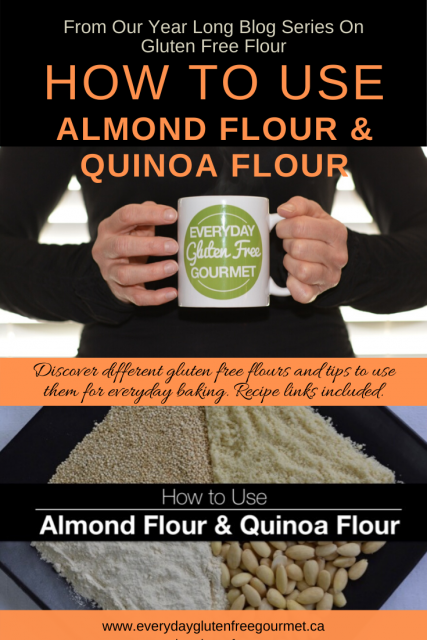 This post contains affiliate links. When you purchase using these links your cost is the same, but I receive a few cents for every dollar spent. I appreciate your support for this website.
What is Almond Flour
Almond flour is made from blanched almonds that have been finely ground. It's the same as the ground almonds you buy in the baking aisle at the grocery store. Almond flour and ground almonds can be used interchangeably in recipes although the grind may vary among brands.
Is Almond Flour the Same as Almond Meal
No. Almond meal is made from almonds with the skins on so it is darker in colour and has a heavier texture. It will not produce the same results as almond flour (or ground almonds) in baking so should not be used as a substitute.
Where Can I Buy Almond Flour
I like the consistent texture and convenience of ground almonds from the baking aisle at any grocery store. I'm more likely to find almond flour at a health food store or anywhere with a good selection of gluten free flour. Of course you can also buy it online.
In a pinch you can make your own almond flour by grinding slivered or whole blanched almonds. Watch closely and stop before your almonds turn into almond butter.
Properties of Almond Flour
Contains 21% protein
High in fibre and fat
Mild sweet flavour
Adds richness to baked goods
Easy to find ground almonds you see in the baking aisle
Cons
Expensive compared to other gluten free flours
Ideally stored in the fridge or freezer for maximum freshness
It is a nut flour so cannot be sent to schools or workplaces with a nut-free policy
Best Uses
Cakes, muffins, quick breads and cookies
What is Quinoa Flour?
Quinoa flour is finely ground quinoa seeds. These are the same seeds you may have cooked the way you cook rice. Like rice they can be made into a cold salad or pureed to make 'that quinoa chocolate cake'.
Today I'm talking about the flour, not the seeds. But much like the seeds are considered a super food, quinoa flour can be thought of as a healthier choice compared to wheat flour or rice flour.
I bake treats with quinoa flour but I wouldn't disagree that comparing them side by side quinoa flour is a healthy choice.
Properties of Quinoa Flour
Nice nutty flavour
High fibre and high protein
Works well in combination with potato flour, rice flour or tapioca starch for a lighter result
Some brands have a coarse texture, a fine grind is always preferred for baking
Can have a bitter taste that tends to disappear when baked
Cons
Has a bitter taste that I think tends to disappear when baked.
Not everyone can tolerate quinoa
More costly than other gluten free flours
Not recommended for yeast breads
Should be stored in the fridge or freezer for maximum freshness
Best Uses
Cookies and brownies
Used in combination with other flours to make muffins and rustic cakes
Used in combination with other flours to make pizza dough and flatbreads
Is Quinoa Flour a Single Flour Replacement for Wheat Flour
Quinoa flour can be used as a single-flour replacement for wheat flour in some recipes.
Not all, but some.
This is great information for family or friends who really want to bake for you. The grandmother or sister-in-law who doesn't want to reorganize her kitchen but desperately wants to bake something you can eat.
You've got to have the cross contact discussion since eating their baked goods is the goal here. Maybe they would read this post, How To Cook a Meal for a Celiac. Then if it's possible the brownies and cookies listed below all use quinoa flour alone.
Watch on YouTube: How To Use Almond Flour and Quinoa Flour
Recipes With Almond Flour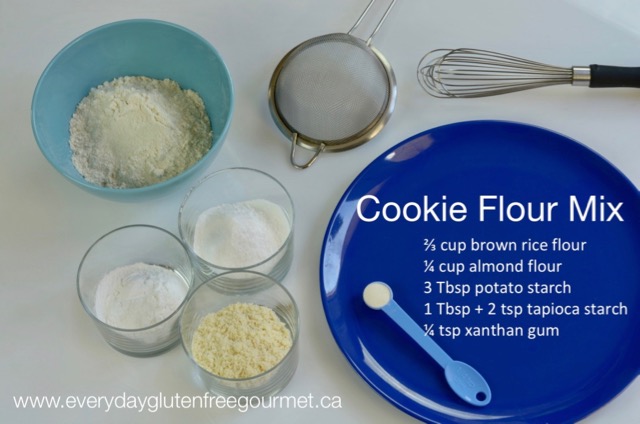 I ignored almond flour when I first started baking gluten free since my sons' school was nut-free. I really discovered the benefits of almond flour when I became determined to make better gluten free cookies.
By the end of this focused effort I came up with a cookie flour blend that included brown rice flour and it allowed me to make many delicious, crisp cookies.
Recipes With Quinoa Flour
This was one of the first flours I used in cookies and brownies so those are the kind of recipes I have posted.
Let me know in the comments below if you have any questions or comments about almond flour or quinoa flour.
If you're new here follow along and get your FREE resource, 29 Tips for Cooking with Gluten Free Flour.
Happy Baking!
Originally posted 2017, updated October 2022.
---
This is the fifth in a series of blog posts on gluten free flours. My intention is to provide a basic overview of several gluten free flours for the everyday home cook, both new and experienced. Let me know in the comments below if you have a specific baking challenge you'd like some help with.
How To Use Almond Flour and Quinoa Flour