How to Use Corn Flour, Cornmeal and Masa Harina is fourth in my 12-part series on How to Use gluten free flours. These corn products give gluten free bakers lots of options and I keep all three in my pantry.
This overview highlights the differences between each of them and some of the best uses. If you're only interested in the recipes then skip to the end of the post to see the list.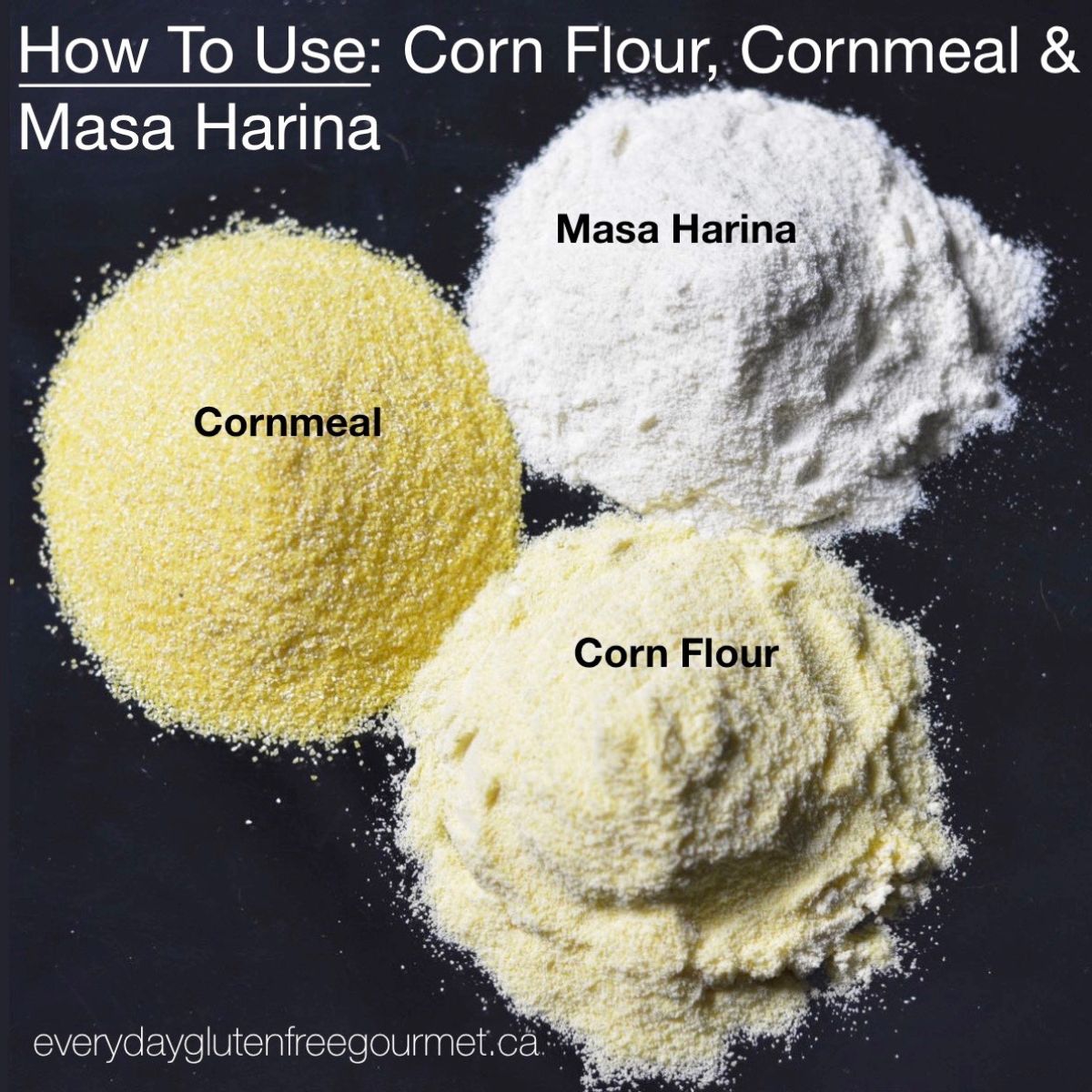 Before we start let's make sure we know what we're not talking about.
Corn Flour IS NOT the same as Cornstarch
This post is about corn flour, it is not about cornstarch. Cornstarch is made from the starchy part of the corn and I wrote about it in the second post of this series, How To Use Starch in gluten free baking.
However, in the UK they refer to cornstarch, the fine powder used for thickening sauces, as cornflour. Bloggers in the UK sometimes write it as one word, cornflour, but not always. In North America we typically write corn flour as two words.
If you mistakenly substitute cornstarch for corn flour your recipe will not turn out as intended.
PIN for later...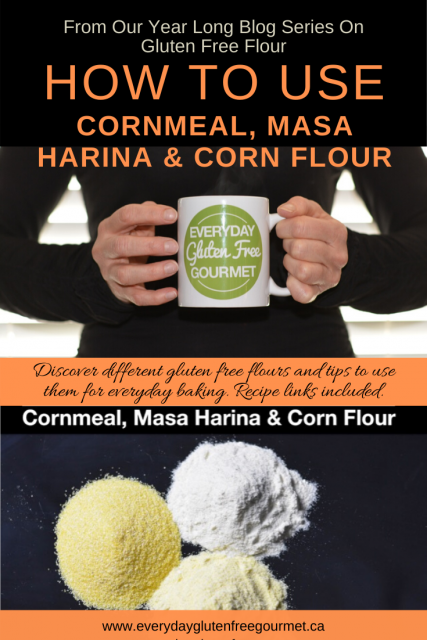 This post contains affiliate links. When you purchase using these links your cost is the same, but I receive a few cents for every dollar spent. I appreciate your support for this website.
What is Corn Flour
Corn flour is dried field corn that has been finely ground into flour. It is typically a pale yellow colour but can also be white if made from white corn.
If you have done any gluten free baking you may know that not every manufacturer grinds their flour to the same degree. However, if you look at corn flour and cornmeal side by side you can usually see that corn flour is powdery while cornmeal is granular.
Corn flour can be purchased at health food stores, Mexican and Latin American food shops or online.
What is Cornmeal
Cornmeal also starts with dried field corn but it is coarsely ground. It can be yellow, white, red or blue depending on the corn it's made from.
The coarse granules provide a texture that many people love like the cornbread my mom made when I was a kid. Depending on the manufacturer the grind may differ slightly. There are many types of cornmeal available with different labels making it confusing to know what to buy for what recipe.
For the everyday home cook (that's me) it's easy. I just buy cornmeal, preferably labeled gluten free. That might require a trip to a health food store, Mexican or Latin American food shop. When I find it I buy a fairly big bag.
Online Bob's Red Mill and Arrowhead brands advertise gluten free cornmeal. In Canada Clic brand sometimes displays the Certified Gluten Free symbol on the package but that seems to be inconsistent so read the label every time.
What's The Difference Between Polenta and Grits
Manufacturers label food for the purpose of selling it. In an effort to help consumers a package of cornmeal may say polenta or grits. It may in fact be ground to a different degree, or not. The more you research the deeper this topic gets for our purposes we simply want to cook good food.
Polenta is coarsely ground yellow corn and the cooked dish made from it is also called polenta.
Grits are a southern specialty made with coarsely ground white corn (but sometimes yellow). It can also be made from hominy, corn that has been treated with slaked lime, similar to how masa harina is treated.
What is Masa Harina
Masa harina is the dry flour-like product used to make fresh masa, a soft pliable dough. Unlike corn flour and cornmeal, masa is made from corn that has been treated with slaked lime. The process is called nixtamalization and that is what contributes to the distinctive flavour.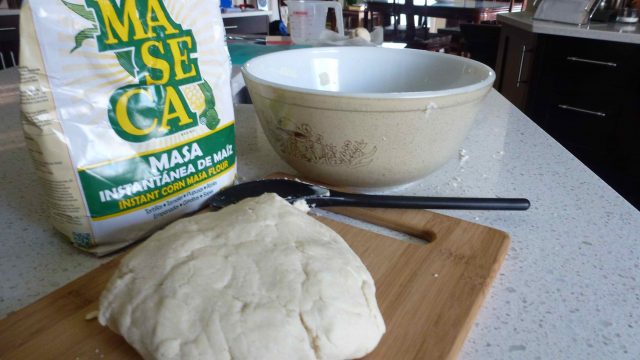 Maseca is a popular brand of masa harina although some recipes simply call for maseca. Bags of masa harina can be found in Mexican and Latin American specialty food shops as well as online including Bob's Red Mill masa harina.
Watch my YouTube video: How To Use Corn Flour, Cornmeal and Masa Harina
Recipes: Best Uses for Corn Flour
Corn flour can be used in both sweet and savoury recipes and works well for breading meat, fish and vegetables.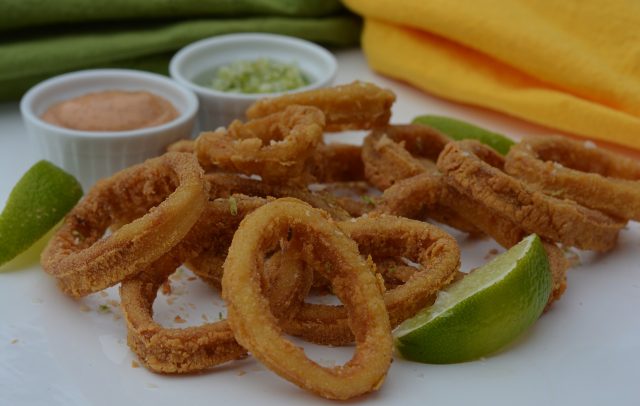 Recipes: Best Uses for Cornmeal
In baked goods cornmeal it is often combined with flour. Corn flour or a gluten free flour blend are both good choices. If you like to experi-bake try other gluten free flours and see what you like.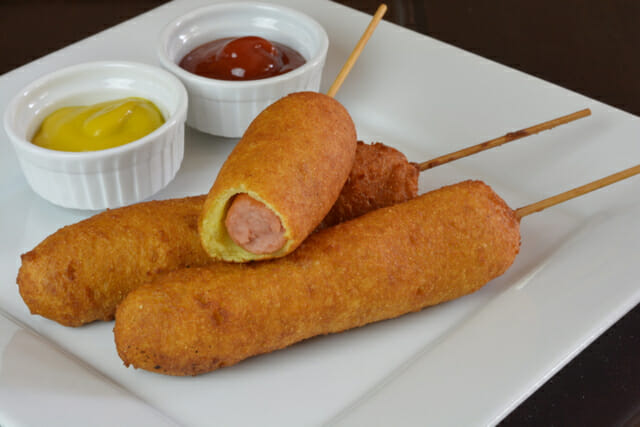 My basic Cornbread includes cornmeal and can be made with corn flour or a gluten free flour blend.
That includes these three variations of the basic cornbread recipe; Cornbread Chorizo Stuffing, Cornbread Sausage Stuffing Balls, Cornmeal Raspberry Muffins
Polenta is cornmeal and can be served in many different ways. Search Google images and you'll see it as a warm breakfast cereal, a base for any number of toppings from meaty ribs to mushroom ragout, shaped into a pizza crust, fried in sticks like French fries and even grilled.
You can buy large tubes of cooked polenta that can be sliced and grilled, fried or baked.
Shrimp and Grits is a classic southern dish but like polenta there are many more ways to serve grits.
Recipes: Best Uses for Masa Harina
To make masa dough you simply add water and salt, the amounts are written right on the bag. It can then be pressed into tortillas and served flat or shaped into a taco shell. A tortilla press makes this job simple but tortillas can be flatten between two frying pans or rolled out with a rolling pin.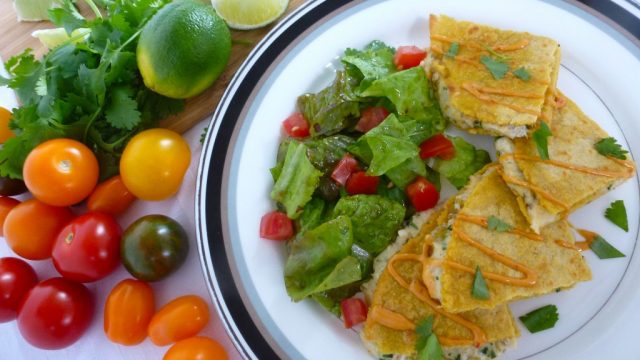 Let me know in the comments below if you have any questions or comments about corn flour, cornmeal or masa harina.
If you're new here follow along and get your FREE resource, 29 Tips for Cooking with Gluten Free Flour.
Happy Cooking!
Originally posted 2017, updated October 2022.
This is the fourth in a series of blog posts on gluten free flours. My intention is to provide a basic overview of several gluten free flours for the everyday home cook, both new and experienced. Let me know in the comments below if you have a specific baking challenge you'd like some help with.
How To Use Gluten Free Flour series:
Corn Flour, Cornmeal and Masa Harina