Mochaccino Cheesecake Brownies are a variation of my Chocolate Cheesecake Brownies but when I went to make them I wanted the exact recipe. So this is it. A coffee flavoured base, cinnamon in the cream cheese layer and more coffee in the chocolate glaze. Take these anywhere and you will make people happy.
For gluten free bakers fudgy brownies are a great place to start. It is easy to be successful and everyone loves them. Even when they don't turn out exactly like you wanted people gobble them up without complaint.
Cake vs Brownies
Cake is light and airy while brownies are dense and fudgy. Brownies typically have half as much flour as cake. There are numerous variations among brownie recipes and of course some recipes are bigger. A general guide is to choose a recipe with only one-half cup of flour. Just pay attention to this until you find your perfect brownie recipe(s).
These brownies are made with quinoa flour. It is expensive compared to other gluten free flours but it works well as a single flour in brownies. It is also easy to find at health food stores, well-stocked grocery stores and online.
If you are experimenting with other flours you might be interested in reading my blog post series on How To Use Gluten Free Flours.
Get The Tools
Every kitchen needs a few tools and two square baking pans is the most basic tool. You can bake so many things with just these two pans. From granola bars to sushi pizza to Australian Lamingtons there is no end to the value of these pans. You don't need the most expensive ones but do yourself a favour and don't buy the cheapest ones either.
Everyday to Gourmet - Mochaccino Cheesecake Brownies
My mom always served her brownies right out of the pan. But somehow I became obsessed with making my brownies look nice…really nice. I learned to remove them from the pan using the tin foil lining, then cut them precisely using a ruler and a knife dipped in hot water. If I serve brownies that's just how I do it!
In this photo I simply arranged them on a pedestal tray because as I often say, "everything looks better on a pedestal tray". I pinched a few pansies from my garden and voila, a gourmet presentation. If you like the idea of using edible flowers check out this post, How To Use Edible Flowers in the Kitchen. Then be suer to grow some, it's really easy.
Let me know in the comments below if you made these and how you served them.
---
More Brownie Recipes
Dairy Free Cappuccino Brownies
Raspberry Brownie Ice Cream Cake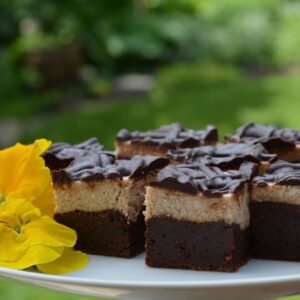 Mochaccino Cheesecake Brownies
Mochaccino Cheesecake Brownies are a variation of my Chocolate Cheesecake Brownies. If you love mocha these are a must!
Ingredients
BROWNIE BASE
1½

cups

chocolate chips

½

cup

butter

⅓

cup

sugar

2

eggs

1

tablespoon

instant coffee dissolved in ½ tablespoon boiling water

½

teaspoon

vanilla extract

½

cup

quinoa flour
CHEESECAKE TOPPING
8oz

cream cheese, room temperature

¼

cup

sugar

1

teaspoon

cinnamon

1

teaspoon

vanilla extract

1

egg

1

tablespoon

milk

2

tablespoon

quinoa flour
CHOCOLATE GLAZE/DRIZZLE (optional)
6oz

bittersweet chocolate

2

tablespoon

butter

½

cup

whipping cream

1½

tablespoon

instant coffee granules dissolved in 1 tablespoon boiling water
Instructions
Preheat oven to 325°F. Lightly grease an 8-inch square baking pan and line with foil.
BROWNIE BASE
In a small bowl melt chocolate chips in the microwave for 1 minute. Stir and add the butter. Microwave for another 30 seconds and stir until the mixture is smooth. Set aside to cool.

In another bowl whisk together the sugar, eggs, coffee and vanilla. Add melted chocolate mixture and stir.

Sprinkle flour over mixture and stir until combined. Pour into the prepared pan.
MOCHACCINO CHEESECAKE TOPPING
In an electric mixer beat the cream cheese, sugar, cinnamon, vanilla and egg until smooth.

Add the milk and flour beating until combined. Pour cheesecake mixture evenly over the brownie base.
BAKING
Bake in preheated oven for 30-35 minutes, until the middle springs back when gently touched in the center with a finger. Allow to cool while making the glaze.
CHOCOLATE GLAZE/DRIZZLE
Melt chocolate and butter together in a small pan over low heat. Stir until smooth.

In a small cup combine instant coffee granules with boiling water and stir to dissolve.

Add the coffee and whipping cream to the chocolate and stir until smooth.

Drizzle about half the glaze over the cooked and cooled brownies in a diagonal pattern. Switch directions and drizzle the remaining glaze in a diagonal pattern the other way.

Refrigerate at least 4 hours or overnight before cutting.

Remove brownie from the pan using the foil overhang. Peel away foil and cut brownies using a hot knife. Be sure to wipe the knife after each cut.
Notes
*Alternately you can skip the glaze/drizzle altogether and top each piece with a single chocolate-covered coffee bean.