What's a Buddha Bowl? What's the difference between all the different names for 'food bowls' and are they gluten free? These are the questions people have been asking so this is my Buddha Bowl recipe.
Bowls are trendy and can be found on almost every restaurant menu under a variety of names. Some sources distinguish between bowls with meat and those that are vegetarian or vegan. This trend has caught on so from Breakfast Bowls to Buddha Bowls all the rules have now been broken.
A quick search for popular names brought up these:
Buddha Bowl
Nourish Bowl
Glory Bowl
Bliss Bowl
Power Bowl
Hippie Bowl
These meals in a bowl are not a salad. They may contain some healthy greens but the basic idea is a nice variety of nutrient dense foods, artfully presented in a bowl. They typically include a sauce or dressing that is drizzled over the meal but not usually tossed like a salad.
PIN for later...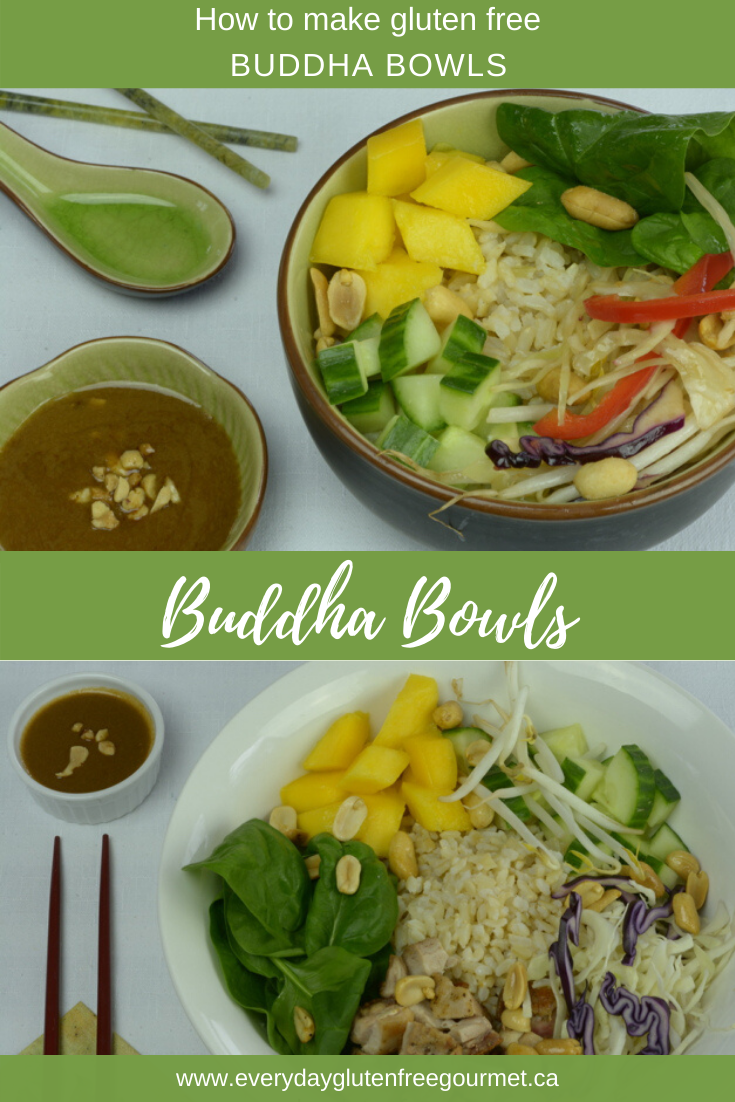 This post contains affiliate links. When you purchase using these links your cost is the same, but I receive a few cents for every dollar spent. I appreciate your support for this website.
How To Make A Buddha Bowl
The beauty of a Buddha Bowl (substitute the bowl name of your choice) is that you can make them different every time. Use the list below as a guide choosing a variety of foods from a few different categories. The trick is to keep it simple enough that the individual items shine, yet find those winning combinations that you want to repeat.
Base – Start with rice noodles, gluten free soba noodles or grains such as brown rice, quinoa, millet. or cooked sweet potato.
Plant-Based Proteins – Make a nutritious, protein rich bowl by adding tofu, beans or legumes like lentils and split peas.
Animal Proteins – For meat eaters a small amount of sliced beef, pork, chicken, fish or seafood and hard-boiled eggs are all options.
Leafy Greens – Choose spinach, kale or other greens in smaller amounts than you would use in a salad.
Vegetables – Use a variety of raw and/or cooked vegetables.
Raw veggies such as red pepper, cabbage, cucumber, radishes, snow peas or bean sprouts.
Cooked steamed, roasted or grilled veggies could be carrots, cauliflower, broccoli, green beans or sweet potatoes.
Fruit – For something sweet and juicy add a handful of berries, any chopped fruit like mango or apple. Avocado is also a popular choice and technically it is a berry.
Garnish and Crunch – Finish off your artful presentation with fresh herbs, nuts or seeds.
Dressing/Finishing – Although a sauce isn't mandatory many bowls are topped with a drizzle made from tahini or even a thin hummus. I topped this Buddha Bowl with an Asian inspired peanut dressing.
The Buddha Bowls I made today were a vegan bowl and second interpretation adding seasoned, sautéed chicken. Build your bowl with the foods you want to eat.
A Canadian Celiac Podcast Episode 101
This post was inspired by my podcast interview with Sue Jennett on A Canadian Celiac Podcast. We talked about food bowls. What goes in them, what might contain gluten when ordering in a restaurant and how to build your own food bowls at home.
Listen here to Episode 101: What's A Food Bowl
NOTE - History buffs and observant listeners of the podcast may have heard me say Buddha lived 400 years ago (oops). Buddha is said to have lived in 6th century BC. As the story goes he carried a bowl and gathered food as he walked. At the end of the day he ate what was in his bowl.
That sounds like the original Buddha Bowl. In the 21st century we think of a Buddha Bowl as a healthy meal that may be plant based or may contain meat. You get to decide.
I'd love to hear in the comments below what winning combinations you came up with.
---
Inspiration To Create Your Own Food Bowls
This one starts with rice vermicelli, cucumber, carrot, lettuce, fresh herbs and chopped peanuts. The recipe includes a lemongrass marinade that can be used on chicken, shrimp or pork but you could make this vegetarian or vegan. At the table pour the Nuoc Cham Dipping Sauce over your bowl and enjoy. (Get the Vegan Fish Sauce Substitute recipe here.)
For a weekend treat try this indulgent Breakfast Power Bowl. It has cooked quinoa with bacon, sweet potatoes, raw spinach, avocado and cherry tomatoes all drizzled with a blender hollandaise.
Create a Middle Eastern Falafel Bowl starting with cooked rice and lentils, roasted onion, zucchini and/or eggplant. Top with raw tomato and red peppers, some feta cheese and this recipe for Falafel Balls with Tahini Sauce. Thin the tahini sauce with water and drizzle over the bowl. Enjoy!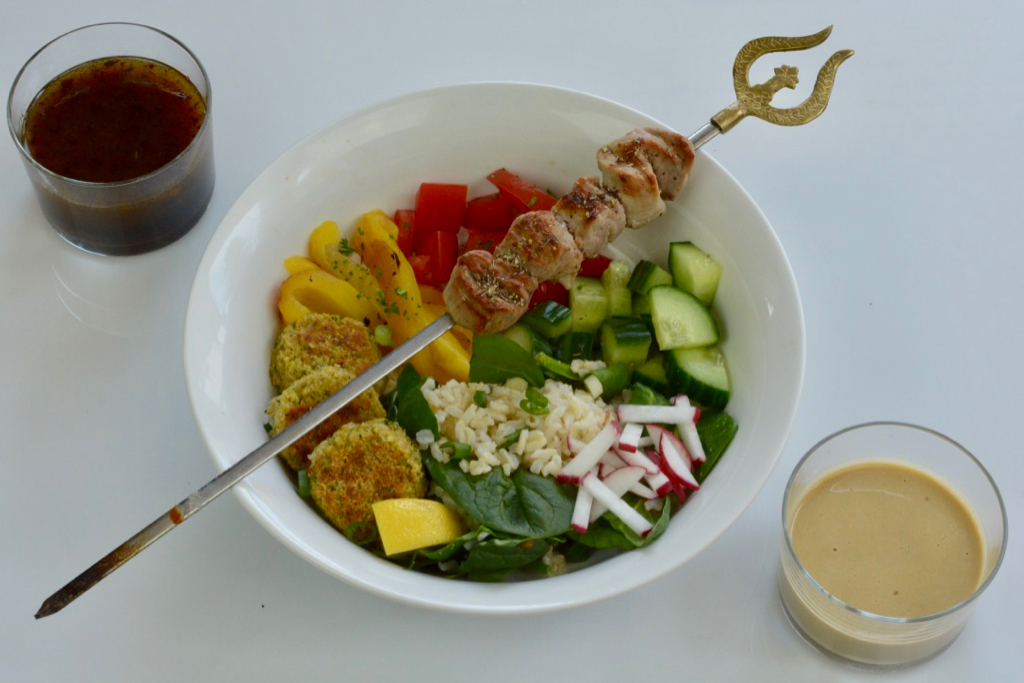 In the summer I experimented with a Greek Inspired Bowl. I put cooked quinoa in the bottom of the bowl and made a composed version of my Greek Summer Salad on top. I added roasted butternut squash and grilled eggplant on two separate occasions. The vinaigrette dressing from the salad was served on the side and flavoured the quinoa too.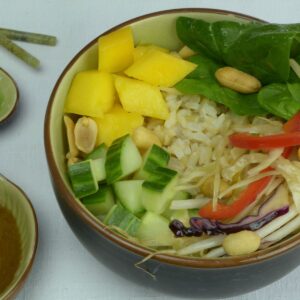 Buddha Bowl
Buddha Bowls are healthy, versatile and easily made gluten free. The key is to include lots of variety and artfully assemble your bowl. Drizzle the dressing over top and eat from around the bowl.
Ingredients
2

cups

cooked brown rice

(white rice, quinoa or any gluten free grain)

1

cup

chopped cucumber

1

cup

spinach

1

cup

thinly sliced cabbage

(or bagged coleslaw mix)

½

red pepper, sliced

½

cup

bean sprouts

1

cup

cubed mango
FINISHING – peanuts, thinly sliced green onion and/or chopped cilantro
PEANUT DRESSING
1

small garlic clove, minced

2

tablespoon

peanut butter

¼

cup

lime juice

1

tablespoon

gluten free soy sauce

1

tablespoon

honey

(or maple syrup for vegan)

1

tablespoon

sesame oil

1

tablespoon

olive oil
Instructions
PEANUT DRESSING
In a small bowl whisk together peanut butter, lime juice, soy sauce and honey. Continue whisking and add sesame oil and olive oil until smooth. Set aside until ready to serve.
ASSEMBLING
Put generous portion of rice on bottom of bowl. Warm or room temperature is preferred, not cold out of the fridge.

Top with cucumber, spinach, cabbage or coleslaw, red pepper, bean sprouts and mango.

Sprinkle with peanuts, green onion and/or cilantro. Drizzle with peanut dressing. Makes 2 bowls.