These Easy Fruit Smoothie Bowls can be any colour of the rainbow and are beautifully decorated with a variety of toppings. It's like art for foodies!
That's why I picked smoothie bowls as a recipe for my May Recipe Challenge. If you've never made a smoothie bowl they're super easy. If you've got a food processor, a blender (anything from fancy Vitamix or a Magic Bullet or even an inexpensive hand blender) you can make one. In this post I'm sharing what I learned after making many fruit smoothie bowls.
Are Homemade Smoothie Bowls Healthy?
I think of eating healthy as a life long continuous improvement project. I'll never be perfect so I just keep learning and do the best I can.
If you want to make a healthy smoothie bowl you can. I use real food as much as possible and avoid anything with added sugar. I use plain yogurt and add a touch of maple syrup if it isn't sweet enough. This is an ingredient I always have in my fridge for breakfast with fruit, for baking or to fill in for sour cream when I need it.
If you're specifically trying to increase your fibre or protein you can do that too. For protein simply add protein powder into the blender. For more fibre choose your toppings wisely and make yourself a healthy bowl.
How to Decorate a Fruit Smoothie Bowl
Now for the fun part! Beautifully decorated smoothie bowls in all the colours of the rainbow is what attracted me to them. I typically choose fresh fruit for breakfast rather than a blended drink. But seeing those gorgeous bowls on Instagram made me want to try them and I discovered that when you eat it out of a bowl it feels like a meal.
Here's a starter list of ingredients to try on top of your smoothie bowls.
Thinly sliced fresh fruit in different shapes and sizes, in matching or contrasting colours
Fresh or frozen berries (thawed fruit doesn't look so gorgeous, see green smoothie below)
Chia, flax or hemp seeds
Toasted or plain coconut, flakes or chips
Granola (I used my recipe for homemadePistachio Apricot Granola)
Look at some pictures and decide if you want to decorate half the bowl, the entire top or create a random pattern. If you're having fun you can try a different way every time.
What to Put in a Dairy Free Smoothie
There are many plant-based substitutes for both milk and yogurt so find the ones you like best and try them in all kinds of recipes. If you're brand new to dairy free this is a list of popular choices I see at the grocery store. You still need to confirm that the brand you buy is actually gluten free.
Nut milks such as almond, cashew, hazelnut, macadamia and walnut
Oat milk, coconut milk or pea milk (which I have personally never even heard of)
Why I Use Coconut Milk to Make a Dairy Free Smoothie
I used canned coconut milk (and coconut yogurt) in the dairy free smoothies I've been making lately. This is the same coconut milk I use to make coconut rice and Thai curries so I always have it on hand. It's never flavoured so I don't have to read a lot of labels or stand in the grocery store looking at rows and rows of products to find something.
Canned coconut milk should always be gluten free (famous last words) so what you need to know is the ideal fat content for the different recipes you make. To learn more about that check out this post, Gluten Free Coconut Milk.
Coconut water works too but I couldn't get a thick enough smoothie when I used it. I rescued my breakfast by serving it in a nice glass and garnishing it like a tropical drink. It was dairy free and delicious, but it wasn't a smoothie bowl.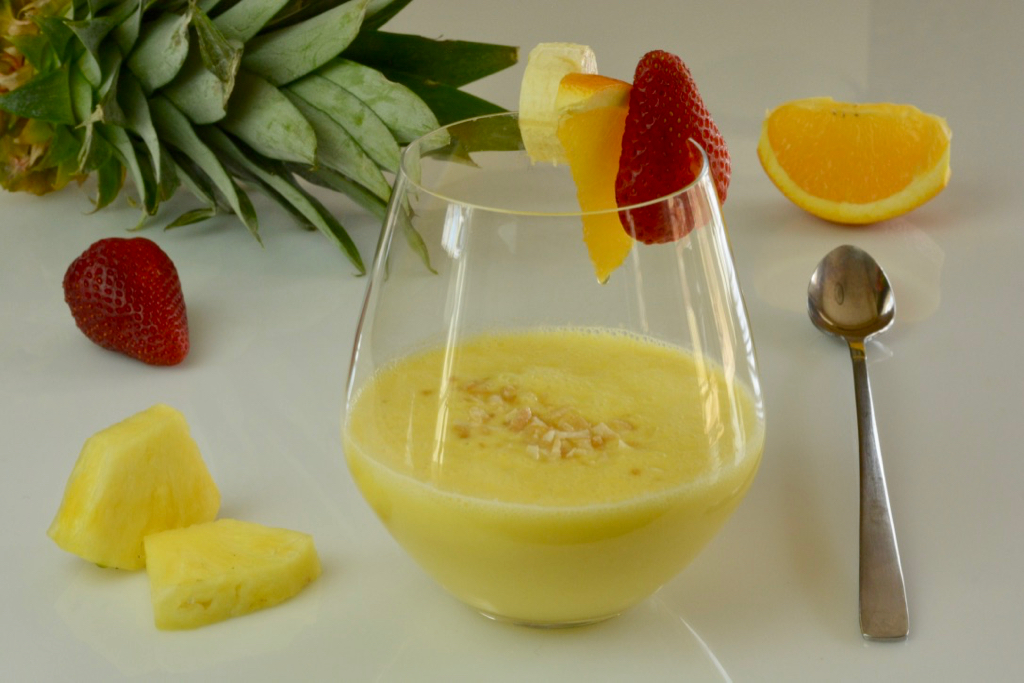 7 Tips To Make a Smoothie Thicker
No one wants to artfully add toppings to their smoothie bowl only to see them slowly sink beneath the surface before you get to the table. Here are my best tips to make your smoothie thick enough to hold all the topping you want to use.
Decrease the amount of liquid. In this recipe start with ¼ cup and see how that works.
Freeze the liquid. Freezing coconut milk in an ice cube tray is a great way to use up any excess in a can from another recipe. Each ice cube in my tray measures 2 tablespoons.
Banana and avocado both help to make a thick smoothie and if you've always got bananas in your freezer you're good to go. I break my bananas in half so I can easily grab it out of the container.
Frozen fruit helps too but I made many bowls using half a frozen banana with fresh fruit according to the recipe.
Add a tablespoon of chia, flax or hemp seeds.
Add 1-2 tablespoons of safe gluten free oats or protein powder.
A tablespoon of nut butter will alter the taste but you're creating it so it's another option.
Wondering if you can make a smoothie bowl without bananas? Yes you certainly can! Just follow some of the tips above and you'll be making nice thick smoothies in no time.
Let me know in the comments below what kind of smoothie bowl you like to make.
---
__________________________________________________________________________
New here? Join our community and get your FREE resource, the tips I wish I knew when I started cooking gluten free.
Yes, I need 29 Tips For Cooking with Gluten Free Flour.
Still haven't mastered gluten free cooking? Check out our online Cooking Classes.
_________________________________________________________________________
Easy Gluten Free Recipe Challenge
I started an Easy Gluten Free Recipe Challenge for Celiac Awareness Month with these four recipes. They're easy and because you may not have heard of them they're a perfect introduction to gluten free.
Fruit Smoothie Bowls
Socca, an interesting cross between flatbread and pancake
Brazilian Cheese Buns and a pizza variation
Mug Cakes (for the cake lovers)
Share pictures of your recipes. Email them to me or follow me and share them on your favourite social media channel. You've got to follow people AND engage with their content (LIKE or CLICK or SHARE) for the algorithms to start to show you posts from that person. I'd be honoured to show up in your feed.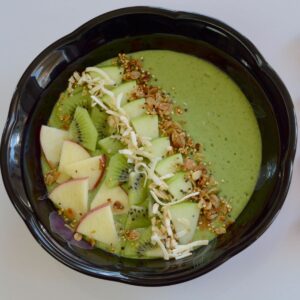 Easy Fruit Smoothie Bowls
This is art for foodies! This recipe for Easy Fruit Smoothie Bowls has dairy free options and tips to make it thick enough to hold all the toppings you want to try.
Ingredients
½

cup

plain yogurt

(coconut yogurt for dairy free)

½

cup

milk

(coconut milk for any plant based milk substitute)

½

frozen banana

1

cup

fresh or frozen fruit

(see notes for colour themed smoothies)

1-3

teaspoon

maple syrup

(optional)
OPTIONAL because you still want green in your fruit smoothie
1

handful

fresh spinach

½

avocado
TOPPINGS
chia, flax or hemp seeds

toasted coconut or granola

sliced fresh fruit or frozen berries
Instructions
Make Smoothie
In a blender combine all ingredients and puree.

Pour 1 cup of smoothie into a shallow bowl.
Garnish Smoothie Bowl
Carefully lay fruit pieces on top of smoothie covering as much of the surface as you like.

Sprinkle with any of the toppings and serve.
Notes
Fruits to include for a rainbow of colour themed bowls. Start with the main colour you want your smoothie. Fruits listed in brackets can be included as long as most of the amount is the colour you intended.
Red (more pink than red but I'm still trying!) - Strawberries, raspberries, red apple with peel (pineapple, mango, blueberries)
Orange - Mango, papaya, orange*, peaches, goji berries (pineapple, apple)
Yellow - Pineapple, mango, papaya (orange*, apple)
Green - Apple, kiwi, pear, avocado, a handful of spinach
Blue, Indigo and Violet - Have fun making all the colours of the rainbow and be sure to share your pictures with me.
*I used ¼ or ½ a fresh orange including the peel. Just throw it in the blender!