How to use rice flour in gluten free baking is one of the first challenges for everyone new to the gluten free diet. In the past I had no interest in knowing why wheat flour worked. I could successfully bake so I never thought too much about it.
After several years of gluten free baking I can tell you that understanding a few basics about flour is very helpful for gluten free bakers.
Understanding Gluten Free Flour
You might think (or hope) that you can simply buy a gluten free flour blend to replace wheat flour and bake all your old recipes. This is simply not true.
As I learned more about gluten free baking I adopted this saying.
The more you know, the more you realize you don't know.

Aristotle
I have certainly learned a lot about gluten free flour and gluten free baking but I can guarantee, there is always more to learn.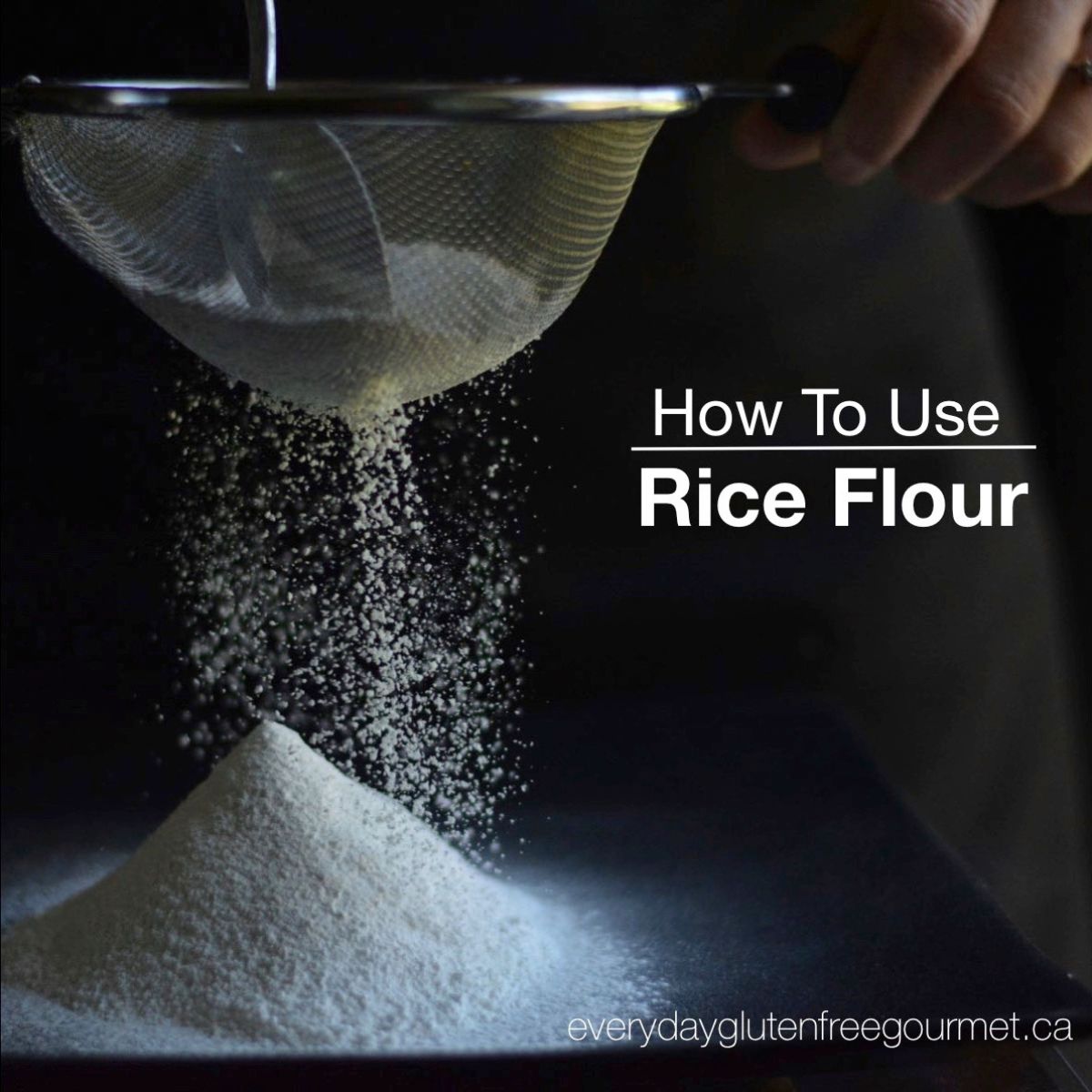 The Purpose of Flour
All flour contains protein, starch and fat. Who knew!
Flour is typically used for three purposes:
to thicken sauces, gravies, soups and

stews

,
coat meats and vegetables,
create structure in baked goods.
These three processes rely on the different properties of wheat flour and they're not all the same. With gluten free flours we want to use the ones that best mimic the property of wheat flour in each specific recipe.
The good news is that there is always more than one flour blend to do this.
PIN for later...
This post contains affiliate links. When you purchase using these links your cost is the same, but I receive a few cents for every dollar spent. I appreciate your support for this website.
Getting Started with Rice Flour: White, Brown and Sweet Rice Flour
White rice, brown rice and sweet rice flour are all commonly used in gluten free baking. These flours are made from rice so like white rice and brown rice (sweet rice, black rice etc), each flour is a little different.
I'll cover the properties, cons and best uses of these three flours but to start a general understanding is helpful.
Rice Flour in Gluten Free Flour Blends
The majority of store bought flour blends and packaged gluten free foods contain rice flour. It's always in combination with other flours and starches therefore it is a blend.
When you're new to gluten free the choice of flours and flour blends is overwhelming. I assure you that you'll learn more over time. I share tips every day to help you learn what you need to know as quickly as possible.
In this post I'm not doing a deep dive into the topic of flour blends. For now I'm simply suggesting you notice what gluten free flours are in the food you're eating. That's it.
Stocking A Gluten Free Pantry
It took me a long time to figure out what flour to buy and how much. I still remember the first 2 kilogram bag of white rice flour I bought. I'm sure it took me two years to figure out I didn't use it very often and I certainly didn't need a bag that big.
It took me another few years to figure out what recipes these flours were best for.
After five years of gluten free baking I started going through my pantry, one flour at a time, to write this blog post series. I covered the 21 ingredients in my pantry (don't let that number scare you) and started creating resources to help everyday home cooks learn more quickly than I did.
What if I can't eat rice flour?
You're not alone. Not everyone can tolerate rice and some are trying to minimize the amount of rice and rice flour they consume. Skip to the bottom of this post and you'll see the index of the 12 blog posts in this series. I write about another 12 gluten free flours, their best uses and recipes to use them. In the 12th post I also write about how to use a gluten free flour blend and my strategy to substitute other flours for your favourite blend. This naturally decreases the amount of rice flour you use.
My First Successes with Rice Flour
When I discovered what I now call my EGFG gluten free flour blend, it took my baking to the next level. Instead of being 'good for gluten free' and going stale quickly people started asking, "is this gluten free?"
With this blend sweet rice flour helped with freshness by retaining moisture better than white rice flour. Potato starch made baked goods less crumbly.
I had also struggled with cookies. (Shout out to every gluten free cook who has ever pulled an entire cookie sheet of greasy melted dough out of the oven. It's so disappointing.) Then I learned that brown rice flour helped make crisp cookies and I was excited to bake more cookies.
I still keep a small amount of white rice flour in my kitchen and it makes the best melt-in-your-mouth sugar cookies!
A Quote For Gluten Free Cooks
If you're feeling overwhelmed here are some words of encouragement. We all need them!
I may have known this quote before but when I apply it to gluten free baking it is so meaningful.
The more you know, the more you realize you don't know.

Aristotle
How To Buy Finely Ground Rice Flour
The milling process affects the texture of every flour and it varies by brand. Finely milled rice flours are preferred for gluten free baking.
I can't tell the difference in texture by the feel of the flour but through research I learned that Asian brands are known for their fine grind. They're readily available at Asian grocery stores. I buy Erawan brand white and sweet rice flours.
America's Test Kitchen recommends Bob's Red Mill white and brown rice flours. I find them to work well and be readily available to me.
29 Tips For Cooking with Gluten Free Flour
I recently added a new resource for my readers called 29 Tips and it's just the tip of the iceberg for gluten free cooks. If you haven't got it sign up now and download it.
__________________________________________________________________________________________
New here? Join our community and get your FREE resource, the tips I wish I knew when I started cooking gluten free.
Yes, I need 29 Tips For Cooking with Gluten Free Flour.
Still haven't mastered gluten free cooking? Check out our online Cooking Classes.
Resources for Gluten Free Cooks
There's an endless number of free and paid resources for gluten free cooks. I own two of these three cookbooks from America's Test Kitchen (ATK), use them all the time and highly recommend them.
I guarantee there's a lifetime of learning about gluten free baking and cooking right here. They explain why each recipe works so you can apply these principles to all of your recipes and keep learning.
How To Use Rice Flour on YouTube
If you visit YouTube (like 1000 times a day) check out my video on this topic. While you're there please give me a thumbs up and subscribe so YouTube will share my content to help more people. Thank you in advance. ❤️
White Rice Flour
Properties
Neutral flavour and smooth texture
Affordable and easy to find
Long shelf life
Cons
Not ideal in recipes with low liquid and high fat content like cookies and muffins.
Gives baked goods with an unappealing, translucent-white colour if used alone.
Best Uses
30-60% of a flour combination for all uses
Brown Rice Flour
Properties
Affordable and easy to find
Mild flavour and texture
The tan colour gives baked goods a slightly browner look
Adds a crispness to cookies
Cons
Some brands have an odd earthy flavour.
High fat content means shorter shelf life so is best stored in the fridge or freezer (or just bake often and it won't be a problem).
Best Uses
Cookies
30-60% of a flour combination for all uses
Sweet Rice Flour (Glutinous Rice Flour)
Properties
Combines more readily with fat than other rice flours
Freeze and thaw stable
Its' natural elasticity makes it ideal for rice noodles
Cons
Name is confusing since this flour is not sweet and does not contain gluten (it is made from sweet rice and that type of rice is sometimes called sticky rice).
When purchasing this flour the package may not even say sweet rice flour.
Best Uses
As a thickener for soups and sauces
Up to 40% of a flour combination for all uses
To make rice noodles and wrappers (the kind I buy but someone makes them).
Expert Advice for Baking at Home
Like me, Porch believes that baking at home can be fun, fosters creativity and creates memorable moments with family and friends. In this article they asked me to answer the question, How to overcome the most common challenges of gluten free baking? Shout out to them for including gluten free in this comprehensive post, Ask the Pros: Expert Advice for Baking at Home.
In this post I shared 3 tips to get started cooking gluten free and 3 tips for getting more organized. Check it out if that's what you need.
The Recipes: All Using One or More Types of Rice Flour
Now you know why so many recipes use rice flour. For most of my baking I use my EGFG gluten free flour blend that contains sweet rice flour.
There are so many recipes with my blend I put them into a table in no particular order.
I only found two recipes (from more than 320+ on my site) that call for sweet rice flour separately, along with other individual flours. They are Soft Dinner Rolls and Buttermilk Biscuits.
In this second table are my recipes that call for white and brown rice flours, plus the two that use white rice and sweet rice flour. It's a shorter list and you can see that brown rice flour works well in cookies.
I've added many recipes and learned more about gluten free baking since I started this blog post series in 2017. If you have any questions or comments I'd love to hear your thoughts.
Happy Baking!
Originally posted in 2017, updated September 2022.
---
This is the first in my series of 12 blog posts on gluten free flours. My intention is to provide a basic overview of several gluten free flours for the everyday home cook, both new and experienced.
How To Use Gluten Free Flour series:
Rice Flour in Gluten Free Baking