Falafel Bowls are simply amazing! This one has the flavours of everything in a falafel wrap with none of the gluten.
Food bowls are trendy and you can't help but see pictures of gorgeous bowls all over social media. No matter what you call them they're typically healthy and they're often gluten free. Yay!
What's a Food Bowl and Is It Gluten Free
In the recipe description for my Asian inspired Buddha Bowl, I wrote all about how to build a bowl. I also talked with Sue Jennett about this on her podcast episode 101. You can check those out here:
K.I.S.S.
I've revised the K.I.S.S. acronym for a gluten free lifestyle and when I use it it means Keep It Simple and Safe. If you're new to making food bowls this is my best advice, keep it simple!
No two bowls are going to be the same so think of the recipe as a guide. Don't even try to follow it exactly. Buy what you like and use what you have in your fridge. As you make more bowls you'll become more adventurous and then you can have fun trying different ingredients.
PIN for later...
Homemade Falafel Balls
Falafel balls are not as hard as you think, seriously! In my recipe you do not have to cook the chickpeas, you simply soak them.
Here's my 3-step process.
Buy dried chickpeas (usually a 1 pound bag).
When you're unpacking the groceries dump the chickpeas into a bowl and cover with water. Soak overnight.
The next day drain the chickpeas and combine in a food processor with the remaining ingredients. Puree then scoop into balls. Bake or pan fry and you're done.
In this recipe for Falafel Bowls I'm including all the fixins' for a bowl plus two sauces to serve with it. Click here to see the recipe for falafel balls.
Serving Middle Eastern Falafel Bowls
What I like about serving healthy bowls for dinner is the endless variety. You can make everyone happy and keep it simple at the same time.
This recipe starts with a Vegan Falafel Bowl that's gluten free, dairy free and meat free. Here are two ways you can serve them.
Family Style Falafel Bowls
For everyday meals prepare the basic bowl with a few ingredients like rice, spinach and falafel balls. This step is perfect when you want to divide a particular ingredient among all the bowls (the last 12 falafel balls out of the freezer). Serve the remaining ingredients and sauces on platters at the table family style.
DIY Falafel Bowls for a Party
Create a gorgeous buffet and let guests build their own bowls DIY style. This is fun but it's also ideal for groups with different dietary needs and preferences. For a big crowd serve the sauces at the table so no one has to get up for more of that deliciousness.
Where's The Meat
This is a fabulous vegetarian bowl but to meet everyone's dietary requirements and preferences we can. Cook pork kebabs with za'atar and time it so the meat comes off the barbecue when everyone is seated.
All the other ingredients for these Falafel Bowls can be served at room temperature so this works well for both family style or a DIY buffet.
Organize For Success: Stocking A Gluten Free Pantry
There may be a few ingredients you don't have but I can help you use them up if you add them to your pantry. These are the less common ingredients I used:
Are you ready to make Falafel Bowls for dinner? Start with what you think is simple and just give it a try.
I can't wait to see your Falafel Bowl on social media. No matter how simple it is or how ordinary you think your picture looks, share it! I'd love to hear in the comments how you liked it and I'm happy to celebrate with you and see your photo on social media. Share it!
Related Recipes
Click on the text on the image(s) to go to the recipe/blog post.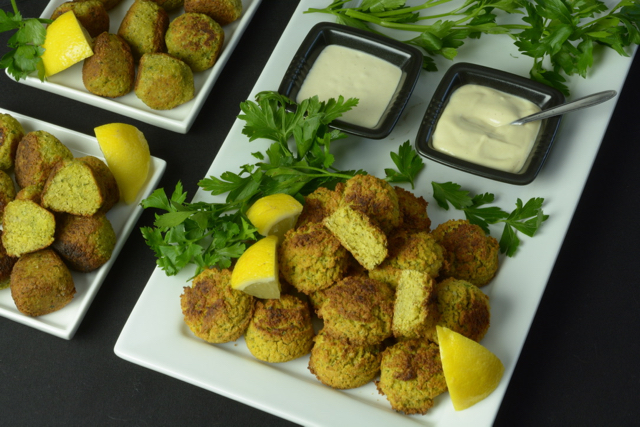 Middle Eastern Falafel Bowls
Falafel Bowls are simply amazing! It's a Middle Eastern bowl with the flavours of everything in a falafel wrap minus the gluten. Yes!
Ingredients
BASE LAYER
Cooked rice or quinoa

Fresh spinach or arugula
RAW & COOKED VEGGIES - choose a minimum of 5
Raw: chopped tomatoes, peppers, cucumber and radishes.

Baked, grilled or roasted: peppers, zucchini or eggplant

Extra: Kalamata olives, roasted chickpeas, chopped parsley

(link for roasted chickpeas in NOTES)
POMEGRANATE TAHINI SAUCE
3½

tablespoon

tahini paste

2

tablespoon

lemon juice

4

tablespoon

water

(more if needed)

1

tablespoon

pomegranate molasses

1

small garlic clove, minced
POMEGRANATE SALAD DRESSING
1½

teaspoon

ground sumac

¼

cup

olive oil

3

tablespoon

lemon juice

2

garlic cloves, chopped

2

tablespoon

pomegranate molasses

1

tablespoon

honey

¼

teaspoon

salt
Instructions
POMEGRANATE TAHINI SAUCE
Whisk all ingredients together and set aside.
POMEGRANATE SALAD DRESSING
Whisk all ingredients together and set aside.
PREPARE VEGETABLES
Cut vegetables as desired.
ASSEMBLING FALAFEL BOWLS
Add base layer of rice and greens to each bowl.

Add falafel balls and a small dish of Pomegranate Tahini Sauce (or hummus if desired).

Arrange a variety of veggies on top alternating colours to create a beautiful bowl.

Serve Pomegranate Salad Dressing on the side.