Here is my recipe for homemade Thai yellow curry paste. I know not everyone wants to make it from scratch, I don't always want to do that either. So read on to learn more about this essential ingredient then decide if you want to make it or buy it. Either way it adds depth to many dishes and I think you'll love it.
Thailand is famous for its' pungent curry pastes often based on cilantro, lemongrass, chiles and garlic. Seasoned with fish sauce, tamarind, shrimp paste, lime and sugar; the final dish can also be adjusted to suit your taste at the table.
If some of the ingredients are unfamiliar to you check out this post, Introduction to Thai Ingredients.
This post contains affiliate links. When you purchase using these links your cost is the same, but I receive a few cents for every dollar spent. I appreciate your support for this website.
Homemade vs Store Bought Yellow Curry Paste
Are you thinking "it doesn't sound easy yet".
It is technically 'easy' to make curry paste but there's a catch. During my Thai cooking class I demonstrate making this yellow curry paste and say; "It only takes a few minutes to make, as long as you have these 13 ingredients required." Obviously not everyone wants to get involved in that. If you're up for the adventure then get the ingredients at an Asian market and make it. Better yet, make it with a friend and share it.
Vegan Thai Curry Paste
My recipe calls for fish sauce so it isn't vegan. But, I was excited to discover the store bought versions often don't use fish sauce or shrimp paste. That makes them perfect for a vegan diet or anyone allergic to fish.
But if you are still thinking you want to make the homemade version here is the solution. Simply omit the shrimp paste and use this recipe for a Vegan Fish Sauce Substitute.
Store Bought
There is no shame in using store bought curry pastes, they can be gluten free, they are delicious and readily available. After a little research I found both Thai Kitchen brand and Cock Brand curry pastes are gluten free (at the time of writing). Cock Brand also sells red, green, Panang and Masaman curry pastes. Thai Kitchen brand has several as well so there is a good variety to get started.
PIN for later...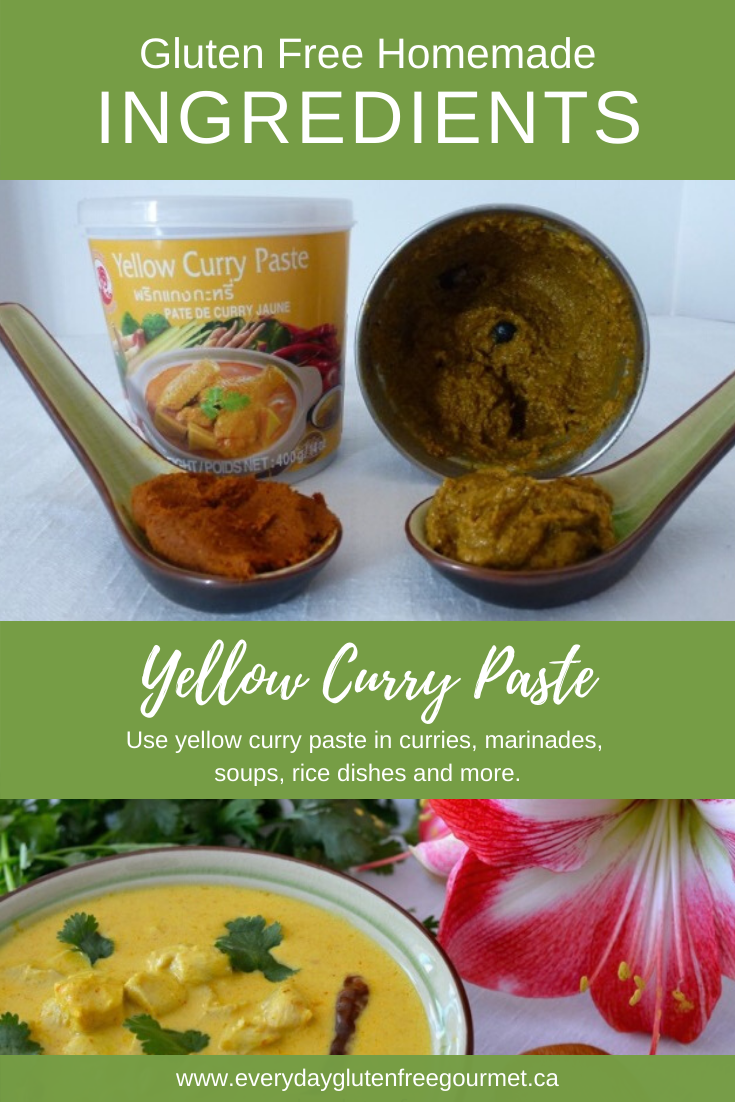 Get The Tools
Traditionally the spices paste is made by grinding and then pulverizing the concoction in a mortar and pestle. In the modern kitchen curry paste can easily be ground to the desired consistency using a coffee grinder, spice grinder or food processor.
Thai Curries
At my Thai cooking class I make two dishes to demonstrate how different Thai curries can be. I use yellow curry paste to make this creamy coconut Yellow Chicken Curry and a red curry paste in a completely different Pork and Vegetable Curry. The pork curry is from northern Thailand where they make curries without coconut milk.
I hope I've inspired you to make something with curry paste. If you host a fun dinner to discuss the finer points of Thai curry I'd love to hear about your adventures in the comments below.
---
A Travel Story
If you are interested in travel I recounted my trip to Thailand in a guest post over on my friends' blog, Travel Tales of Life. Here's the link to my travel tale and a recipe for Thai Red Shrimp Curry.
---
More Thai Recipes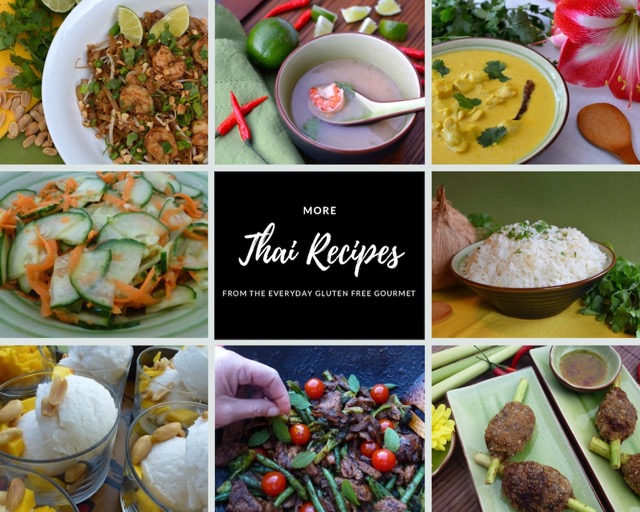 Thai Yellow Curry Paste
Learn about homemade versus store bought Thai yellow curry paste. There's even a vegan option so there's no reason for anyone to miss out.
Ingredients
8

dried red chiles, seeded and broken

(or 2 teaspoon cayenne pepper)

1

tablespoon

coriander seeds

(or 1 tablespoon ground coriander)

2

teaspoon

cumin seeds

(or 2 teaspoon ground cumin)

1

teaspoon

whole black peppercorns

(or 1 teaspoon ground black pepper)

6

garlic cloves, minced

(about 2 Tbsp)

4

shallots, minced

(¼ cup)

1

stalk fresh lemongrass, minced

(or 2 tablespoon frozen minced lemongrass)

1

tablespoon

minced fresh cilantro stems

1½

teaspoon

turmeric

1

teaspoon

ground galangal

(or 1 teaspoon fresh ginger)

1

teaspoon

salt

2

teaspoon

shrimp paste

(or 2 teaspoon anchovy paste)

2

tablespoon

vegetable oil
Instructions
Grind chiles, coriander seeds, cumin seeds and black peppercorns to a fine powder in a spice grinder.

Add the remaining ingredients and process to as fine a paste as possible.

Store yellow curry paste in the fridge for up to 3 months. Can be frozen.
Notes
Gluten free curry paste is available but sometimes (or some foodies) want to make it from scratch. In my Gourmet Dinner Club we used to make everything from scratch. Over time more ingredients became available but I wanted to share this recipe that was new and exciting when I was first introduced to Thai cuisine at home.
Dinner Club Tips - If you can share less common ingredients with like minded friends so they don't sit in your cupboard forever. I share spices with my two sisters all the time.