Yes, Saskatoon Blueberry Barbecue Sauce is a thing, my friend assured me. And it goes on a Bison Burger with goat cheese, you've got to try it!
So I did. Someone else figured out that bison and berries were a magical combination, I just needed to make the sauce. This berry barbecue sauce complements the meat and the creamy goat cheese seals the deal. If you need to add another not so everyday burger and a special barbecue sauce to your summer grilling list I'd say try this one.
Berry Picking - A Great Canadian Past Time
Saskatoons as we call them, are a wild berry native to the Canadian prairies and British Columbia, as well as the Northwestern and North Central United States. For me saskatoons are a local berry picked from bushes at the side of the road. As a young adult I picked saskatoons when I was water skiing. There are saskatoon bushes in a secret location across the lake from our family cabin. In July those bushes are loaded with berries so when we stopped to buy boat gas I picked berries and my mom turned them into her famous Very Berry Pie.
For this recipe my saskatoons came right from my friends' garden. Her prolific bushes are taller than me and provide more berries than she can manage. I was fortunate enough to be there for an end-of-the-season harvest and that is part of the inspiration for this Saskatoon Blueberry Barbecue Sauce.
But you don't need saskatoons. Find some fresh berries at a farmers markets or go berry picking at a U-Pick farm for a fun summer activity. Near Calgary Solstice Berry Farm is the place to go to pick saskatoon berries.
This post contains affiliate links. When you purchase using these links your cost is the same, but I receive a few cents for every dollar spent. I appreciate your support for this website.
Organize For Success
Half the battle managing food in your fridge is a system for storing and labeling. I use a variety of sizes of Mason jars for everything from soup to nuts. My system involves many sizes of short and tall jars (half-cup, one-cup, two-cup and four-cup sizes). The beauty is that I only use two sizes of lids for all of these jars. I have regular size lids and wide mouth size lids, that's it!
So make your sauce and label it. Once you've had it on the bison burgers try it on grilled pork (especially ribs) or chicken. Brush it on the meat near the end of the grilling time and cook it long enough to heat through and stick to the meat. Serve extra sauce on the side.
Let me know in the comments below what you used it on.
---
More Great Burger Recipes
Click on the text on the image(s) to go to the recipe/blog post.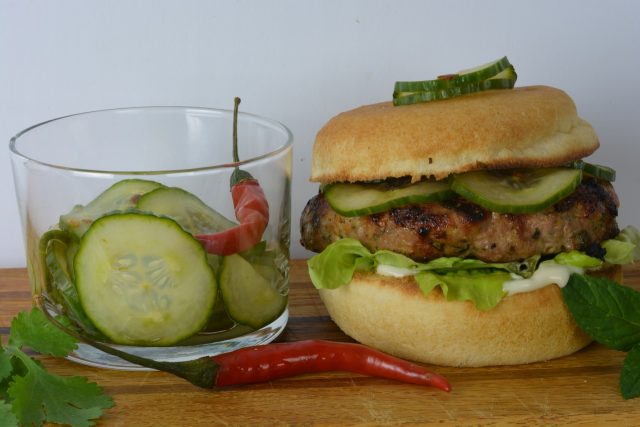 Saskatoon Blueberry Barbecue Sauce
Yes, Saskatoon Blueberry Barbecue Sauce is a thing, my friend assured me. And it goes on a Bison Burger with goat cheese. Try it!
Ingredients
1

tablespoon

vegetable oil

¼

cup

finely diced onion

(white or red)

1

tablespoon

finely diced jalapeno

(1 small jalapeno)

¼

cup

brown sugar

¼

cup

ketchup

¼

cup

Dijon mustard

¼

cup

fruit vinegar

(raspberry, red wine or rice vinegar)

1

teaspoon

Tabasco or your favourite hot sauce

2

cups

saskatoon berries, blueberries or a combination of both

(fresh or frozen)
Instructions
Heat oil in medium saucepan over medium-high heat.

Add onion and jalapeno. Cook stirring for 3 minutes.

Add brown sugar, ketchup, mustard, vinegar and hot sauce.

Bring to a boil, reduce heat and add berries.

Simmer 15 minutes or until the sauce thickens, stirring occasionally. Remove from heat and cool.

Puree sauce and pour into jars. Label and refrigerate.
Notes
Try on bison burgers, pork ribs or chicken. Brush on meat near the end of grilling time. Serve extra sauce on the side if desired.