Gluten free Worcestershire sauce is supposed to be easy to buy but when I first searched for it I couldn't find it.
I had the typical bottle of Lea & Perrins Worcestershire sauce in my fridge for many years and never gave it much thought. When you start cooking gluten free you give every ingredient a second thought.
In Canada we're familiar with the fact that popular items contain different ingredients when sold in the United States or in Canada. The label looks the same but the ingredients can be a bit different and may include gluten. When I wanted to replace gluten containing Worcestershire sauce in my kitchen, the Canadian Lea & Perrins bottle contained gluten.
That's when it occurred to me that I could probably make a version from scratch in less time than it took to go to the store. So I learned to make it and I'm happy with this recipe. All these ingredients are in my cupboard so it's quick to come together. Try it and see what you think.
Watch How To Make Gluten Free Worcestershire Sauce on YouTube
This post contains affiliate links. When you purchase using these links your cost is the same, but I receive a few cents for every dollar spent. I appreciate your support for this website.
Does Worcestershire Sauce Need Tamarind
Worcestershire sauce is kind of unique and I knew from reading over the years that it should contain tamarind. When you're gluten free you've got to stay open to learning new things.
After doing a lot of research I settled on this recipe that uses apple cider vinegar instead of malt vinegar, an ingredient I've always got in my cupboard.
I do keep tamarind in my pantry too never thought to add it when I did my recipe testing. I'm also aware that not everyone visiting my site is going to have tamarind in their pantry. So over time I just added it to the ingredient list as optional.
This is a quick and easy version of gluten free Worcestershire sauce and it's prefect for my everyday style of cooking.
How Much Tamarind To Add To Worcestershire Sauce
If you're keen to tweak this recipe but haven't bought tamarind yet check out this post, Tamarind concentrate vs tamarind paste. Once you're got tamarind I'd start by adding ½ teaspoon to this recipe and then adjust to suit your taste.
There are other recipes that may be more accurate to the original brand. During my quest I found America's Test Kitchen had a premium homemade Worcestershire sauce recipe. Theirs' requires aging and is nicely wrapped in brown paper, the perfect homemade gift for any Worcestershire sauce fan. There was a time I may have taken on a project like that but for now, that won't be happening in my kitchen.
How To Store Worcestershire Sauce
I poured that first recipe into a little glass bottle with a lid, like this salad dressing bottle. You can find them at kitchen stores or a Dollar store. Eventually I found a decent bottle with a proper pour spout and stopper. I labeled my bottle using my Dymo label maker and simply refill it as needed.
Let me know in the comments below if you made this recipe as is of if you added the tamarind. Tell me what you like to make with Worcestershire sauce too.
---
Recipes with Worcestershire Sauce
Click on the text on the image(s) to go to the recipe/blog post.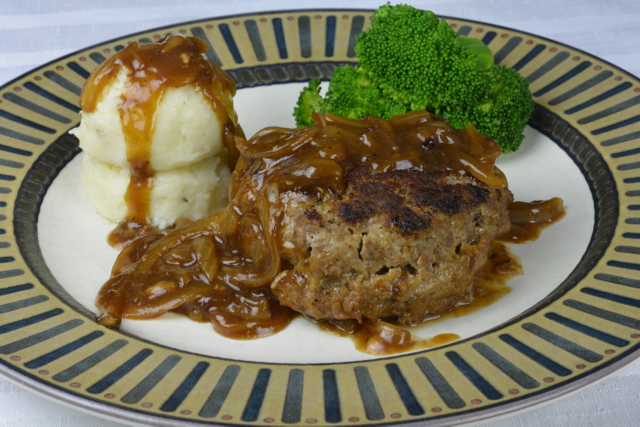 Gluten Free Worcestershire Sauce
This Worcestershire sauce uses apple cider vinegar instead of malt vinegar and takes less time to make than a trip to the store. Tamarind is traditionally included but since not everyone has it I've listed it as an optional ingredient.
Ingredients
½

cup

apple cider vinegar

2

tablespoon

gluten free soy sauce

2

tablespoon

water

1

tablespoon

brown sugar

¼

teaspoon

ground ginger

¼

teaspoon

dry mustard

¼

teaspoon

onion powder

¼

teaspoon

garlic powder

⅛

teaspoon

cinnamon

⅛

teaspoon

pepper

½

teaspoon

tamarind

(optional - see notes for use)
Instructions
Place all ingredients in a medium saucepan and stir.

Bring to a boil, stirring constantly. Simmer 1 minute. Cool.

Pour into a bottle and store in the refrigerator. Lasts indefinitely.

Makes about ¾ cup. Shake well before using.
Notes
Buy tamarind concentrate and reconstitute the thick paste with water. Add 2 parts water to 1 part concentrate and stir until combined. Measure and use in any recipe calling for tamarind paste. To learn more check out this post, Tamarind concentrate vs tamarind paste.