I first made this recipe for gluten free Breaded Pork Chops when we were living in our basement during a kitchen renovation. We were cooking dinner in an electric frying pan and I was inspired to try this recipe using gluten free cornflakes. It worked perfectly and has become the 'go to' breading in our house for pork chops, pork tenderloin slices and chicken strips.
Tips for Successful Breading
Both scoring the meat and allowing it to rest for ten minutes after breading it helps the breading stick to the meat. In a pinch you can skip those two steps, the breading won't stick to the meat as well, but it will still taste great. I know because I've done it, more than once.
The usual rule for breading food goes like this - DRY / WET / DRY. You start with meat or fish and dip it in something DRY (like cornstarch). Then it goes into a WET mixture (usually eggs, cream or buttermilk), and finally into the DRY mixture (bread crumbs, ground nuts or crushed cereal). In this recipe the final dry crumb coating is made with cornstarch and crushed cornflakes (there are several brands available like Nestle's or Nature's Path). If this is a cereal you keep in your house I'd say that's a bonus.
For more on breading check out this post, Gluten Free Breading Help.
Prep Once, Eat Twice - Breaded Pork Chops
When I make the breading (bowl #3 DRY MIX) I want enough for two meals. If I have all the ingredients I will do this intentionally. Don't miss the important step of properly labeling the extra dry mix.
If I'm really keen, I'll bread enough food for two meals. That might be a double batch for the freezer, extra pork chops or maybe chicken filets. I've frozen both with great success.
By doing a little extra prep once, you get to eat twice for that effort. You only need to pull out, measure ingredients and clean up once so it's a great strategy when it works.
This recipe was adapted to be gluten free from an issue of Cooks Illustrated magazine. Many thanks to Chris Kimball and the gang at American's Test Kitchen for their diligent work perfecting recipes. If you're new to gluten free cooking and looking for a fabulous resource I highly recommend both of their gluten free cookbooks.
Let me know in the comments below if you tried this recipe or have either of these cookbooks.
---
__________________________________________________________________________________________
New here? Join our community and get your FREE resource, the tips I wish I knew when I started cooking gluten free.
Yes, I need 29 Tips For Cooking with Gluten Free Flour.
Still haven't mastered gluten free cooking? Check out our online Cooking Classes.
More Gluten Free Breaded Recipes
Click on the text on the image(s) to go to the recipe/blog post.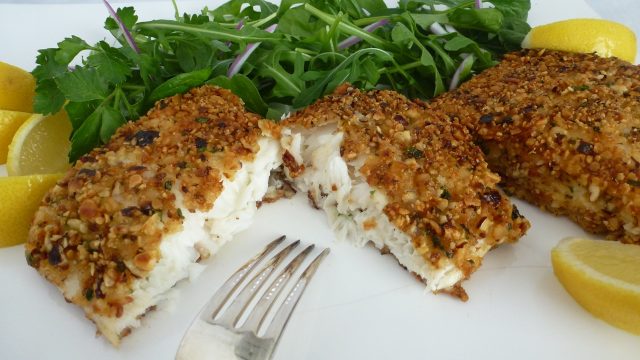 Breaded Pork Chops
This is the gluten free cornflake breading recipe you need! Use it for Breaded Pork Chops, chicken strips, schnitzel and so much more.
Ingredients
8

boneless, center-cut pork loin chops, ½ to ¾ inch thick
BOWL #1 - DRY
⅓

cup

cornstarch

salt and pepper
BOWL #2 - WET
1

cup

buttermilk

2

tablespoon

Dijon mustard

1

garlic clove, minced
BOWL #3 - DRY
3

cups

gluten free cornflake style cereal

⅓

cup

cornstarch

½

teaspoon

salt

½

teaspoon

pepper
Instructions
Prepare baking sheet with wire rack to rest meat on before cooking.

Prepare 3 shallow bowls as follows for the assembly line breading process.

Bowl #1 - Combine cornstarch, salt and pepper.

Combine buttermilk, Dijon mustard and garlic in bowl #2.

In a food processor add cornflakes, cornstarch, salt and pepper. Process until cornflakes are finely ground, about 10 seconds. Transfer cornflake mixture to bowl #3.

Lightly score pork chops with a sharp knife, 2 or 3 cuts into the meat in one direction then 2 or 3 cuts in the opposite direction (cut about ⅛ inch into the meat).Repeat on the other side.

Sprinkle chops with salt and pepper

Set out bowls #1, #2 and #3 with meat on the left of the bowls and the wire rack on the right.

Dip into bowl #2 using tongs to hold the meat above the bowl allowing some liquid to drip off.

Place meat in bowl #3 and cover both sides with breading.

Set breaded chops on wire rack, rest for 10 minutes.

Heat oil in frying pan. Fry the pork chops until golden on both sides, approximately 5 minutes per side. Turn heat down and continue frying until cooked through or finish in 350°F oven if desired.