I love this unique marinade for Mongolian Pork Chops that has been an everyday dinner in my house for years. It is served with grilled peppers, zucchini and steamed rice plus Lemony Hummus. It may sound unusual but that is what fusion food is all about and the whole combination is amazing.
Asian Pantry Ingredients
As with most things in the kitchen the trick to making it seem easy is organization and preparation. A well stocked Asian pantry can be started simple and expanded as you discover new ingredients and recipes you love.
The marinade for this recipe includes Chinese Black Bean Sauce. A gluten free version wasn't available to me so I dug out this old recipe and made it. The Chinese black beans are in my pantry and I try to keep a jar of black bean sauce in my fridge.
With a house rule to always use a clean utensil in the jar this sauce will last for two months in the fridge. Be sure to label it because over time everything with soy sauce looks the same.
The Chinese black beans can be found online or in Asian grocery stores. This is the only brand I have ever bought. Learn more about this ingredient in my post, Fermented Chinese Black Beans.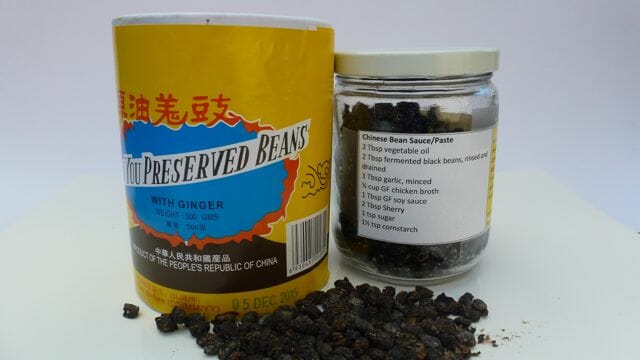 This post contains affiliate links. When you purchase using these links your cost is the same, but I receive a few cents for every dollar spent. I appreciate your support for this website.
Prep Once, Eat Twice
This recipe makes a large amount of marinade but I like that. I know it will make two meals or more for me so I plan for that when I make it. Half the marinade goes on my pork chops for dinner and then I do one of two things with the other half.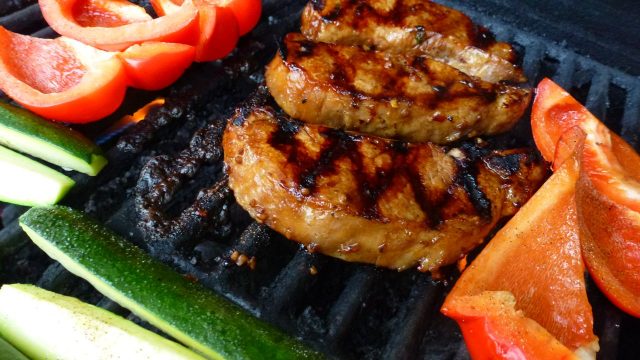 Pour the remaining marinade over more pork chops and put that container right into the freezer. The chops will marinate as they freeze and again when they thaw giving me another delicious meal sometime in the weeks ahead. The best part is opening the freezer and finding that meal ready to go.
If I'm not that organized I simply pour half the marinade into a jar, label it and put it in the fridge. That label also serves as a reminder to make this dish for dinner.
Let me know in the comments below if you have some tips for freezer management or what you like to find in the freezer.
---
__________________________________________________________________________________________
New here? Join our community and get your FREE resource, the tips I wish I knew when I started cooking gluten free.
Yes, I need 29 Tips For Cooking with Gluten Free Flour.
Still haven't mastered gluten free cooking? Check out our online Cooking Classes.
More Recipes With Chinese Black Beans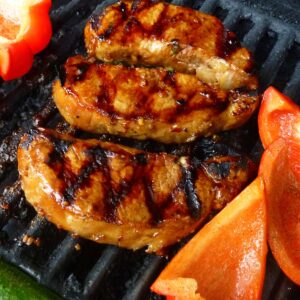 Mongolian Pork Chops
I love this fusion combination of Mongolian Pork Chops served with grilled peppers, zucchini and steamed rice plus lemony hummus.
Ingredients
MARINADE
1

cup

gluten free soy sauce

½

cup

white wine vinegar

6

tablespoon

sugar

6

tablespoon

sesame oil

¼

cup

finely chopped garlic

¼

cup

minced green onions

or chives from the garden

1½

tablespoon

gluten free Chinese Black Bean Sauce*

2

teaspoon

chile flakes
PORK
8

pork chops, bone-in or boneless

(or 12 lamb chops)
Instructions
Combine all marinade ingredients in a jar and stir. Divide marinade to reserve half for a second use.

Put pork chops in a glass baking dish just big enough to hold the meat. Pour marinade over the pork chops and turn. Let marinate at room temperature for 45 minutes or overnight in the fridge.

Preheat barbecue. Remove chops from marinade allowing most of the liquid to drip off before putting them on the grill.

Cook chops to desired doneness, 5-6 minutes per side.
Notes
For a delicious fusion meal serve with

grilled red peppers, zucchini and steamed rice plus lemony hummus. Unique and delicious!
*Gluten free Chinese Black Bean Sauce (click to go to the recipe) was hard to find when I started gluten free so I pulled out my old recipe that I hadn't made in awhile. All I had to do was switch to gluten free soy sauce and now I've got a black bean sauce to use in many different recipes.