Gluten free Battered Fish and Chips is not especially difficult or scary. To enjoy the kind of fish and chips you crave you simply need to create a system to deep-fry in your kitchen. Once you've done it a few times the process gets easier so not having a set up is the only thing that makes it difficult.
Organize For Success
If you own a deep fryer or air fryer great, but it's not required. I deep-fry in my wok. It requires less oil, has a large surface area for cooking and already has a spot in my kitchen. If you don't have a wok (you really should have a wok) you can still deep-fry in a pot. (Warning - That may just make you want to buy a wok.)
I hear people raving about their hot air fryers but I haven't succumbed to that purchase yet.
My set up includes:
My basic process is:
pour the clean or used oil from the jug into the wok
clip the

thermometer

onto the wok (it says on the thermometer deep-fry 375°F)
cook then eat and allow the oil to cool
set a large pyrex measuring cup in the sink then pour the cooled oil into the cup with confidence
pour the oil back into the jug and use it a few times before discarding it.
Write on the jug FOR DEEP-FRYING and store it in a different place than you store other oil.
Homemade French Fries
Since you have hot oil you might as well make the chips. The label on frozen French fries has about a dozen ingredients on it, that's what you learn when you read labels! I don't know much about food manufacturing but I know anyone can cut up a potato and fry it. So just do that and I guarantee you'll get better each time you do it.
Tartar Sauce for Battered Fish
I would never buy tartar sauce in a bottle. It is made of ingredients already in my fridge and since I don't use it often that bottle would be there for years. For a fast and easy tartar sauce mix a big blob of mayo, a spoonful of green relish and a squirt of lemon juice.
The tartar sauce recipe here is next level. It has seven ingredients (probably in your fridge) and is worth trying. Of course you can simply squeeze fresh lemon on your fish right at the table. You decide.
FOOD WASTE TIP - Mix leftover tartar sauce with more mayo into canned tuna or salmon for a salad or a sandwich.
Resources For A Gluten Free Kitchen
America's Test Kitchen is a wealth of knowledge like no other and they can cook gluten free too. They do more work than any home cook could ever do to figure out what makes a recipe work and they share that knowledge in their cookbooks. I highly recommend any of these books to give as a gift or as a treat for yourself.
Let me know in the comments below if you were inspired to try deep-frying and how your fish turned out.
---
__________________________________________________________________________
New here? Join our community and get your FREE resource, the tips I wish I knew when I started cooking gluten free.
Yes, I need 29 Tips For Cooking with Gluten Free Flour.
Still haven't mastered gluten free cooking? Check out our online Cooking Classes.
_________________________________________________________________________
More Recipes - Deep Frying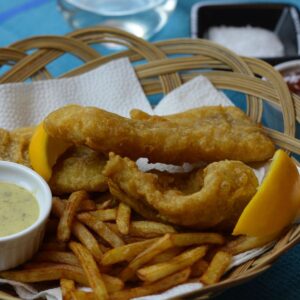 Battered Fish and Chips
Gluten free Battered Fish and Chips is not difficult to make, you just need a set up. Then you can enjoy all your deep fried favourites.
Ingredients
BATTER
1

cup

brown rice flour*

½

cup

cornstarch

1

teaspoon

baking powder

½

teaspoon

baking soda

1½

teaspoon

salt

⅛

pepper

1

cup

club soda
FISH
1½

lb

cod or haddock

¼

cup

cornstarch for coating

4-6

cups

oil for deep-frying
TARTAR SAUCE
¾

cup

mayonnaise

2

tablespoon

capers, drained and minced

2

tablespoon

green relish

1

tablespoon

minced onion

1½

teaspoon

vinegar

½

teaspoon

GF Worcestershire sauce

½

teaspoon

pepper
FRENCH FRIES
2-4

potatoes cut to the size you like
Instructions
BATTER
Combine brown rice flour, cornstarch, baking powder, baking soda, salt and pepper in a large bowl. Whisk to combine.

Whisk in club soda stirring until no lumps remain.

Cover bowl with plastic wrap and let sit at room temperature for 30 minutes.
TARTER SAUCE
Mix all ingredients together in a bowl. Set aside.
FISH
Put cornstarch in shallow bowl.

Pat fish dry with paper towel. Season with salt and pepper.

Dredge in cornstarch shaking off excess. Set onto clean plate.

Pour oil in wok and heat to 375°F.

Prepare paper towel lined plate to set fish on when removed from oil.

Prepare a baking sheet with metal rack and preheat oven to 200°F to keep fish warm before serving.

Dip fish into batter letting excess drip back into the bowl. Place into hot oil and fry for 1 minute. Work with 3-4 pieces at a time allowing the oil to come back to 375°F between batches. Repeat until all fish is cooked once.

Repeat the whole process. Dip the fish into the batter again, cooking until golden brown, about 2 minutes. Set onto paper towel lined plate.

Transfer fish to prepared baking sheet and place in oven to keep warm.
FRENCH FRIES
Add potatoes to oil in batches. Cook 3-4 minutes for thin fries, 5-6 minutes for larger homestyle fries.

Remove with strainer onto a paper towel lined tray.
Notes
*can substitute

half brown rice flour and half corn flour