This Grilled Shrimp Martini is a show-stopping, once-a-year recipe in my house. It takes time to grill everything so I create a special occasion to share it with friends.
I love my collection of seasonal recipes and I look forward to making them at certain times of the year. This recipe is perfect for any summer celebration but best when corn on the cob is at its' peak. I've used frozen corn but don't take too many shortcuts or you'll miss the uniqueness of this southwestern inspired appetizer.
Here are three tips for entertaining any time of year.
Choose recipes you love that you can make well.
Go for a spectacular presentation using martini glasses, shot glasses and pedestal trays or whatever you think looks "wow"!
Use the freshest ingredients possible and garnish with abandon.
I've served these grilled shrimp martinis on the dock at the lake and many sunny patios. In my opinion it's always worth the effort.
PIN for later...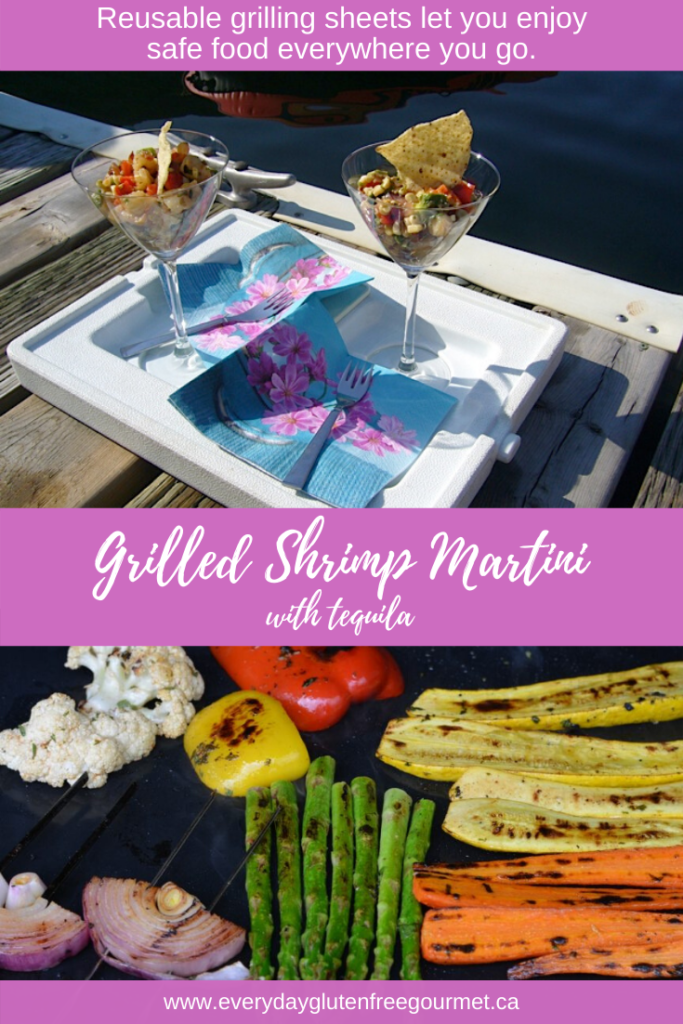 This post contains affiliate links. When you purchase using these links your cost is the same, but I receive a few cents for every dollar spent. I appreciate your support for this website.
Organize For Success
Entertaining is about timing but so is making dinner everyday. Advance prep is the key to success but so is organization. Save your favourite recipes and create a system that reminds you to make them again next year.
There are many ways to do this and I'm sure there are electronic ways I've never heard of. Just make a system that works for you. Even if it doesn't make sense to anyone else the key is that it does for you. And just watch how excited your friends are when they're on the invite list to share it.
Organizing for success applies to the actual cooking too. For this Grilled Shrimp Martini I do the prep in advance; make the dressing, cut the vegetables and even grill them if I want. Either way you'll be a rock star when you serve Grilled Shrimp Martinis and make it look like a breeze. Grab a drink and enjoy the conversation.
To get some help chopping the grilled food create some anticipation and someone will offer to help. Toss and serve with a tortilla chip on top.
Get The Tools
Use what you have and over time collect what you want. Think what items will create a 'wow' presentation to you.
Thanks to Bonnie Stern, much-loved Canadian cookbook author for this wonderful idea that I adapted for my kitchen. You can do the same.
Let me know in the comments below if you made this recipe or what you think about it.
Originally published April 2016
---
More Recipes with some WOW
Click on the text on the image(s) to go to the recipe/blog post.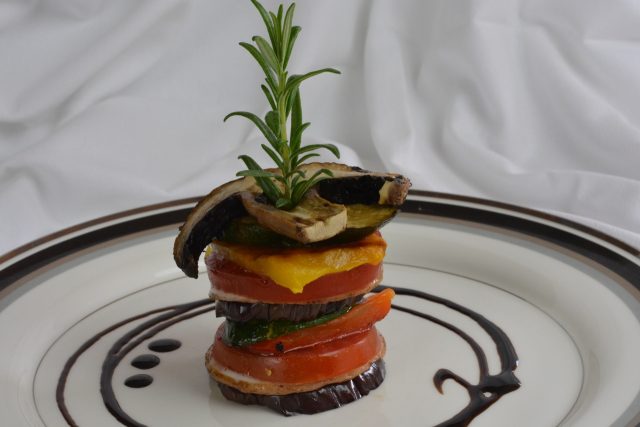 Grilled Shrimp Martini
This Grilled Shrimp Martini is a once-a-year recipe in my house. It takes time to grill everything yet I love creating a special occasion to enjoy it.
Ingredients
1

lb

shrimp, shelled

½

teaspoon

salt

1

tablespoon

olive oil

2

ears of corn

½

small red onion, sliced in rounds ¼ inch thick

1

red pepper, seeded

1

jalapeno, seeded and minced

(fresh or canned)

⅓

cup

chopped fresh cilantro

1

ripe avocado, diced
DRESSING
3

tablespoon

lime juice

(1½ limes)

1

clove garlic

1½

teaspoon

chipotle chile puree

½

teaspoon

salt

2

tablespoon

tequila

(optional)
Instructions
Cut and assemble all vegetables on a tray. Lightly brush with oil.

Pat shrimp dry, sprinkle with salt and brush with oil. Grill for about 2 minutes per side or until shrimp are pink. Cool then cut each shrimp into 3 or 4 pieces. Set aside.

Grill corn on all sides until lightly browned.

Grill onion slices for a few minutes per side until charred and soft.

Grill red pepper until black on all sides. Place in a plastic bag and steam for 5 minutes then gently peel off blackened skin.

Once cooled cut corn off the cob, chop onion and pepper.

In a large bowl combine cooked shrimp, chopped vegetables, jalapeno, cilantro and avocado. Can be prepared several hours before serving.
DRESSING
In a small jar combine lime juice, garlic, cumin, chipotle, salt and tequila if using. Can be prepared a day in advance.
SERVING
Toss shrimp and vegetables with dressing. Divide into martini glasses and top with a single nacho chip.