Falafel Balls and hummus are two Middle Eastern specialties that have become popular around the world and I love them both. During the summer I was making up different Mediterranean Bowls for dinner and I wanted to add falafel balls. They are naturally gluten free (most often) and contain chickpea flour (an under used ingredient in my pantry). Also, they're high in protein and fibre and people on a gluten free diet generally want more fibre.
Finally, here's my recipe for falafel balls.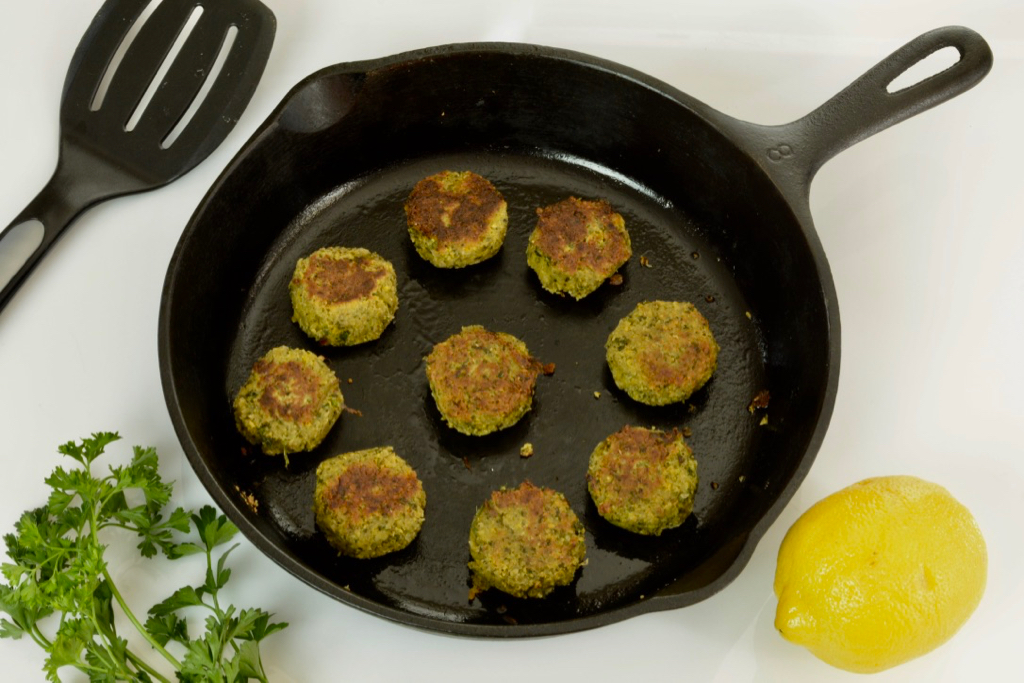 This post contains affiliate links. When you purchase using these links your cost is the same, but I receive a few cents for every dollar spent. I appreciate your support for this website.
Pantry Staples
Home cooking requires pantry staples and a little bit of planning. To make this recipe you need chickpeas, tahini and chickpea flour. These ingredients aren't hard to find but once you get them you'll want to make a point of learning a few different ways to use them.
Canned vs Dried Chickpeas
Many cooks insist that soaking dried beans gives a superior result in all sorts of recipes. So naturally I was slightly disappointed to learn that that cooks around the world agree, canned chickpeas make soggy falafel balls. Fluffy falafel balls are best made with dried chickpeas that have been soaked overnight. Darn it!
Of course I'm capable of soaking beans overnight as you are too. So I bought the bag of dried chickpeas and committed to making my falafel recipe twice. The plan is to avoid having half a bag of chickpeas in the back of my cupboard for a year or more.
What Is Tahini?
Tahini is a paste made from ground, roasted sesame seed and sold in jars and tubs in grocery stores and shops specializing in Middle Eastern ingredients. All the brands I've seen list nothing more than sesame seeds on the ingredient label making it naturally gluten free.
Tahini is an ingredient in hummus so right there you have a way to use it up. It can also be used to make a dipping sauce like I did here, as a drizzle on top of roasted vegetables and even in salad dressing. You don't need to buy a huge jar, just look a little further and you'll find a nice small one that won't take up space in your fridge for three years.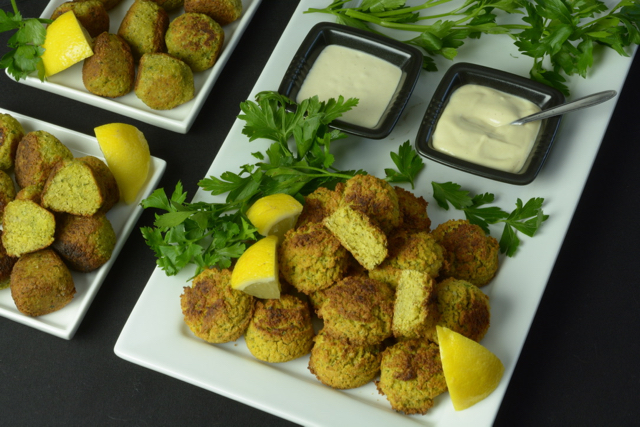 Deep-Fried vs Pan-Fried vs Oven-Baked
Traditionally deep-fried, falafel are crispy round balls that are moist inside. But people always tell me they are intimidated by deep fried recipes and likely to skip over them. I've written about deep frying in several posts and outlined my streamlined method. For this version of falafel balls I wanted to compare pan-frying and baking.
It took a bit of time to pan-fry these in small batches and the balls didn't maintain their round shape. The result was nice and moist but it would be easier to shape them into small patties. I think I'll try that another time.
Baking falafel balls in the oven was easy but they were too crunchy on the outside and a bit too dry inside. Although the taste was fine I'll say oven baked is not my preferred method.
Get The Tools
To get this job done I used my food processor to coarsely grind the chickpea mixture. For the balls I used a small metal scoop with a thumb grip to make a consistent size. This gives a rounded top with a flat bottom so they can then be flattened into disks or rolled into round balls.
So, are you up for making falafel balls for the first time? They are a nutritious snack or lunch item but also make a beautiful appetizer tray. Let me know how it went in the comments below.
---
Yes, I need 29 Tips For Cooking with Gluten Free Flour.
---
More Recipes with Chickpeas and Canned Beans
Canned beans and chickpeas are nutritious and convenient. Even though I used dried chickpeas in this recipe, canned ones should be part of a healthy gluten free diet. Here are some of the ways I use them.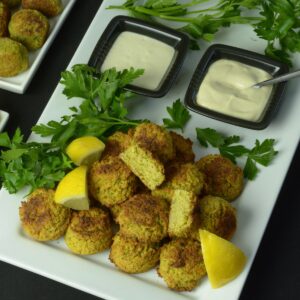 Falafel Balls with Tahini Sauce
Falafel Balls are a Middle Eastern specialty popular around the world. Fortunately they're easy to make at home and delicious with tahini sauce or hummus.
Equipment
metal portion scoops, 1¼ inch or 1¾ inch

(get 3 sizes, you'll never be sorry!)
Ingredients
FALAFEL BALLS
1

lb

dried chickpeas

(454 g)

1

small onion, coarsely chopped

2

cloves garlic, chopped

1

cup

parsley, roughly chopped

½

cup

cilantro, roughly chopped

1½

tablespoon

lemon juice

1

tablespoon

cumin

½

tablespoon

coriander

1½

teaspoon

salt

½

teaspoon

pepper

¼

teaspoon

cayenne pepper

¼

cup

chickpea flour

2

tablespoon

tahini
TAHINI SAUCE
¼

cup

tahini

2

tablespoon

lemon juice

1

tablespoon

maple syrup

1

garlic clove, minced

¼

cup

water

oil for pan frying
Instructions
MAKE FALAFEL BALLS
Place chickpeas in a large bowl and cover water. Soak overnight (12-24 hours). Choose a bowl large enough for them to triple in size and still be under water.

Drain chickpeas and add to food processor bowl with onion and garlic.

Process until roughly chopped (working in batches if needed).

Add parsley, cilantro, lemon juice, cumin, coriander, salt, pepper and cayenne. Process until well combined and green in colour.

Add chickpea flour and tahini. Process until evenly mixed.

Using a 1¼-inch portion scoop drop balls of dough onto a tray. Roll into balls with your hands or flatten slightly with a flipper to make small disks. Makes about 36 falafel balls.

Pan-fry, deep-fry or oven bake. Serve with tahini sauce. They freeze well.
TAHINI SAUCE
Combine tahini, lemon juice, maple syrup and garlic in blender cup. With motor running slowly add water and blend until smooth. Set aside.
PAN-FRY METHOD - my preferred method
Using 2 frying pans, heat 1-2 tablespoon oil in each pan over medium heat. Without crowding, fry falafel balls 3-4 minutes per side until nicely browned. Serve warm or room temperature.
DEEP-FRY METHOD
Heat oil to 350°F. Fry in batches until nicely browned, turning as needed, about 5 minutes. Serve warm or at room temperature.
OVEN-BAKED METHOD
Preheat oven to 400°F. Portion falafel balls directly onto a parchment lined baking tray. Bake 15 minutes, turn and bake another 10-15 minutes or until golden brown all over. Serve warm or at room temperature.
Notes
More serving ideas:
Serve falafel balls with tahini sauce or your favourite hummus for a healthy, delicious appetizer.
Add falafel balls to an appetizer platter of Middle Eastern delights like hummus, tadziki, raw vegetables, olives and gluten free crackers.
Make a Middle Eastern Falafel Bowl with this tahini sauce, my Pomegranate Tahini Sauce or any variation of hummus. My favourite is this Lemony Hummus.