This Vegetable and Dip Christmas Tree is made by placing the broccoli and cauliflower right on top of a simple homemade dip. Cherry tomato decorations finish it off and I guarantee it will be the best looking vegetable tray on any holiday table.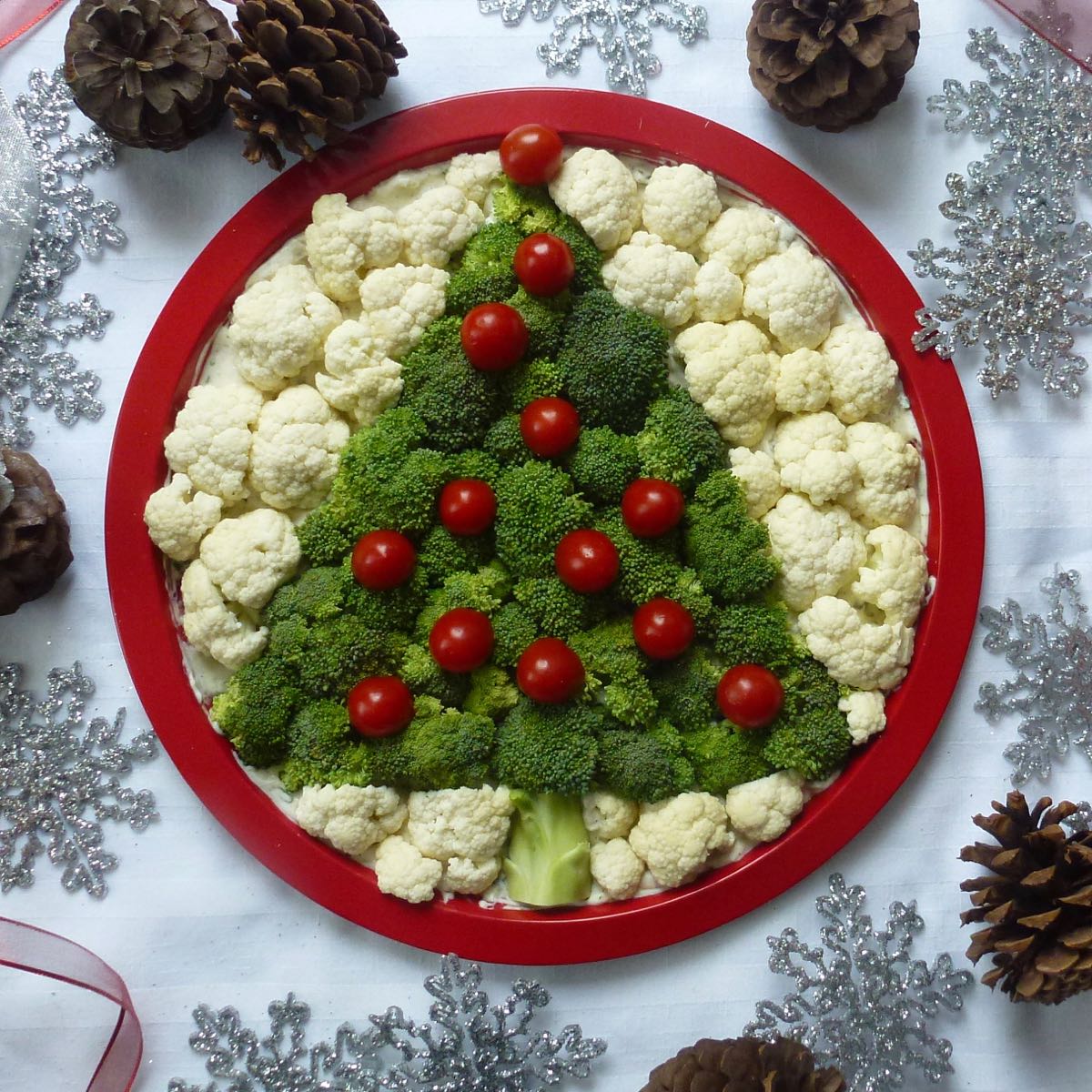 Holiday events often involve transporting food. This tray travels well because the dip holds the veggies in place. I use a round metal tray with a slight edge so I don't have to worry about anything sliding off the tray or breakage.
Ingredients
This homemade dip is simple but I just make my own. No matter what dip you use you'll need to encourage people to dig in because they're always wondering where the dip is. 
Homemade Vegetable Dip
sour cream
Miracle Whip or mayonnaise
green onion
dried dill weed
salt
Veggies
broccoli florets and stem
cauliflower florets
cherry tomatoes
'Tis the season to enjoy high fat, high calorie, sugar laden dishes but there's always room on the buffet for a veggie tray.
Tips to Avoid Cross Contact
Buffets are a nightmare for people with food restrictions. Anything that appeared to be safe to eat will not be safe after a few people start sharing utensils and using their hands.
You can get great tips and new strategies from experienced gluten free eaters in person and online groups. Here are three ideas to consider.
Talk to the host in advance so you know what to expect. Bring the item you know you typically miss at these kind of events.
Be the first at the buffet and take a generous portion because there is often no going back.
Take individual servings of anything from veggies and dip in a Mason jar, fancy glasses with guacamole and even desserts like Key Lime Pie or Nutella Mousse. You can take only a few for those that need it or create an impressive display on the buffet.
I always like the impressive presentation. I also think it models allergy awareness and demonstrates to people that it isn't that hard to accommodate dietary needs.
Get The Tools
There's always room for a Vegetable and Dip Christmas Tree on any holiday table. Let me know if you tried it.
__________________________________________________________________________
New here? Join our community and get your FREE resource, the tips I wish I knew when I started cooking gluten free.
Yes, I need 29 Tips For Cooking with Gluten Free Flour.
Still haven't mastered gluten free cooking? Check out our online Cooking Classes.
_________________________________________________________________________
Vegetable and Dip Christmas Tree
The best Christmas version of vegetables and dip! The tray is spread with dip so it holds the veggies in place and people get some with every bite.
Ingredients
EASY HOMEMADE VEGETABLE DIP
1

cup

sour cream

½

cup

Miracle Whip or mayonnaise

1

tablespoon

finely chopped green onion

1

teaspoon

dried dill weed

1

teaspoon

salt
VEGETABLES
1

broccoli stem

3

cups

broccoli florets

3

cups

cauliflower florets

10

cherry tomatoes
Instructions
Make Vegetable Dip
Combine all dip ingredients in a bowl and stir well.

Spread dip over the entire tray.
MAKE CHRISTMAS TREE
Create a tree trunk by cutting a piece of the broccoli stem in half horizontally. Place the tree trunk at the bottom of the tray.

Using broccoli florets outline a tree starting with a piece at all three corners to create a triangle. Fill in the sides to create the shape then fill in the middle to finish your tree.

Using cauliflower florets fill in around the tree to the edges of the tray.

Decorate the tree with whole or halved cherry tomatoes.

Cover with plastic wrap and refrigerate until ready to serve.
Notes
You can create this using a store bought vegetable tray too and it is guaranteed to be the best veggie tray at the party!