Italian Meat Loaf with pesto and pine nuts is my version of an everyday basic meat loaf. I think everyone needs a recipe like this. It is a great place to start and helps you build confidence to create your variation using the flavour combinations you love. In my house Italian and Asian are our top go-to ethnic cuisines. My husband in the tomato sauce expert so I serve this meat loaf with his homemade tomato sauce from the freezer. Store bought is a reliable back up.
Meat Loaf in a Loaf Pan vs Free Form
My mom always cooked meat loaf in a loaf pan, sounds pretty sensible to me. It was the same loaf pan she used to make banana loaf (more often called banana bread). I later learned that cooking a meat loaf free form, shaped into a loaf and placed on a baking sheet, requires less time and allows the grease to slide away from the cooked meat. This is now my preferred method of cooking meat loaf.
But wait. There are more than two ways to make meat loaf. Meat loaf muffins or cupcakes are popular so if that inspires someone to cook by all means let them experiment. As always, make some notes because when it works out perfectly you will wish you knew how you did it.
From Everyday to Gourmet
When you are inspired, or possibly forced to inspire yourself, there is no need to look through dozens of website to find new recipes. Your friends will love your favourite family recipes so just make that meat loaf recipe into meatballs and spend an extra few minutes on the presentation. I spread tomato sauce on a platter, top it with meatballs and place a fancy toothpick in each one. Now you have a gourmet appetizer for your next Pot Luck or appetizer party. You can have a look at my Spanish meatballs in almond sauce to see how I did it.
Let me know in the comments below if you made this recipe or just tried this with a different recipe.
---
__________________________________________________________________________________________
New here? Join our community and get your FREE resource, the tips I wish I knew when I started cooking gluten free.
Yes, I need 29 Tips For Cooking with Gluten Free Flour.
Still haven't mastered gluten free cooking? Check out our online Cooking Classes.
More Italian Inspired Recipes
Click on the text on the image(s) to go to the recipe/blog post.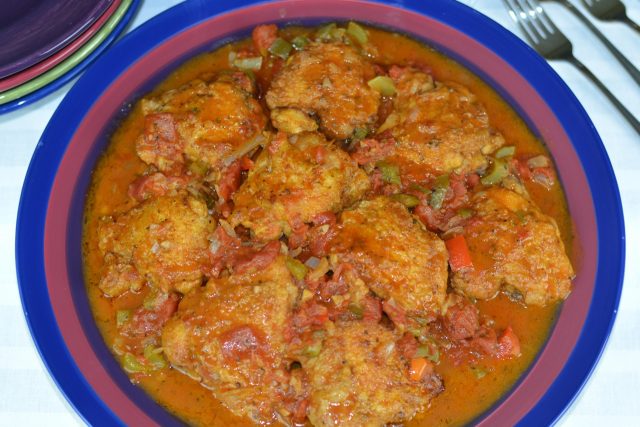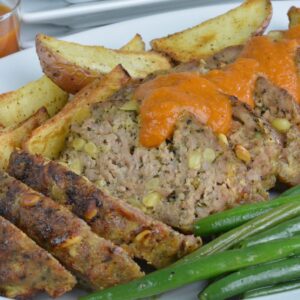 Italian Meat Loaf with Pine Nuts
Italian Meat Loaf with pesto and pine nuts is my version of an everyday basic meat loaf with a twist. Everyone needs a recipe like this.
Ingredients
1

lb

ground pork

⅓

cup

pine nuts

1

egg

⅓

cup

grated Parmesan cheese

1

teaspoon

salt

½

teaspoon

pepper

3

tablespoon

pesto sauce
Instructions
Preheat oven to 350°F. Line a rimmed baking sheet with parchment.

In a large bowl gently mix the pork, egg, pine nuts, Parmesan cheese, pesto, salt and pepper until combined.

Dump into the middle of the prepared baking sheet. Dampen your hands and shape into a loaf.

Place in preheated oven and bake for 55-60 minutes or until an instant read thermometer registers 160°F.

Remove from oven and let rest 5 minutes before slicing. Top each serving with tomato sauce.