Have you heard of a reusable grilling sheet? Similar to the reusable baking sheets for the oven, this one is specifically designed to use on a barbecue. It provides a clean cooking surface so it just might be perfect for people concerned about cross contamination from wheat on barbecues and any kind of grill.
Reusable grilling sheets have been around for a few years but I just never tried one. Now I have and as you can see in the photo below the food browns and has grill marks despite the sheet. The recipe I made with these grilled vegetables is my Southwestern Grilled Vegetable Pasta and I thought it worked perfectly.
Benefits of the Reusable Grilling Sheet
The package insert on my Cookina Reusable Grilling Sheet lists these benefits:
sturdy, flexible and non-stick
heat resistant up to 500°F
easy clean up in warm, soapy water
can be cut to any size
ideal for small foods that typically fall through the grill
prevents flare ups
perfect for cooking pizza, pancakes and more on a grill
can be used in ovens, pancake griddles and sandwich makers
Also available are an oven protector sheet to keep the bottom of your oven clean and a reusable cooking sheet to line baking trays so cookies don't stick (and other foods but I think of cookies first).
Additional Benefits for People with Celiac Disease or Food Allergies
Manufacturers don't even mention the most obvious benefit of preventing cross contamination. For people with food allergies and intolerances there are additional benefits.
easy to take with you
perfect for public cooking areas at picnic sites and campgrounds
ideal to send with children to camp, parties or a friends house
Put other parents at ease by sending a grilling sheet when your celiac child goes over for a meal. Simply placing it on the barbecue provides a clean and safe surface to cook.
You may want to save the box your sheet comes in since it cannot be folded. The Cookina brand sheet I bought comes with a little metal ring to roll it up for storage.
Since I used my reusable grilling sheet I have seen them in kitchen stores and anywhere selling barbecues and related items. Let me know in the comments below if you use these.
Grilling Season – The Recipes
Balsamic Marinated Grilled Vegetables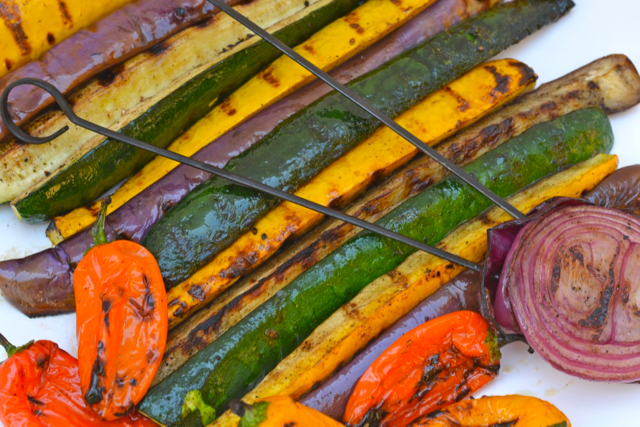 Southwestern Grilled Vegetable Pasta