New to gluten free? If you need tips for making gluten free cookies this is for you.
I struggled with cookies for so long it's embarrassing. I'm a cookie person, I love cookies yet gluten free cookies remained elusive.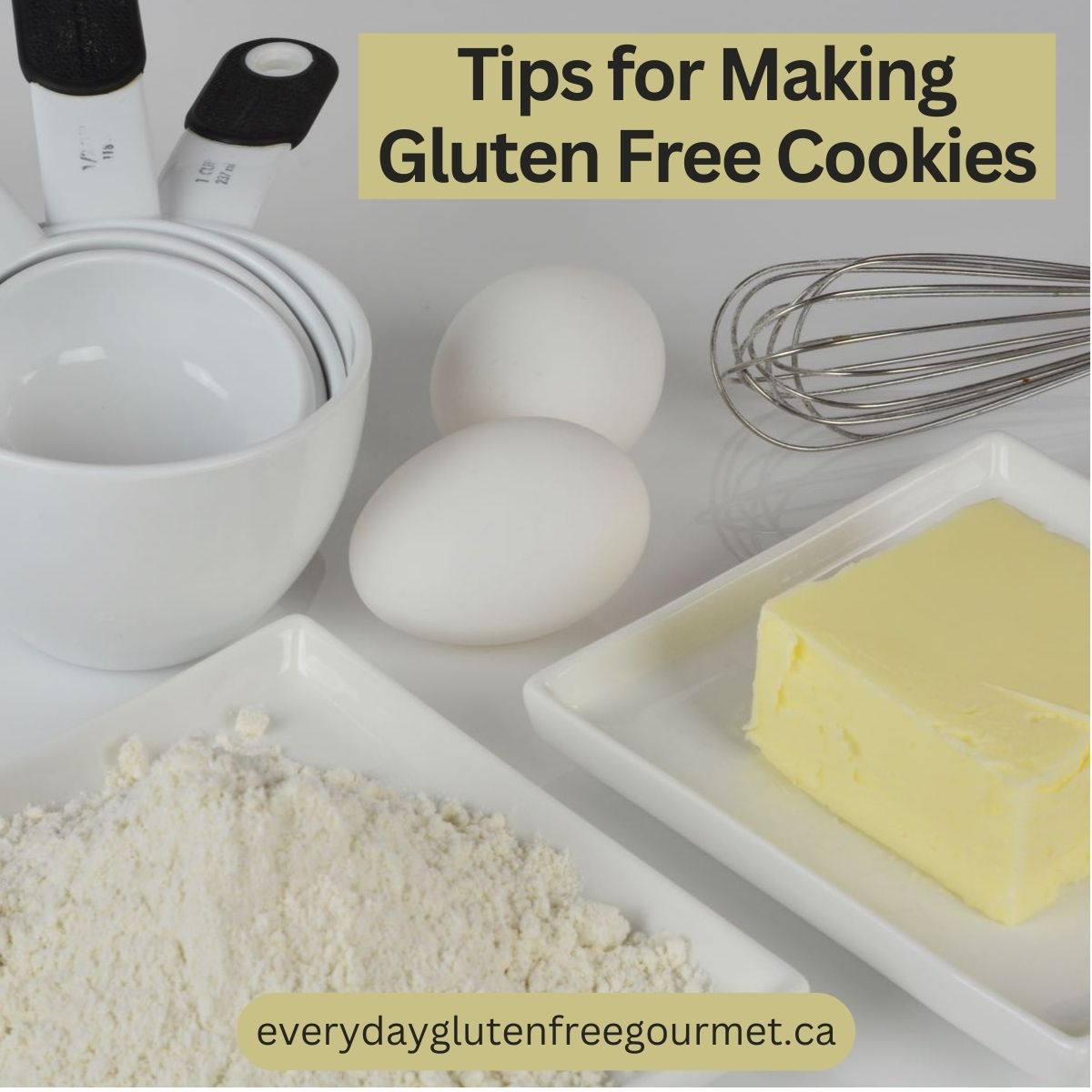 When I finally set out to learn to make cookies that didn't spread evenly over my entire pan I wanted to share what I learned with you.
In this post I share my best tips for choosing cookie recipes wisely and avoiding fatal errors. As always, take what makes sense to you, bake cookies and learn as you go.
Over time you can go back to your old favourite recipes and tweak them to create a new collection of cookie recipes.
A Positive Mindset in the Kitchen
A positive mindset can help create a lot of happiness in life and in the kitchen. Making gluten free cookies isn't that hard, but it is definitely different than baking cookies with wheat flour. The first time you do something it often seems hard. But once you do it over and over it gets easier. That is how my cookie baking went and that is why I love this saying:
"Everything is hard before it's easy."

J. W. Goethe
The first time I put a tray of cookie dough balls into the oven and removed a giant blob of greasy, partially cooked dough I realized making gluten free cookies wasn't as easy as I had hoped. But I knew I could do it, I just needed to learn a few tricks. I poured through cookbooks like America's Test Kitchen The How Can It Be Gluten Free Cookbook plus other books on my shelf and from the web. Then I got back to baking.
Tip #1 – Not all books, blogs and recipes are going to work for everyone. Start with recipes that are already written with gluten free ingredients. Pass over the recipes that require several substitutions for your diet. Not all of them will work but this will increase your chance of success and your cookies should at least be edible.
Cookies Are Not Muffins
Muffins are the easiest thing to bake gluten free so that's the best place to start. I certainly had muffin disasters but once I found a gluten free flour blend that tasted great and worked in all muffin recipes I was thrilled. Now I make my favourite seven or eight muffin recipes throughout the year and occasionally try something new.
But my flour blend didn't work as well for cookies. That's when I realized cookies are not muffins. Cookies have a high sugar and fat content plus the short cooking time doesn't allow the flour to fully absorb the fat.
So I started to notice cookie recipes that combined oil and butter or even called for melted butter. I found other recipes that asked for the dough to rest several hours or overnight. I also paid attention to what gluten free flours worked best in cookies.
Tip #2 – Brown rice flour and/or almond flour are excellent in cookies.
Gluten Free Flour and Flour Blends
It can't be said enough, there is no single gluten free flour or flour blend that works for all baked goods. But I also learned this:
Tip #3 – You can make excellent cookies with more than one combination of gluten free flours and starches. There is no perfect recipe but many excellent options. The goal is to mimic the role of wheat flour and there are many ways to do that. Pay attention to what works.
What To Know About Choosing Cookie Recipes
As I was working through my year-long blog series on How To Use different gluten free flours, I realized there were many different types of recipes. I divided cookie recipes into these categories:
Some made with a single flour like quinoa flour or almond flour.
Ones made using only a gluten free flour blend.
Those made with specific measurements of different flours and starches.
Some made with a gluten free flour blend plus the addition of other flours.
There is no right or wrong. I have all of those types of cookie recipes on my website because I was determined to learn more about cookies. So whatever you're looking for it's out there. Simply pay attention to the recipes you want to try and ignore the others. Just start baking.
Is There a Gluten Free Cookie Flour Blend
Of course there is but remember, (am I repeating myself?)
No single gluten free flour (or blend) will behave like wheat flour in all recipes.
Thus begins the journey of trial and error with gluten free baking.
Tip #4 - Try Different Flours
Here's the cookie flour blend recipe that helped me recreate my favourite Gingerbread Cookie recipe and several others. For a PRINTABLE pdf with this recipe is 3 different quantities click here, Cookie Flour blend.
I have that printed page cut and taped around the container I use to make it in. I store it in the freezer when I'm not busy making cookies.
Cookie Flour blend
My Cookie Flour Blend on YouTube
Baking Is Not Cooking
"When baking, follow directions. When cooking, go by your own taste."

Laiko Bahrs
I love this quote because it reminds me that not everyone knows the difference between cooking and baking. The most common error I see people make is sloppy measuring. If you're cooking a pot of soup you can go by your own taste - a little of this, a little of that. When you bake, especially gluten free, follow the directions for best results.
Of course other dietary restrictions on top of gluten free force everyday cooks to substitute. If you're new look for recipes written for the same restrictions you have. Once you've mastered the basics of cookie baking then you can get creative and make your own adjustments.
Tip #5 - Precise Measuring For Gluten Free Cookies
If you enjoy baking you do need a few tools. Metal portion scoops in various sizes speed up the process, ensure your cookies are a uniform size and therefore will cook more evenly. I have three sizes and use them for all kinds of jobs in the kitchen.
I have baked a million cookies on jellyroll pans, also known as baking sheets (with ¼-inch sides all around) because that is what my mom used. Eventually I found out there was a difference (who knew) and acquired cookie sheets (they have no edges). But for a cookie baking spree I use both and I've never heard anyone decline a cookie because it was baked on the wrong pan.
Parchment vs Silicone
I was baking cookies long before you could buy parchment paper at the grocery store. Parchment paper seems standard now and it certainly does prevent cookies from sticking. Bigger is not always better so buy parchment in the size that fits in the location where you need it. The small 50 square feet box fits in a convenient drawer in my kitchen but...different strokes for different folks. You can buy pre-cut parchment sheets or for those who like everything big, you can buy the larger 250 square foot box.
If you bake a lot then silicone baking mats seem to be the safe, reusable option. (You can read forever on the safety so I'll leave you and Google to that topic.) Many brands are available and I would recommend buying quality. Manufacturers make items cheaper by substituting lesser quality ingredients (which may not be safe). Silpat baking sheets come in a variety of shapes and sizes and seem to be the premium brand. You can find other baking sheets so spend a few minutes shopping and remember your purchase will last you decades.
Basic Baking Tips
Here are basic baking tips, gluten free or not.
All ingredients should be at room temperature unless otherwise specified.
Always use large eggs
Measure both dry & liquid ingredients precisely using measuring cups/spoons
Preheat your oven; use an oven thermometer to confirm the temperature if everything you bake seems over or under cooked.
Allow baked goods to cool on baking racks as directed.
Liquid measuring cups have a pour spout & measuring line below the top; read the measure on a flat surface at eye level.
Dry measuring cups are filled right to the top; overfill then swipe with a straight edge. Use a plate or lid to transfer the spillage back into the container.
Organize measuring cups & spoons in a way that makes sense to you & is easy to access.
A kitchen scale is useful for weighing everything from pasta to meat to flour for a homemade flour blend. Tare is the term used to zero the scale after you place an empty bowl on it.
The New Basics For Gluten Free Baking
Learn these new basics to improve your baking.
A basic kitchen timer is essential, serious cooks might like this triple timer.
Use a wire whisk to thoroughly combine dry ingredients.
A strainer turns lumpy potato starch into the fine texture needed for baking.
An extra egg or yolk can help improve structure and add moisture.
Add ¼ teaspoon of xanthan gum to each cup of gluten free flour for structure and freshness.
Let batter or dough sit for up to 30 minutes before baking to absorb liquid and avoid a gritty texture.
Resting time helps gluten free baked goods keep their structure. Let them cool slightly in the pan then transfer to a cooling rack to cool completely.
Cookies dry out in the freezer but the dough and dough balls freeze well.
For maximum freshness double wrap cookies before freezing.
For these last two tips I encourage you to figure it out yourself. Leave cookies in a tin and eat one every day. Put some in the freezer and see if you think it made a difference. It's a tough job but someone's got to do it!
Gluten Free Cookies By Category
These are the cookie recipes I have posted categorized by the flour called for:
These are made with a single flour; Peanut Butter Cookies and Chocolate Chip Cookie Pizza, both made with quinoa flour.
These use my EGFG gluten free flour blend; Pumpkin Chocolate Chip Cookies, Chocolate Chip Cookies and this one with some added teff flour to improve the results, Chocolate Chip Cookies with Teff.
Finally, these recipes call for individual flours combined rather than a premade blend; Iced Pumpkin Spice Cookies, Gingerbread Cookies, Thumbprint Cookies, Sugar Cookies and Snickerdoodles.
A Canadian Celiac Podcast
If you're a podcast listener you can listen to my conversation about gluten free cookies with Sue Jennett on A Canadian Celiac Podcast episode 43. If you're not a podcast listener you need to be. It's the best way to keep up on all things gluten free.
I hope you found a tip here to improve your cookie baking or get you started. I'd love to hear in the comments below how your cookies turned out.
__________________________________________________________________________
New here? Join our community and get your FREE resource, the tips I wish I knew when I started cooking gluten free.
Yes, I need 29 Tips For Cooking with Gluten Free Flour.
Still haven't mastered gluten free cooking? Check out our online Cooking Classes.
_________________________________________________________________________
My friends over at Porch asked bloggers around the web for tips to share for this article, From Oven to Enterprise: Expert Tips for Home Baking Safety. You can find a long list of questions and answers including mine about how to minimize the risk of cross-contact with allergens in a busy household.